Will Washington put Fast Track over the top?
Call Congress, join 'Rapid Response Team' to STOP Fast Track
WASHINGTON, D.C. (June 9, 2015) — Thousands of union members and other supporters of transparent trade policies that benefit all Americans — not just big multinational corporations — have been flooding members of Congress with phone calls and emails in opposition to "Fast Track" Trade Promotion Authority. It now appears that the controversial, unpopular legislation could be voted upon in the U.S. House of Representatives as soon as this Thursday.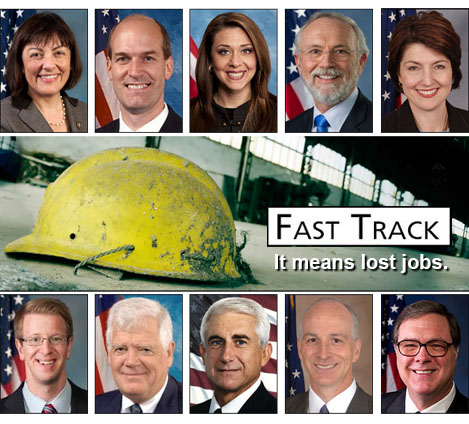 TAKE A STAND! — Even if you've made the call already, call toll free at 1-855-712-8441 and leave a message for your U.S. Representative that you oppose Fast Track and you are paying attention to this important vote. Also, sign up to be part of the Fast Track Rapid Response Team to join a vigil at either Rep. Adam Smith's or Rep. Denny Heck's district offices on short notice to maintain a vigil until the vote is completed.
If Fast Track passes, the congressional delegation from Washington state will have been instrumental in making it happen.
All four of Washington state's Republican members of Congress — Reps. Jaime Herrera Beutler, Cathy McMorris Rodgers, Dan Newhouse and Dave Reichert — reportedly will support passage of Fast Track. But enough of their GOP colleagues in the majority oppose granting Fast Track authority to President Obama, that a significant number of Democratic members must support Fast Track for it to pass.
The vast majority of House Democrats oppose Fast Track. To date, just 19 of them say they intend to vote for it, including three from Washington state — Reps. Suzan DelBene, Derek Kilmer and Rick Larsen. No state has more Democrats who plan to vote for Fast Track.
Rep. Jim McDermott, who voted against Fast Track in committee, says he intends to vote "no." Reps. Denny Heck and Adam Smith are both officially "undecided," and today The Hill listed Smith as one of 10 key undecided members whose decision could determine the fate of the bill.
So, given that both Sens. Maria Cantwell and Patty Murray not only voted for Fast Track but also were key players in bringing it to a vote in the first place, it's fair to say that if Fast Track passes it will be because Washington's congressional delegation made it happen.
Fast Track is strongly opposed by a broad coalition of labor, environmental and community groups in the state, the Washington State Democratic Party, the cities of Bellingham and Seattle (both unanimously), and faces strong public opposition in Washington state and across the country.
Polling by Lake Research Partners found that voters in Rep. Suzan DelBene's 1st CD opposed Fast Track by 18 points, with 54 percent opposed and 36 percent supporting. In Rep. Derek Kilmer's 6th CD, it was opposed by a 14-point margin (50 to 36) and in Rep. Denny Heck's 10th CD, voters oppose Fast Track by a whopping 22 points (57 to 35).
Short URL: https://www.thestand.org/?p=41031
Posted by
David Groves
on Jun 9 2015. Filed under
NATIONAL
. You can follow any responses to this entry through the
RSS 2.0
. Both comments and pings are currently closed.