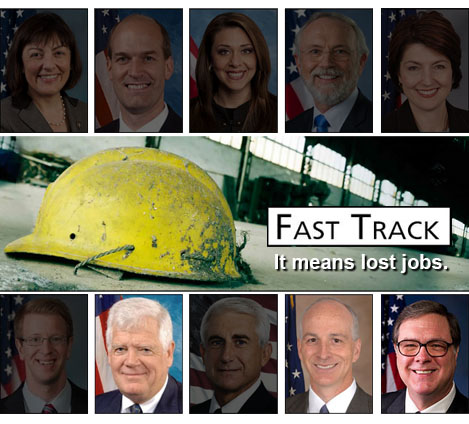 (June 11, 2015) — Jeff Johnson, President of the Washington State Labor Council, AFL-CIO, released the following statement today:
"After 18 months of rigorous discussions and meetings Congressmen Adam Smith and Denny Heck have taken a principled and courageous position to vote against the Trade Promotion Authority bill or 'Fast Track.'
"Congressmen Smith and Heck now join Congressman Jim McDermott in recognizing that Fast Track and the Trans Pacific Partnership (TPP) are not in the best interest of working people, the environment, our state, or our country.
"While all three representatives generally support trade agreements, they understand that these agreements don't move our economy forward, but in fact continue to vanquish the middle class and worsen extreme income inequality while continuing to further line the pockets of corporate CEOs and their shareholders. They also recognize that in the absence of significant domestic investment in our country's infrastructure and manufacturing base, and in the absence of a corporate culture that promotes broadly shared prosperity, these trade agreements benefit those who don't need the help and punish the vast majority of Americans.
"Trade agreements without enforceable labor and environmental standards and without protections against currency manipulation — but with the unilateral ability for corporations to sue countries for purportedly discriminatory public policies — accelerate a race to the bottom.
"As a labor movement, our heartfelt thanks go out to Adam, Denny, and Jim for being on the right side of history and for respecting the opinions and positions of the overwhelming majority of their constituents and organizational allies. They chose conviction and values over the status quo collection of failed theories and policies."