$15 success, Hillary ♥'s Patty, angry birds…
Friday, July 31, 2015
---
LOCAL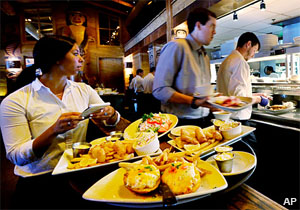 ► From AP — $15 minimum wage a surprising success for Seattle restaurant — Menu prices are up 21 percent and you don't have to tip at Ivar's Salmon House on Seattle's Lake Union after the restaurant decided to institute the city's $15-an-hour minimum wage two years ahead of schedule. It is staff, not diners, who feel the real difference, with wages as much as 60 percent higher than before. One waitress is saving for accounting classes and finding it easier to take weekend vacations, while another server is using the added pay to cover increased rent… Revenue has soared, supportive customers are leaving additional tips even though they don't need to, and servers and bartenders are on pace to increase their annual pay by thousands. "It's been a surprise," said Ivar's Seafood Restaurants President Bob Donegan. "The customers seem to like it, the employees seem to like it, and it seems to be working, at least in this location."
► In today's (Longview) Daily News — CEO: 'I don't think we'll have a strike' at KapStone — KapStone's top executive expressed optimism Thursday on reaching a deal with the union for a new contract, but said he is prepared for a potential strike in Longview should talks go south.
► From L&I — Seattle employer fined $424,850 for safety and health violations — Seattle Bulk Shipping, a marine terminal operator in Seattle, is facing more than $400,000 in fines from the state Department of Labor & Industries in connection with multiple serious safety and health violations at its facility on Harbor Island.
► In today's Seattle Times — Chemical mix-up during testing damages Boeing tanker — Just weeks before the planned first flight of a fully outfitted KC-46 Air Force tanker, the plane's fueling system was damaged when a chemical, supplied by a vendor and mislabeled, caused corrosion and damaged the fuel system.
► In today's Seattle Times — Immigrants have grown Washington's farm economy (by Ricardo Sanchez and Jesus Hernandez) — We should appreciate and not vilify workers without documents for the value they bring to state and national economies, and the world's food stream.
---
STATE GOVERNMENT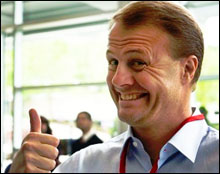 ► In today's Seattle Times — Suit filed over Eyman tax measure, just a day after it makes the ballot — Opponents of Tim Eyman's latest anti-tax initiative filed a lawsuit Thursday in an effort to keep it off the November election ballot. The lawsuit argues Initiative 1366 oversteps the powers granted to citizen initiatives by trying to indirectly amend the state Constitution. "Initiative 1366 is blackmail and would be incredibly damaging," said Eden Mack, a Seattle parent of three schoolchildren, and a plaintiff in the lawsuit.
► In today's News Tribune — Inslee says cap would hit largest carbon sources, including gas distributors — Not wanting to swallow a "poison pill" provision in the Legislature's transportation package helped keep Gov. Jay Inslee from creating a clean-fuel standard targeting the tailpipes that are Washington's biggest source of greenhouse gas emissions. But Inslee told The News Tribune editorial board Wednesday that the regulations he is now pursuing would cover distributors of vehicle fuel.
► From CrossCut — Reykdal takes a shot at top education job — State Rep. Chris Reykdal (D-Olympia) said Thursday that he is running for Washington's Superintendent of Public Instruction.
► In today's News Tribune — Line forms to replace Randy Dorn as SPI — Randy Dorn hasn't announced that his second term as state schools chief will be his last, but several people who assume he's not running for re-election next year are setting their sights on the job.
► In today's Yakima H-R — Latino voter turnout is anemic as primary approaches — A new elections system designed to increase the voice of Latinos in Yakima politics so far isn't generating more turnout at the ballot box. With the primary coming up Tuesday, less than 6 percent of registered Latino voters had cast ballots as of Wednesday.
EDITOR'S NOTE — If we are serious about removing barriers to voting and encouraging full participation in elections in this state, here's how to do it.
---
FEDERAL GOVERNMENT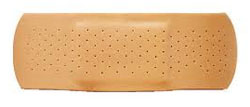 ► From The Hill — Senate sends three-month highway bill to Obama — President Obama is expected to sign the measure before funding expires on Aug. 1.
► From The Hill — Senate approves six-year highway bill — The legislation faces an uncertain future with the House, which has committed to passing its own long-term highway bill after the August recess.
---
CAMPAIGN 2016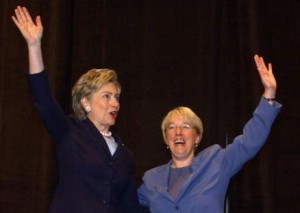 ► From AP — Meeting unions, Clinton offers support for $12 minimum wage — Hillary Rodham Clinton on Thursday offered some support for a proposal in the Senate that would raise the federal minimum wage to $12 an hour, hinting that the higher rate sought by labor unions doesn't have enough support. Congressional Democratic leaders have backed legislation sponsored by Sen. Patty Murray (D-Wash.) that would increase the rate to $12 an hour by 2020, which is several dollars less than the $15 backed by labor and anti-poverty activists. "Whatever (Murray) advocates I pay a lot of attention to, because she knows how to get it through the Congress," Clinton said. "Let's not just do it for the sake of having a higher number out there, but let's actually get behind a proposal that has a chance of succeeding."
---
NATIONAL

► From AFL-CIO Now — AFL-CIO remains committed to raising wages, better trade policy, racial justice, and a just immigration system — The AFL-CIO Executive Council issued several important policy statements at its July meeting. In addition to discussing policy priorities, the council met with five 2016 presidential candidates.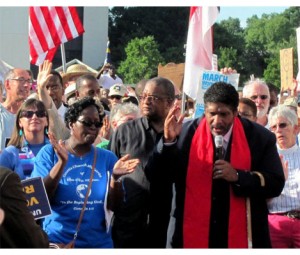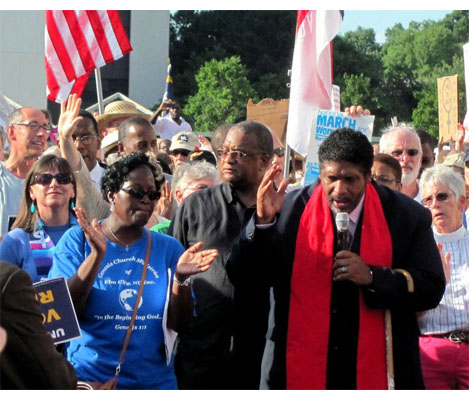 ► From Politico — The moral voice of the South — The Rev. William Barber is reviving the civil rights movement — one Monday at a time. For more than 100 Mondays, he and thousands of others from around North Carolina and the country have protested what they see as the state's unjust and extreme policies, pushing back against the GOP-controlled legislature's moves to reject Medicaid expansion, cut education and impose strict voting rules that could affect thousands of citizens.
► At at the other end of the spectrum, in today's NY Times — Koch brothers brave spotlight to try to alter their image — Critics see an effort to soften the image of a political and philanthropic empire that has budgeted $889 million for the 2016 election cycle, including tens of millions to build a grass-roots activist network, and of a family business that is a major lobbying force in Washington and has faced numerous threats of a consumer boycott.
---
T.G.I.F.

► Thirty-five years ago tonight, one of the most successful bands in rock history disintegrated on stage at a fundraising concert for U.S. Sen. Alan Cranston (D-Calif.) Between songs, one Eagle was telling another "only three more songs… when we get off stage, I'm gonna kick your ass." After fulfilling contractual obligations in the studio, separately, that was the end of the Eagles until "hell froze over" and they reunited for a tour 14 years later. But today, The Entire Staff of The Stand wants you to remember them during happier times in 1977, when they topped the charts with this dark fantasy that featured Don Felder and Joe Walsh sharing the duty on what Guitar World considers the 8th best guitar solo of all time. Enjoy!
---
The Stand posts links to Washington state and national news of interest every weekday morning by 10 a.m.
Short URL: https://www.thestand.org/?p=42484
Posted by
David Groves
on Jul 31 2015. Filed under
DAILY LINKS
. You can follow any responses to this entry through the
RSS 2.0
. Both comments and pings are currently closed.