'Hear us:' Sakuma farm workers, community call for contract
By JEFF JOHNSON
---
BURLINGTON, Wash. (July 13, 2015) — Sakuma escucha, estamos en la lucha!
Driscoll escucha, estamos en la lucha!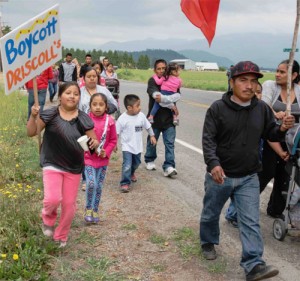 On Saturday, July 11 these chants telling Sakuma Brothers Farms and Driscoll Food, "hear us, we are in a battle," were repeated many times over as 250 protestors marched from I-5 to a Sakuma processing plant east of Burlington.
Familias Unidas por la Justicia, the young farm worker union formed three years ago when Sakuma Brothers Farms refused to sit down with their workers to talk about remedying wage theft, providing fair compensation, housing, rest and meal breaks, and signing a union contract, organized this march and rally along with the National Farm Worker Ministry and Community to Community.
This action was part of a two-day summit bringing together faith, community and labor leaders from all over the United States and Canada to bear witness to the low wages and poor working conditions that the members of Familias must endure working at Sakuma Brothers Farms. The main demand coming from the summit was the right for farm workers to have a voice at Sakuma's and the right to collectively bargain a contract.
Sakuma Brothers Farms is a family-owned business with sales of $ 6.1 million annually. The farm includes a retail outlet, a freezer and processing plant, and a chain of nurseries in California growing rootstock for strawberries. They sell their berries primarily to Driscoll Foods and to Haagen-Dazs ice cream.
Driscoll Foods is the largest berry company in the world, and in many respects, has adopted the WalMart supply chain model — they set and control the standards at farms from which they purchase berries. Because of this connection, Familias Unidas has extended the boycott of Sakuma Farm berries to Driscoll berries.
For every dollar of blueberries Driscoll Foods sells at the grocery store, farm workers get about 7 cents. Working as fast as they can at the given piece rate, often through rest and meal breaks, farm workers at Sakuma say they average around $10 an hour.
Farmworkers walked off the job in June when Ryan Sakuma told them that the minimum pick rate of 15 pounds per hour would increase to 35 pounds per hour. The workers won and the minimum pick rate remains at 15 pounds an hour. Nonetheless workers continue to complain that they are shortchanged by two to three pounds every time they bring their pick to the scales.
One of the workers reported to David Bacon, in an article published in The Nation, "You don't get enough work, and what little you earn is quickly used up. My children are growing. They need clothes, all of that. We have to pay rent, bills, and everything we eat. We don't ever have enough money, because it runs out like water."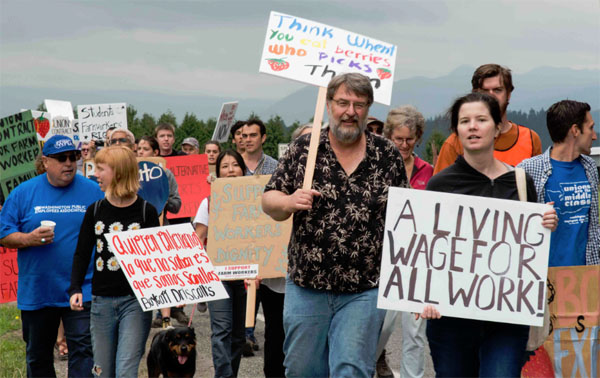 On Saturday when the marchers reached the Sakuma processing plant, a spirited rally was held. Solidarity speeches were given by Cameron Williams, ILWU 19; Elena Perez, UFCW 21; Steve Garey, United Steelworkers; Joel Funfar, SPEEA; Ramon Ramirez, PCUN; Kent Stamford, WPEA-UFCW 365, a spokesperson for the AFL-CIO Solidarity Center, myself, and the officers of Familias Unidas, Roman Torres and Filemon Pineda.
"Estamos en la lucha!"
We are in the struggle until we win a collective bargaining agreement with Sakuma Brothers Farms and Driscoll Foods. For more information go to www.boycottsakumaberries.com.
---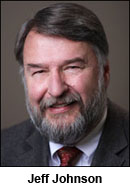 Jeff Johnson is President of the Washington State Labor Council, AFL-CIO, the largest labor organization in the Evergreen State, representing the interests of more than 500 local unions and 400,000 rank-and-file union members.
(Photos by Garet Munger.)
Short URL: https://www.thestand.org/?p=41985
Posted by
David Groves
on Jul 13 2015. Filed under
OPINION
. You can follow any responses to this entry through the
RSS 2.0
. Both comments and pings are currently closed.