OLYMPIA (July 8, 2015) — Gov. Jay Inslee signed the 2015-17 General Government contract with the Washington Federation of State Employees, AFSCME Council 28 on Monday, the biggest of many state employee union contracts he can now sign with Legislature's the passage of a 2015-17 operating budget that averted a threatened July 1 shutdown.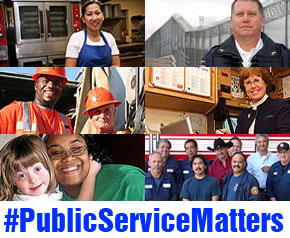 The road to the contracts' signing included more than 12,000 WFSE members actively engaged with a coalition of other public employee unions — including the Teamsters Local 117, SEIU HealthCare 1199NW, PTE Local 17, AFT Washington, Washington Public Employees Association/UFCW 365, and others — to generate community awareness of the important work they do and to support full funding of the contracts in the budget. This "Public Service Matters" campaign included actions in communities across Washington and at the Capitol, newspaper and radio ads, support from local business owners, and more.
Most state employee contracts include 4.8 percent wage increases over the next two years — the first general wage increases for state employees in seven years — plus a maintenance of health benefits after Republican legislators had threatened to cut health coverage for state employees' spouses.
"We stood together in collective action after action to fund our contracts, stop a state shutdown, and save healthcare for 20,000 spouses," wrote WFSE after Monday's contract signing. Here is their video coverage of the event:
"We got our contracts signed," said WFSE President Sue Hendricksen. "We've got our raises for the next two years. But the work's not done yet. We've got a lot more work to do. We've got parks we need to get funded correctly. We've got Children's (Administration) that we need to get funded correctly. We've got DSHS that we need to get funded… And we need to get a revenue package so we can get funding for all of our contracts. So the battle is not over yet. It continues. And this union will continue to fight for better working conditions, better raises, better health care services and better services for our public."