Strike updates, McCleary talks, 9/11 resilience…
Friday, September 11, 2015
---
TEACHER STRIKES
► In today's Seattle Times — Seattle teachers strike continues, no classes Friday — Seattle Public Schools and the city's teachers union did not meet Thursday, and schools will be closed again Friday.
ALSO at The Stand — Spirit "incredible" on teachers' picket line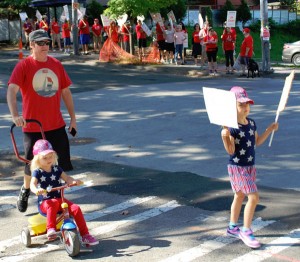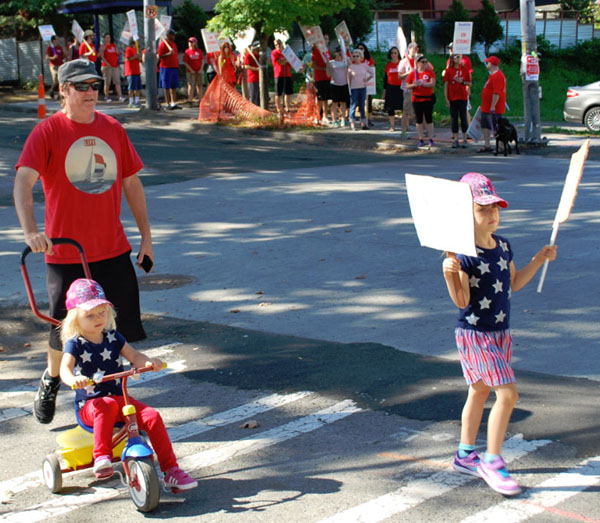 ► From AP — Seattle teachers to stay off picket line on 9/11 anniversary — Seattle teachers striking over wages planned to put down their picket signs Friday and instead work on community service projects like food drives in commemoration of the 9/11 terror attacks.
► From AP — Striking teachers say pay gap makes Seattle tough to afford — Teachers in Seattle say they have walked off the job largely because they can't afford to live in the same city as the children they teach. The educators, who have not received a cost-of-living pay raise in six years, have joined other workers pushing for higher wages that compete with the city's growing, highly paid tech workers.
► In today's Tri-City Herald — Pasco schools to remain closed Sept. 11, union facing fines — Pasco schools will be closed Sept. 11 for an eighth day as a teachers strike continues, even as teachers union officials are due back in court Friday afternoon and could face hundreds of dollars in fines.
---
STATE GOVERNMENT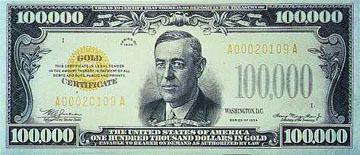 ► In today's News Tribune — Negotiations, hearings ahead on school funding as McCleary fines pile up — The state Supreme Court's $100,000-a-day fines that will reach $3 million by Friday haven't been enough to force the Legislature into a special session on school funding. But lawmakers may at least be ready to start negotiating. Gov. Jay Inslee's office wants a work group on school funding to meet for the first time during the week of Sept. 21 and expects all four partisan caucuses of the Legislature to participate.
ALSO at The Stand — "Supremes" could force the issue, prompt proper school funding
---
LOCAL

► In today's Bellingham Herald — Haggen employees' union prepared to fight to keep contract — The union representing Haggen's employees says it will fight to keep its contract as the company reorganizes after filing for Chapter 11 bankruptcy. In a letter sent to Haggen employees Wednesday night, Sept. 9, UFCW 21 President Todd Crosby said the union is coordinating efforts for all the local chapters up and down the West Coast in order to have a focused response and keeping a united front. The letter was also critical of Haggen's handling of the Tuesday announcement of its Chapter 11 filing. "It is simply wrong for all of our hard-working Haggen employees to have learned about this bankruptcy filing on the local news," Crosby said in the letter.
► In today's Seattle Times — Dozens of workers to strike at Sea-Tac Airport Friday over minimum wage — Dozens of baggage handlers, cabin cleaners and others who work for Menzies Aviation at Sea-Tac Airport are expected to walk off their jobs Friday, protesting what they call unfair labor practices and demanding to be paid a $15 minimum wage. Menzies is a contractor for Alaska Airlines, providing ramp agents, baggage handlers, and other such service workers.
► From AP — Workers picket aviation contractor over labor, safety issues — Menzies Aviation employees have walked off the job at Sea-Tac Airport. The workers are picketing on Friday to protest what they say is unfair labor practices — including intimidation, threats, and harassment — by their employer.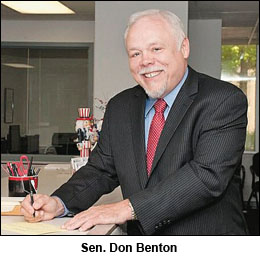 ► In today's Columbian — Benton's department may be under threat — Dissolving Clark County's Department of Environmental Services will be high on council chair candidate Mike Dalesandro's priority list if he's elected. The Democrat, a current Battle Ground City councilor, said he will propose a resolution calling for the department to be eliminated and its employees rolled into other existing departments. He denied that the recommendation is personally targeting Sen. Don Benton (R-Vancouver), the director of the department.
► In today's News Tribune — PLU to host debate on Tacoma's potential minimum wage increase — Members of the university's debate team will work with local policy experts to debate the issue Oct. 8.
---
BOEING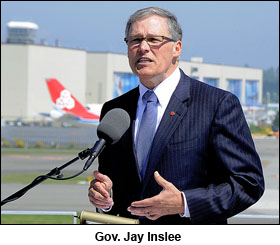 ► In today's Spokesman-Review — Inslee takes lawmakers to task over Ex-Im bank — Eastern Washington's Republican members of Congress should stop being "climate deniers" and work harder to reauthorize a key financing mechanism for international trade that helps the state, Gov. Jay Inslee said Thursday. The Democratic governor shot back at Reps. Cathy McMorris Rodgers and Dan Newhouse, who two weeks ago wrote that his efforts to reduce carbon pollution "do not align with pro-growth policies."
► In the P.S. Business Journal — Boeing CEO Muilenburg to take stage at huge Seattle aerospace engineers' gathering — Nearly 2,000 aerospace engineers will descend on Seattle Sept. 22-24 for the SAE AeroTech 2015 conference, a biannual event that sets standards for the aerospace industry. The event will bring new Boeing CEO Dennis Muilenburg to Seattle as keynote speaker, for what will likely be his first major local appearance since he ascended to the cockpit of Boeing two months ago.
► In the P.S. Business Journal — Everett vs. Renton: 777 more likely to suffer in a global recession than 737, analyst says — A global recession in the next five years could dent production of wide-body aircraft, but production of narrow-body jets, such as the 737, should continue unabated, says a Bernstein analyst.
---
CAMPAIGN 2016

►  From MSNBC — AFL-CIO President Trumka on Clinton-Sanders race (video) — New polling shows Hillary Clinton is trailing Bernie Sanders in Iowa. Meanwhile, Democratic officials are reportedly looking for a Plan B, someone like Al Gore, John Kerry, Elizabeth Warren or Joe Biden. AFL-CIO President Richard Trumka discusses these developments with Chris Matthews.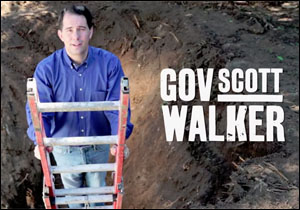 ► From The Hill — Scott Walker falls to 10th in Iowa in latest poll — Wisconsin Gov. Scott Walker, the former front-runner, tumbles to 10th place in the GOP presidential pack just two months after taking the top spot in the Quinnipiac University's July poll. Then, he had 18% support, compared to just 3% in the new poll.
---
NATIONAL
► From The Hill — Labor chief hammers Wall St. over golden parachutes — AFL-CIO President Richard Trumka is calling on Wall Street to end the practice of giving golden parachutes to top executives leaving for government jobs. Trumka sent a letter on Thursday to six top banking executives, calling the policy "a highly controversial and dubious practice" intended to sway banking executives into providing favorable government treatment to their former firms.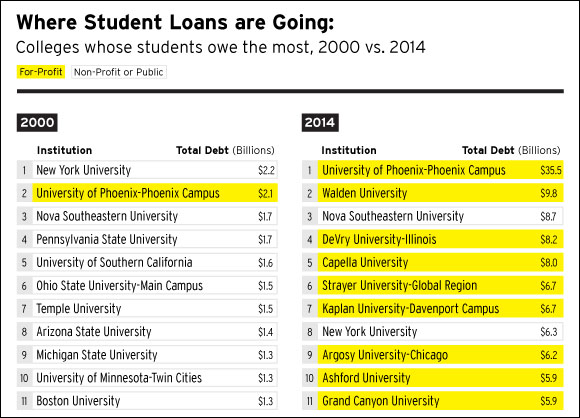 ► In the Washington Post — These are the schools driving America's student loan crisis — The surge in defaults was largely concentrated among relatively older, lower-income students who attended for-profit colleges. That's a group of Americans who, on the whole, were desperately seeking new skills in hopes of finding better-paying jobs through the 2000s — and especially the Great Recession. The data suggest many of those borrowers have found added struggle instead.
► From AP — New York state OKs $15 minimum wage for fast-food workers — New York state will gradually raise the minimum wage for fast-food workers to $15 an hour — the first time any state has set the minimum that high.
► From Reuters — Unions file new Wal-Mart labor complaint related to store closure — Unions filed a second labor board complaint against Wal-Mart related to its temporary closure of a California store, claiming the retailer discriminated against activist workers by not transferring them to nearby stores.
---
T.G.I.F.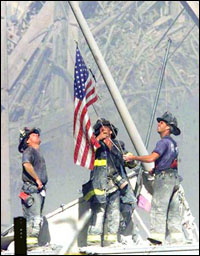 ► Fourteen years ago this morning, nearly 3,000 people were killed in a series of terrorist attacks. Many of those killed were public employees, our nation's first responders. It was the deadliest incident for firefighters and law enforcement officers in the history of the United States, with 343 and 72 killed respectively. Also killed were thousands of other working people. Of the 125 who died at the Pentagon, the majority were civilian federal employees and contractors. Of the thousands killed at the World Trade Center towers, few were guests and tourists that early. Most were investment bankers, insurance company employees, and other office workers. Seventy-two were the mostly immigrant employees of the Windows of the World restaurant on the top floor of the North Tower.
The following year, when Bruce Springsteen released The Rising, one critic called the album "one of the very best examples in recent history of how popular art can evoke a time period and all of its confusing and often contradictory notions, feelings and impulses." Its songs — including this one — eschewed reactionary patriotism, and instead, laid bare the emotions, the loss, the frustration, the anger, and the impulse to demand "an eye for an eye."
As we remember and honor those who died 14 years ago, our thoughts are not of revenge, but of resilience. One of many examples, the surviving employees of the Windows of the World, members of UNITE HERE, planted the seeds for a new group — the Restaurant Opportunities Center — which is now a strong voice for powerless immigrants and restaurant workers across the country. That's the kind of legacy that would make those who died on 9/11 proud.
---
The Stand posts links to Washington state and national news of interest every weekday morning by 10 a.m.
Short URL: https://www.thestand.org/?p=43337
Posted by
David Groves
on Sep 11 2015. Filed under
DAILY LINKS
. You can follow any responses to this entry through the
RSS 2.0
. Both comments and pings are currently closed.