UPDATE (Sept. 15, 2015) — As Registered Nurses at University of Washington Medical Center and their supporters prepare for an informational picket and rally on Wednesday (see details below), the state Public Employment Relations Commission has issued a preliminary ruling that the UWMC was not bargaining in good faith for a new collective bargaining agreement with its nurses represented by the Washington State Nurses Association.
The preliminary ruling last week, says that the Medical Center's insistence on a "last, best, and final offer," and misrepresentations about the content of negotiation proposals, were sufficient to show that unfair labor practice violations could be found. This preliminary decision by PERC moves disputes over the case forward to a likely hearing before an administrative law judge. For months, the WSNA bargaining team has been pressing the Medical Center to bargain a good faith, fair and balanced agreement.
---
SEATTLE (Sept. 9, 2015) — Safe staffing saves lives. It really is that simple.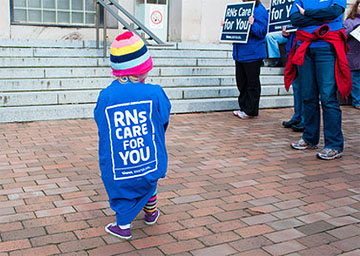 To a business, staffing is a line-item cost. To nurses, staffing is much bigger than that. It's about caring for patients. It's about caring for you and your loved ones.
More than 1,500 Registered Nurses at the University of Washington Medical Center represented by the Washington State Nurses Association have been in contract negotiations for months and have now involved a mediator. Safe staffing levels remains one of the key unresolved issues between the nurses and management.
The RNs at UWMC invite all union members and community supporters to attend a "March on Montlake" informational picket and rally to help bring their message to the community that they are fighting for safe staffing to protect their patients and your loved ones. The event will be from 3:30 to 5:30 p.m. on Wednesday, Sept. 16. Meet on the sidewalk in front of the main entrance of the UWMC, 1959 NE Pacific St., at 3:30 p.m. for a short rally with speakers and then proceed to walk to the nearby Montlake Bridge.
Please support these nurses at this event with your solidarity as they fight to support the safety of you and your family.
TAKE A STAND!
1.  Download and post the "March on Montlake" flier.
2.  Attend the event on Wednesday, Sept. 16!
3.  "Like" and follow these nurses on Facebook at "UWMCnurses" for updates.
4.  Call 206-598-4479 to tell Chief Nursing Officer Grace Parker to support safe staffing levels.
The Washington State Nurses Association is the voice for more than 75,000 licensed Registered Nurses including staff nurses, nurse educators, nurse practitioners, school nurses, public health nurses, long-term care nurses, nurse managers and nurses in many other practice areas.