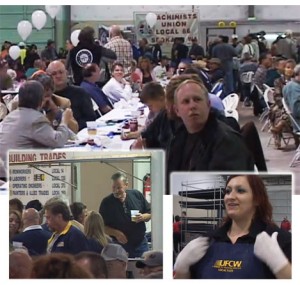 SPOKANE — The Spokane Regional Labor Council, AFL-CIO and its affiliates will host the 23nd annual Spokane Labor Rally on Wednesday, Oct. 14 from 4 to 7 p.m. at the Spokane Fair and Expo Center, 404 N. Havana, Spokane Valley.
The Labor Rally is an annual tradition for the Spokane-area labor movement where union members and their families got to meet and mingle, enjoy some good food and drink, and hear from labor-endorsed candidates in the Spokane community.
Afterwards, all are invited to a Labor Rally After Party hosted by the Spokane Chapter of the Washington Young Emerging Labor Leaders. It will be from 7 to 9 p.m. at the Iron Goat Brewery, 2204 E. Mallon Ave. in Spokane (You must be 21 or older.)  For more information, check out the WA YELL After Party flier.
For more info about the Labor Rally, call the Spokane Regional CLC at 509-327-7637.
Check out video coverage of last year's Labor Rally: