It's Our Time, state retirees' tab, 'our wages are too high'…
Wednesday, November 11, 2015
---
LOCAL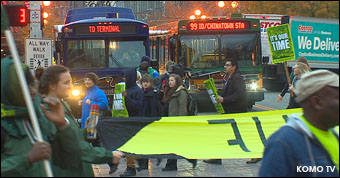 ► From KOMO TV — Seattle workers block traffic, demand better conditions — Baristas and fast food workers in Seattle and hundreds of other cities across the country staged protests Monday over their working conditions and pay. In Seattle, the demonstrators blocked traffic during the morning commute downtown on First Avenue. Amid chants of "It's our time. It's our time," they carried signs and marched to demand better hours and scheduling from various restaurants, singling out Starbucks and McDonalds.
► In today's Yakima H-R — Marchers rally for $15 minimum wage
► In today's Spokesman-Review — 'It's Our Time' march pushing for higher minimum wage
► In today's News Tribune — Haggen could eventually sell core stores as current auction takes shape — The company had planned to shed 95 stores to return to solvency with a much smaller core of profitable stores concentrated in the Northwest. But now chain says it wants to discuss the sale of its 32 core stores to increase payments to the stores' creditors.
► From KUOW — Albertsons makes a bid to get stores back in Haggen bankruptcy — Albertsons has submitted "baseline" bids to buy back 16 of its former stores in Oregon and Washington — plus another 20 in California, Nevada and Arizona.
► In today's (Longview) Daily News — Weyco to consider selling Norpac, other mills — Weyerhaeuser is considering selling Norpac and its liquid packaging plants in Longview as part of an evaluation of its cellulose fibers business, in which profits have sagged over the last year. "I think there's a number of employees that are not surprised," said Greg Pallesen of the AWPPW, the union that represents 450 workers at the liquid packaging plant.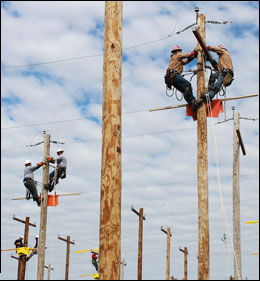 ► From KPLU — Help wanted: Must like heights and high voltage — Working on high voltage lines pays well and doesn't require a degree, but electric utilities are hard-pressed to replace retiring linemen. If you want to learn about the dedication and character needed to be a lineman, look no further than a place with a super-abundance of line workers: the International Lineman's Rodeo.
---
STATE GOVERNMENT
► In today's News Tribune — Future tab for retiree health care balloons — During the Legislature's last session, retired state and school employees successfully defended their health-insurance benefits. But they are likely to have to stay on defense against cuts as the estimated future cost of the benefits swells. Unfunded liability for retiree health-care benefits has grown 58 percent since a 2012 independent report expressed "serious concerns." Now at more than $10.8 billion, it grew because people are living longer and the state adjusted its estimates to take those longer lifespans into account. The same calculation is responsible for added pressure on the state's pensions.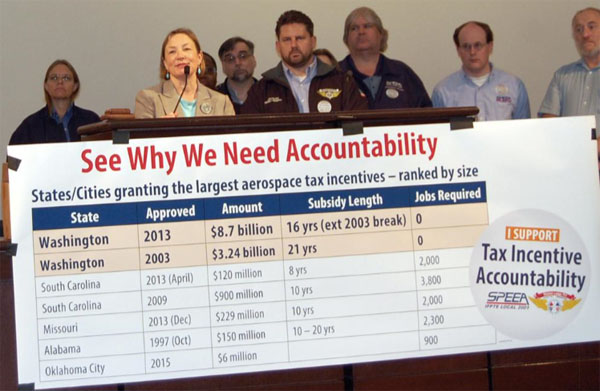 ► In the P.S. Business Journal — Unions try again for law to keep Boeing from moving workers out of Washington state — Boeing's unions were unable to get bills through the state Legislature last year that would make retaining jobs in Washington a condition of $8.7 billion in aerospace state tax credits, so they're trying again. "Boeing has not increased the number of jobs in Washington since November 2013. They haven't even maintained the same number of jobs," said state Rep. June Robinson (D-Everett). "What's even more disturbing than the lack of commitment Boeing is making to Washington, its state of origin, is the commitments Boeing is making to other places."
ALSO at The Stand — As Boeing cuts jobs in state, a renewed call for accountability
► From KING TV — Ferry captain shortage could cut WSF service — Officials with the Washington State Ferries system are warning that a shortage of qualified captains could eventually force a decrease in passenger service.
► In today's News Tribune — Supreme court must move fast on I-1366 (editorial) — The passage of I-1366 means the Supreme Court must review the measure's constitutionality before it derails the court's own demand for full funding of public education.
► In today's Seattle Times — Eyman tax measure could be blessing in disguise for state (by Danny Westneat) — There's nothing in Eyman's measure that says (legislators) can't go ahead and cut the sales tax, then replace that lost revenue with something else. In fact, doing exactly that has been a long-term goal of practically everyone who has studied our creaky, misguided tax system — efforts that span 50 years of Republican and Democratic governors alike.
EDITOR'S NOTE — Have you visited Olympia lately, Danny?
► In the P.S. Business Journal — Economist: Washington's poor shouldn't subsidize billion-dollar tech companies — "Even though a person like (Amazon CEO) Jeff Bezos would say an income tax will make recruiting harder, why should low-income people have to subsidize high-wage companies?" said Dick Conway, the longest-serving member of the Washington State Governor's Council of Economic Advisers. "Our tax system right now faults very heavily in terms of the tax burden on low-income people. Everybody should be paying their fair share."
---
TRANS-PACIFIC PARTNERSHIP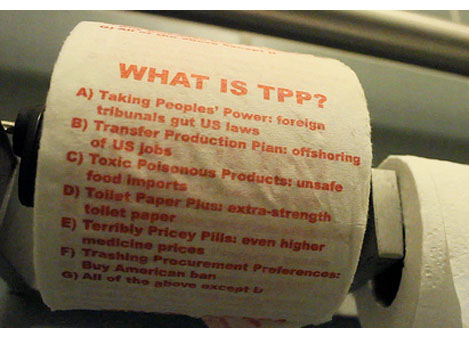 ► From AFL-CIO Now — TPP Daily Debunk #1: It's the 'most progressive trade deal ever' — Here's the deal: I can be the tallest person in the room and still not be tall. You can be the richest person at the meeting and still not be rich. Likewise, the "most progressive trade deal ever" isn't progressive… The TPP gives Australian, Japanese, Malaysian and other TPP corporations their own private justice system (ISDS) that they can use to attack our democracy. If these companies think that a California law banning a certain toxic chemical, or a Fort Lauderdale City Commission decision denying backyard fracking, or Rock Island County, Ill., increase in the minimum wage is "unfair" and violates their rights as a foreign investor, they can sue the United States before a panel of private arbitrators (usually international commercial lawyers) for damages. If they win, the foreign companies take home our taxpayer dollars to compensate for lost "expected profits." Giving foreign businesses power and influence over local and state decisions isn't progressive.
---
FEDERAL GOVERNMENT
► From Politico — Obama administration will take immigration fight to Supreme Court — The Obama administration will ask the Supreme Court to allow President Barack Obama to proceed with a round of executive actions to make it easier for millions of undocumented immigrants to live and work in the U.S., the Justice Department said Tuesday.
► From The Hill — Senate Republicans get green light for ACA repeal bill
---
CAMPAIGN 2016
► In today's NY Times — In Republican debate, candidates battle sharply on immigration — After weeks of personal sniping, the Republican presidential candidates clashed sharply over immigration and other policies in their debate on Tuesday, with John Kasich and Jeb Bush trying to energize their campaigns by heaping scorn on Donald Trump's plan to deport unauthorized immigrants.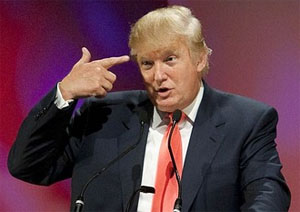 ► From Huffington Post — GOP candidates resoundingly reject the idea of a minimum wage hike — In explaining his aversion to a minimum wage hike, Donald Trump asserted that "our wages are too high." Likewise, Ben Carson said it would be misguided to raise the federal minimum wage, which remains $7.25 per hour.
► In today's — Every Republican on debate stage refuses to name one Democrat they admire — Christie used the question to declare that all Democrats are "not standing behind our police officers," while Santorum threw out a non sequitur about highway funding.
EDITOR'S NOTE — Reminds us of this story from The Onion this week.
---
NATIONAL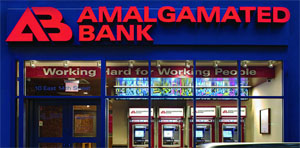 ► From Think Progress — Bank raises its minimum wage to $15, sees immediate benefits — The New York-based Amalgamated Bank, which is owned by the union OPEIU, announced in August it would immediately raise its minimum pay to at least $15 an hour and its union contract also specifies automatic 3 percent increases each year, ensuring annual raises for its workforce. It's paying off. "It's been incredibly well received. I haven't heard a single person in our bank that doesn't think that's the case," said CEO Keith Mestrich. "Morale in our bank is just great after this." He's even heard from potential customers who say they have sought out the bank after the announcement.
► In today's NY Times — Supreme Court hears case for Tyson Foods class-action lawsuit — Thousands of workers at an Iowa pork processing plant are seeking to band together in a single lawsuit seeking overtime pay.
► In today's NY Times — Airbnb pledges to work with cities, pay 'fair share' of taxes — After helping defeat Proposition F in San Francisco, which would have limited the home-sharing service, the company has pledged to cooperate with local governments.
---
The Stand posts links to Washington state and national news of interest every weekday morning by 10 a.m.
Short URL: https://www.thestand.org/?p=44829
Posted by
David Groves
on Nov 11 2015. Filed under
DAILY LINKS
. You can follow any responses to this entry through the
RSS 2.0
. Both comments and pings are currently closed.