Minimum wage insufficient to make ends meet, report finds
The following is from the Washington Community Action Network (Washington CAN):
(Nov. 13, 2015) — The city of SeaTac pioneered a fight for fair wages. The fight for thousands of workers meant the promise of a huge pay hike, 63 percent if they were making the state minimum at the time. Then, they fought back against a legal challenge by SeaTac businesses and won. Still another challenge has many workers waiting for that raise.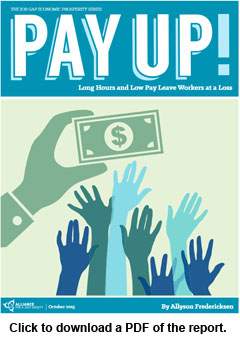 Here's why the fight is so important across Western Washington: Pay Up! Long Hours and Low Wages Leave Workers at a Loss a report released Thursday by the Alliance for a Just Society, calculates a living wage in Washington and reveals the astonishing number of hours a minimum wage employee needs to work just to make ends meet. The report was released Thursday morning at a press conference at the Somali Youth and Family Club in SeaTac.
"This is not only a matter of economics, but of racial justice," said report author Allyson Fredericksen. "Our analysis found that, even within these low-wage occupations, women and people of color are more likely to earn the lowest wages, and would therefore need to either cut back the most or work the most hours just to make ends meet."
The event included remarks from SeaTac Mayor Mia Gregerson.
"One common misconception that needs to be changed is that these people making minimum wage are teenagers," said Gregerson. "The average age of a minimum wage worker is 35 and 88 percent are over the age of 20. These are adults with families."
Minimum wage workers in Washington are falling further behind.  While the minimum wage is $9.47, an actual living wage, the amount it takes a single worker to make ends meet, is $15.95 per hour.  A worker in Washington needs to work 67.4 hours a week at minimum wage to cover their own basic needs.
"I am really hoping to get that raise to $15 an hour," said Osbaldo Perez who loads luggage on the graveyard shift at the SeaTac Airport. "It would make quite a difference in my life. I could help my family more and eventually I want to go back to school and make a better life for myself."
A living wage allows workers and families to meet their basic needs without public assistance and set aside a small amount of savings for emergencies such as a car repair, or plan ahead for expenses such as high winter heating bill.  The living wage calculation includes food, housing, utilities, transportation, health care, (child care) clothing, savings and state and federal taxes.
---
With more than 40,000 members, Washington Community Action Network is the state's largest grassroots community organization. Together we work to achieve racial, social, and economic justice in our state and nation. Our strength as an organization depends on our members' involvement. We believe that we can only achieve our goals when people take action for justice.
Alliance for a Just Society is a national policy, research, and organizing network with 15 affiliates throughout the country that focuses on health, racial, and economic justice.
Short URL: https://www.thestand.org/?p=44911
Posted by
David Groves
on Nov 13 2015. Filed under
STATE GOVERNMENT
. You can follow any responses to this entry through the
RSS 2.0
. Both comments and pings are currently closed.