Please sign petition to give Seattle's for-hire drivers a voice
SEATTLE (Nov. 10, 2015) — Many taxi, app-based, and other for-hire drivers in Seattle make below minimum wage and have no rights in their jobs, and when they do raise issues they are quickly silenced or retaliated against with loss of access to the app or dispatcher that enables them to work. A business model that controls all aspects of these drivers work but relies on the drivers being classified as independent contractors undermines Seattle's efforts to address income inequality and create opportunities for all workers in this city to earn a living wage.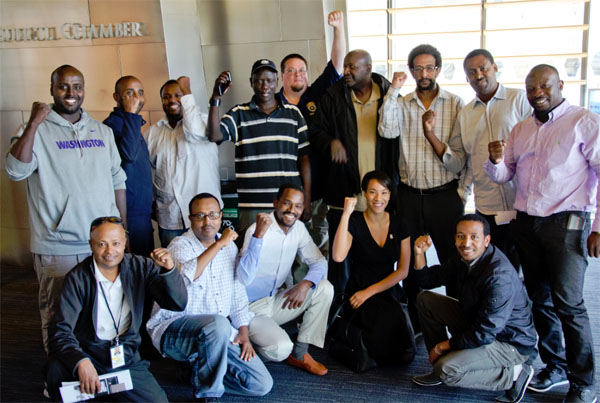 The City of Seattle is considering groundbreaking legislation that would give for-hire drivers the opportunity to have a voice on the job with their employer by coming together to collectively negotiate over their pay and working conditions. This bill would apply to all drivers who are paid to give rides to customers in Seattle, whether they drive for a taxi company, a for-hire firm, or a transportation network company (app-based dispatch companies, such as Uber and Lyft). Councilmember Mike O'Brien introduced the legislation in September and a key Seattle City Council committee voted unanimously in October to advance it.
Now, it's time for it to pass the full Council.
TAKE A STAND — Please support these drivers by urging the full Seattle City Council to give drivers a voice by passing this legislation. Click here to sign a petition to the Mayor and Council.
BACKGROUND — This proposal is making national news. Why? Because, for the first time, this legislation would allow workers previously considered "independent contractors" the right to speak up together and make sure they get paid for the work they do. If successful, this could have a profound effect on how independent contractors are treated in a variety of industries.
As Teamsters Local 117 points out, "You know something is afoul in Seattle's for-hire industry when a driver for a $50 billion company like Uber looks at his tax return and discovers that he made less than $3/hr last year. But that is the reality workers like Takele Gobena are facing in the new 'gig economy' as they try to cobble together a living without access to basic rights and protections of traditional employees."
Because for-hire drivers are classified as "independent contractors," not only are they denied the freedom to unionize through a traditional NLRB election process, they also are not covered by Seattle's wage theft, sick leave, or new $15/hr minimum wage laws.
O'Brien, sponsor of the new legislation, believes that allowing drivers to bargain with the companies themselves might work better than depending on regulation to improve their wages and working conditions. His proposal would allow the drivers to vote on a non-profit organization to serve as their "exclusive driver representative," which would negotiate a contract with the company. If the two parties fail to come to an agreement, they have to submit to arbitration. The resulting contract would be enforced through the courts, rather than the NLRB.
"This is precisely the type of legislation that has over the past few years made Seattle a leader in addressing systemic income inequality," writes Jeff Johnson, President of the Washington State Labor Council, AFL-CIO, in a letter to Seattle Mayor Ed Murray and the City Council members:
Too many companies are skirting the law by misclassifying workers as independent contractors, creating more and more precarious employment, employment that loads all the liabilities onto the worker and allows the employer to keep the wealth generated by these workers… The landmark legislation before you and the City Council right now would put balance back into the employment formula by giving workers in the for-hire transportation industry a voice at the workplace and an opportunity to share in the prosperity that they create for their employers.
Supporters of these drivers are urged to sign the petition today!
Short URL: https://www.thestand.org/?p=44786
Posted by
David Groves
on Nov 10 2015. Filed under
LOCAL
. You can follow any responses to this entry through the
RSS 2.0
. Both comments and pings are currently closed.