IRS complaint: Freedom Foundation 501(c) status 'bogus'
The following is from the Northwest Accountability Project: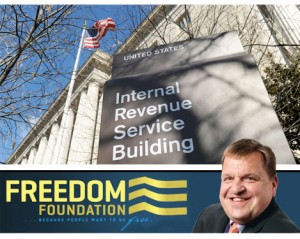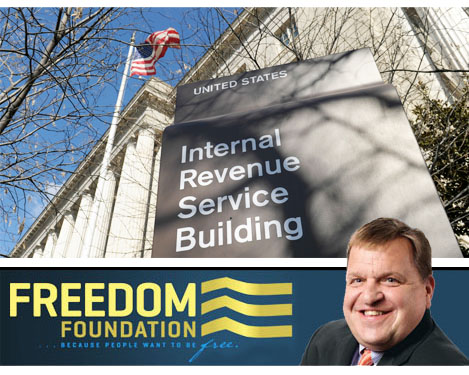 SEATTLE (Dec. 8, 2015) — A broad coalition of community organizations in Washington and Oregon announced Monday that they have filed a complaint with the Internal Revenue Service, calling for an immediate investigation and repeal of the Freedom Foundation's 501(c)(3) tax-exempt status.
"The Freedom Foundation is blatantly ignoring the IRS rules that prohibit tax-exempt organizations from engaging in partisan political activity — and as a result, they're getting tax breaks while taxpayers are footing the bill for their conservative attacks," said Andrew Biviano, Founding Board Member of the Northwest Accountability Project. "It's outrageous that the Freedom Foundation is engaging in partisan attacks on the middle class, the environment, and the values that we hold here in the Pacific Northwest, while hiding behind a bogus 501(c)(3) tax exemption."
"The Freedom Foundation is disregarding US tax law. We believe that the IRS should move quickly to revoke the organization's tax-exempt status," said EJ Juarez, Executive Director of Progressive Majority Washington.
As laid out in the complaint:
●  The Freedom Foundation is participating in political campaign intervention. To qualify for exemption under Section 501(c)(3), an organization may not participate or intervene in (including the publishing or distributing of statements) any political campaign on behalf of (or in opposition to) any candidate for public office. This prohibition is absolute. Based on all facts and circumstances demonstrated by the evidence and examples included in this complaint, it is clear the Freedom Foundation is directly intervening in political campaigns through its own actions and through individuals acting on behalf of the organization.
●  The Freedom Foundation is operated for the private benefit of the Republican Party and other conservative and libertarian groups in the states of Washington and Oregon. To be tax-exempt under section 501(c)(3) of the Internal Revenue Code, an organization must be operated exclusively for exempt purposes and not for the benefit of a private individual or group. This prohibition requires that no more than an insubstantial benefit should flow to a private party, including unrelated third parties. Because the actions of the Freedom Foundation benefit the Republican Party and similar political groups, in far greater than an insubstantial amount, it is not operating for the benefit of the public and its 501(c)(3) status should be revoked.
●  A substantial part of the Freedom Foundation's activities is attempting to influence legislative activity and lobbying. A section 501(c)(3) organization is permitted to undertake a limited amount of lobbying activity while maintaining its exempt status. As an organization that has elected to be subject to the expenditure test under section 501(h), the Freedom Foundation regularly reports figures that suggest it is within acceptable parameters of this test. However, given the information contained in Freedom Foundation communications and materials, statements made by leaders of the organization, and activities of its staff, it appears that, based upon information and belief the lobbying expenses of the organization may be far in excess of what is permissible for an organization exempt under section 501(c)(3).  Accordingly, when all facts and circumstances are considered, additional review by the IRS should be conducted to determine whether revocation, or the issuance of excise taxes, is appropriate.
"Tom McCabe and the Freedom Foundation have a history pursuing an agenda in the Pacific Northwest that is against women and LGBTQ rights, working families, and a sense of community that Oregonians broadly support," said Mary Nolan, Executive Director of Planned Parenthood Advocates of Oregon  "As the complaint shows, we believe Freedom Foundation has acted in violation of their 501(c)(3) status in pursuit of that agenda."
The Washington-based Freedom Foundation is a member of the State Policy Network (SPN), a national network of ultra-conservative and libertarian think tanks in all 50 states, with connections to many secretive conservative funders, including the Koch brothers. The SPN has an $83 million dollar budget and advocates for privatizing education, eliminating workers' rights, disenfranchising minorities, slashing environmental protections, and imposing a tax system at the expense of the middle class.
"The IRS complaint shows that the organization is clearly working to push an extremist agenda and undermine Pacific Northwest middle class families by eliminating workers' rights to organize and make a fair wage," said Collin Jergens, Communications Director at Fuse Washington.
The full coalition filing the complaint includes: Asian Pacific American Network of Oregon (APANO), Basic Rights Oregon, Center for Intercultural Organizing (CIO), Equal Rights Washington, Family Forward Oregon, Fuse Washington, IBEW 46, Martin Luther King Co. Labor Council, Northwest Accountability Project, Oregon AFL-CIO, Oregon League of Conservation Voters, Oregon Nurses Association, Planned Parenthood Advocates of Oregon, Progressive Majority WA, Teamsters 117, UFCW Local 555, Washington State Council of Firefighters, and the Washington State Labor Council, AFL-CIO.
The Northwest Accountability Project is a 501(c)(4) social welfare organization dedicated to educating the public on the issues that enhance the well-being of middle-class families and workers while shining a light on extremism and the moneyed special interests that attempt to bring an agenda of hate and division to Washington and Oregon. To learn more, visit www.nwaccountabilityproject.com.
WASHINGTON IS A UNION STATE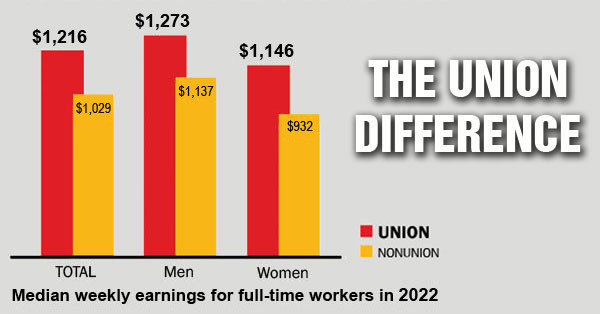 CHECK OUT THE UNION DIFFERENCE in Washington state: higher wages, affordable health and dental care, job and retirement security.
FIND OUT HOW TO JOIN TOGETHER with your co-workers to negotiate for better working conditions and respect on the job. Or go ahead and contact a union organizer today!