Eyman loses (again), Alaska bonus or beatdown, Ghost Ship…
Friday, January 22, 2016
---
STATE GOVERNMENT
► From AP — Judge rules Eyman's tax-cut ballot measure unconstitutional — A judge struck down Tim Eyman's latest tax-limiting measure Thursday, finding among other problems that it was a thinly disguised effort to propose a constitutional amendment — which can't be done by initiative in Washington. The decision from King County Superior Court Judge William Downing is certain to prompt an appeal to the state Supreme Court.
EDITOR'S NOTE — This Twitter gold features Eyman, waiting to testify on a bill in Olympia, getting the news on his phone that he lost:
► From KPLU — Judge rules Eyman's anti-tax measure unconstitutional; Supreme Court appeal next — The next step is an appeal. The Attorney General's office is required to defend initiatives approved by the public. As a result, it will appeal the lower court ruling to the state Supreme Court and likely ask for expedited review.
► In today's Olympian — ACA signups moving higher despite critics (editorial) — While the GOP-controlled Congress fiddles with actions to repeal Obamacare without actually approving a replacement, Washington consumers are continuing to sign up for tax-subsidized plans.
► In today's Spokesman-Review — 'Are you a virgin?" is not civil discourse (by Shawn Vestal) — The rudeness of state Rep. Mary Dye (R-Pomeroy) was probably an inadvertently good lesson for the Pullman teens. If they are interested in politics, they are going to confront zealous failures of civility and logic.
► In today's Oregonian — Dueling climate bills will duke it out in Oregon Legislature — A controversial plan to limit carbon dioxide emissions in Oregon that failed a year ago is back, jostling with another ambitious plan from environmental groups and utilities at this year's month-long legislative session in Salem.
---
LOCAL
► In today's Bellingham Herald — Baseline bidder deadline passes for Haggen auction — The deadline for a baseline bidder in the upcoming auction of Haggen's remaining stores — including all five in Whatcom County — has passed with no group apparently being named.
► In today's Seattle Times — Alaska Air's record year means nearly $100M in employee bonuses — Alaska Air Group's almost 14,000 employees will reap the benefit of a record year for the company, with annual performance bonuses totaling $98 million in their paychecks Friday.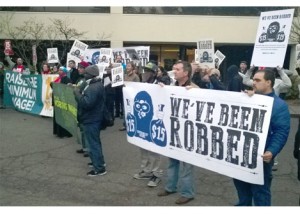 EDITOR'S NOTE — That's great news for Alaska's employees. But if you are one of the folks who used to be considered an employee, but now work for one of their poverty wage paying contractors — the baggage handlers, food service workers, airplane cleaners, and others — not only are you denied any bonus, your erstwhile employer Alaska Air will continue fighting in court to deny you and every one else who works at the airport their voter-approved $15/hour minimum wage.
► In today's Tri-City Herald — Hanford Fire Department worker tests positive for radioactive contamination — A worker at the Hanford Fire Station has tested positive for internal radioactive contamination at a very low level. Of 150 workers at the Hanford Fire Department, 104 have requested tests of their bodily fluid to determine if they also may have been exposed.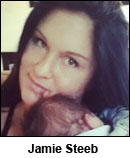 ► From KUOW — Mom fired by Overlake Hospital after lactation complaint — Jaime Steeb was a nursing assistant at Overlake Hospital in Bellevue. She had returned from maternity leave and needed time to pump breast milk; when she didn't get breaks, her breasts throbbed with pain. After a while, she said she developed an infection. Steeb's situation as a pumping and working mom is not unusual. KUOW has found previously that many lower-income moms end up pumping in cars and bathroom stalls – even though employers with more than 50 workers must provide hourly workers with lactation rooms and breaks. Few moms complain, but Steeb did. First to her supervisor, then human resources. Within months of filing the complaint, Steeb was fired. She is suing the hospital for retaliation.
---
BOEING
► In today's Seattle Times — Boeing will cut 747 jumbo output to one every two months — From September, Boeing will cut production of the slow-selling 747 jumbo jet in Everett to one jet every two months. "We expect some impact on employment," said spokesman Doug Alder. "We'll try to mitigate that by placing employees in other jobs across the other jet programs."
► In today's (Everett) Herald — Boeing to cut 747 rate to 6 a year, hopes to avoid layoffs — The company hopes to avoid layoffs due to the rate cut by moving affected workers to other programs, Boeing spokesman Doug Alder said. "If we do need to go down in employment, we'd start with executives and managers."
► In the P.S. Business Journal — More Boeing 737 orders as Southwest accelerates replacement plans — Southwest Airlines on Thursday said it has put 33 additional 737-800 orders on the Boeing's books, as the carrier looks to speed up its replacement of older models.
---
FRIEDRICHS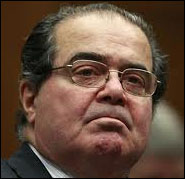 ► MUST-READ in the NY Times — Scalia's putsch at the Supreme Court (by Linda Greenhouse) — Reading the transcript of last week's argument, I felt as though I had stumbled into the inner sanctum of Wisconsin's union-busting governor, Scott Walker… So what we have here are the majority's policy preferences conveniently clad in First Amendment armor. But even the best armor is vulnerable, and as the court strides recklessly into a danger zone, I'm left with Justice Breyer's question: What's the country to think?
---
NATIONAL
► From Think Progress — Walmart ordered to hire back workers it illegally fired for striking in 2013 — Walmart must give 16 fired associates their jobs back after a National Labor Relations Board (NLRB) administrative law judge ruled Thursday that the company illegally retaliated against the workers for participating in strikes and other organizing efforts in 2013.
► In today's NY Times — Older drivers hit the road for Uber and Lyft — Seniors are turning to ride-sharing services for the extra income and flexibility they provide, but there are concerns about possible exploitation. Carol Sue Johnson, 73, is a driver for Uber.
► From Huffington Post — JPMorgan raises CEO Jamie Dimon's pay 35%, but with strings — The package was changed to tie more of Dimon's compensation to objective measures of performance and leave less leeway for judgment and is a response to investor complaints that Dimon's pay was too arbitrary.
► Today from The Onion — Study finds girls outperforming future employers in school — "We looked at test scores from all 50 states and found that, across every demographic group, girls are consistently outscoring those who will someday have the power to hire and fire them," said the study's lead author, Jennifer Malone, of Vanderbilt University.
---
T.G.I.F.
► Gather 'round boys and girls, as The Entire Staff of The Stand tells you about one of our favorite rock bands from the '90s. Back when Hillary Clinton's husband was running things, "The Battle of Britpop" was under way between a couple bands called Blur and Oasis. Blur released three straight critically acclaimed albums that still sound fantastic today (our favorite, Modern Life Is Rubbish) and their single "Country House" outsold the Oasis single "Roll With It" that was released the same day. But the victory was short-lived. The British press declared that Blur "wound up winning the battle but losing the war" because Oasis achieved something Blur never really did: commercial success in America.
Blur spent a few more years experimenting with some stylistic musical changes, and eventually broke up. Frontman Damon Albarn went on to other projects. You probably know him as the lead singer of the animated band Gorillaz that achieved some success with songs like "Dirty Harry" and "Feel Good Inc." But last year, Blur reunited for yet another critically claimed album called The Magic Whip. Here, they perform our favorite song from that album in Hong Kong, the town that inspired it, and they remind us all that commercial success rarely lasts long (see Oasis), but great music lasts forever. Enjoy.
---
The Stand posts links to Washington state and national news of interest every weekday morning by 10 a.m.
Short URL: https://www.thestand.org/?p=46300
Posted by
David Groves
on Jan 22 2016. Filed under
DAILY LINKS
. You can follow any responses to this entry through the
RSS 2.0
. Both comments and pings are currently closed.