1%ers' think tank refuses Friedrichs petitions
WASHINGTON, D.C. (Jan. 7, 2016) — Representatives of America Works Together, a coalition that includes teachers, nurses, firefighters and other public service workers and their allies, attempted on Wednesday to deliver more than 100,000 signed petitions to a Washington, D.C. think tank funded by right-wing billionaires, urging them to stop their attacks on the working people.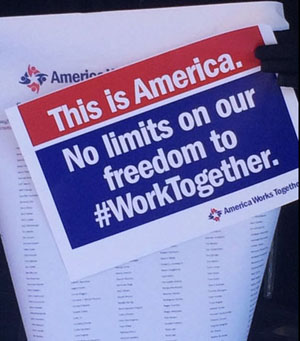 The petitions were refused by the "Center for Individual Rights," which The American Prospect reports is funded by the Koch brothers, other right-wing 1%-ers, and even white supremacists. It is the group behind the Friedrichs v. California Teachers Association case, part of an ideological campaign to make it harder for public sector workers to come together, speak up and get ahead. The U.S. Supreme Court will begin hearing arguments in the Friedrichs case on Monday, Jan. 11 and a decision is expected before the term ends in June.
Since its founding as a right-wing think tank in 1989, the Center for Individual Rights has pursued an anti-civil rights agenda that has included challenging the 1965 Voting Rights Act that was the product of the battle for voting rights in Selma and attacking affirmative action laws. Now, with the financial backing of the Kochs and other corporate CEOs, they are challenging the rights of employees to negotiate with employers.
America Works Together will continue to collect signatures on the petition — sign it here! — and continue to press the Center for Individual Rights and the right-wing billionaires who fund it to abandon their attacks on working people. Learn more at the America Works Together website.
BACKGROUND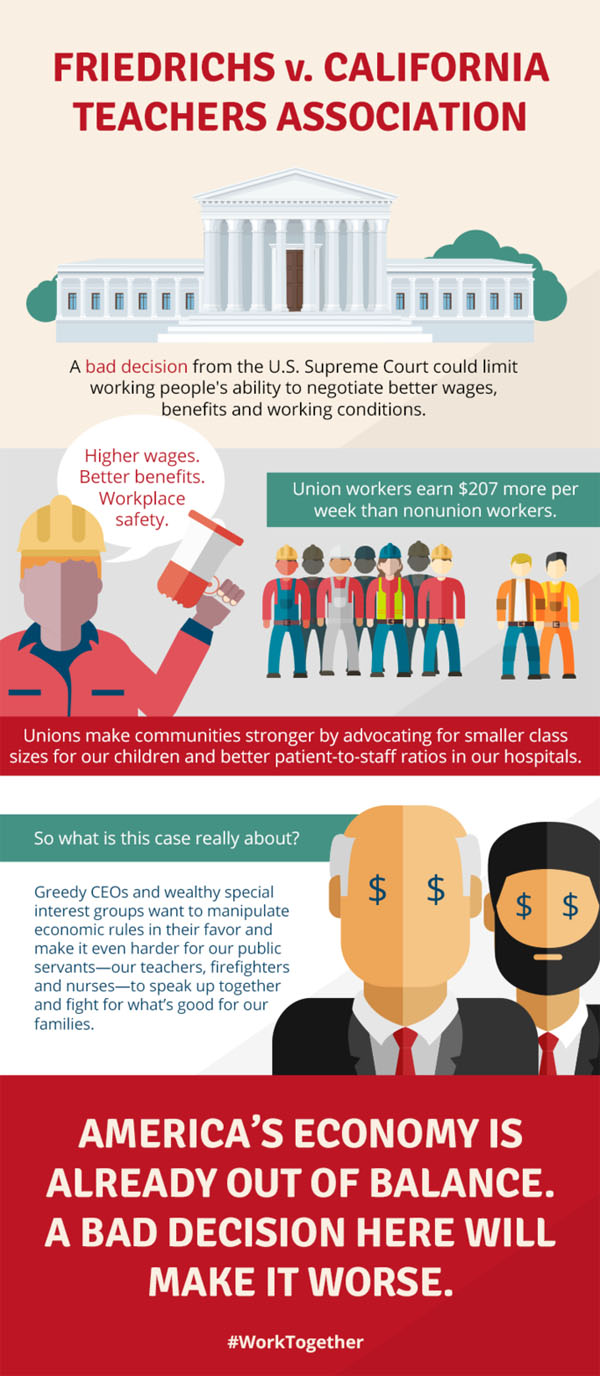 Rebecca Friedrichs and nine other California schoolteachers, all of whom have opted out of union membership, sued the California Teachers Association to relieve themselves of having to pay their fair share, via agency fees, for the services the union is required by law to provide to them, including contract negotiation and adjudication of grievances.
The top attorneys for 22 states and the District of Columbia, including Washington State Attorney General Bob Ferguson, have filed a "friend-of-the-court" amicus brief in Friedrichs v. the California Teachers Association supporting unions and opposing new limits on working people's ability to negotiate better wages, benefits and working conditions.
In addition, three prominent Republican state senators, including the No. 2 presiding officer in the Senate and the former chair of the Washington State Republican Party, have joined with GOP colleagues from across the country and sided with public workers in the case, saying it violates conservative principles separating federal and state responsibilities for good government and labor relations. Signing an amicus brief siding with public employees were Sens. Pam Roach, Don Benton and Mark Miloscia.
Short URL: https://www.thestand.org/?p=45860
Posted by
David Groves
on Jan 7 2016. Filed under
NATIONAL
. You can follow any responses to this entry through the
RSS 2.0
. Both comments and pings are currently closed.