WSNA wins decision against 'on call' rest breaks for nurses
The following is from the Washington State Nurses Association: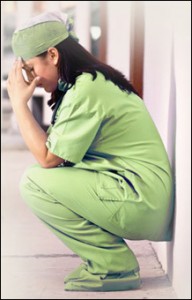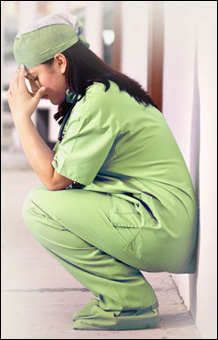 TACOMA (Jan. 14, 2016) — For years, Tacoma General Hospital had covered nurse rest breaks by using a buddy system that had nurses taking a double load of patients while their colleagues were on their legally mandated breaks. The system meant that nurses were essentially "on call" during their breaks to respond to any urgent or emergent issues that might arise with their patients.
Being "on call" is not a real break. That was the decision reached by an arbitrator in response to the Washington State Nurses Association's grievance, and subsequent arbitration, against MultiCare Health System, which owns the hospital.
In a groundbreaking decision, the arbitrator stated that the buddy system does not work, failing to give nurses true breaks from responsibility for their patients and from nursing's physically and mentally demanding work:
"The requirement of a nurse on break to be 'on call' diminishes the purpose of a break from work. Nursing requires knowledge, experience, dedication and concentration, tempered with compassion and patience, to successfully care for patients in need. The related stress, both physically and mentally, warrant occasional time away from their assigned task. The nurse on break should be free from worry and concern, with the knowledge that the nurse's colleague is providing the necessary attention to the assigned patients. If that nurse has her/his own patients, doubling the potential workload, even for 15 minutes, the time away from work is not really a break."
As a result of this decision:
Break relief cannot be taken from existing staffing if doing so would cause established nurse-patient ratios to be violated.
Effective Jan. 23, 2016, the "break buddy system" is banned.
Tacoma General Hospital must schedule, staff, and assign a float/relief RN for each unit with the "precise assignment" of relieving other nurses for breaks so he or she is fully relieved of patient care duties.
The rest break lawsuit against MultiCare Tacoma General, along with this recent grievance and arbitration, are one approach to ensuring that registered nurses throughout the state get the meal and rest breaks the law requires and nurses need.
WSNA brought the lawsuit against Tacoma General in 2010, saying that nurses weren't getting compensated for the legally mandated rest breaks they were consistently missing due to inadequate staff coverage. The parties settled the case in September 2013. The settlement said managers in each department had to put practices and policies in place that assured relief from patient care duties for a 15-minute rest break for every four hours of work. Additionally, it said: "In no case shall the mechanism used result in a violation of the staffing plan established by the Nurse Staffing committee." Nurse staffing committees are required by state law.
In this arbitration, WSNA argued that by failing to adequately relieve nurses, the hospital was putting them into "the impossible situation of having to 'abandon' their patients for a period of time, which places the nurses at great professional risk should an adverse event occur while absent from their assigned patients." WSNA also argued that use of the buddy system essentially doubles the nurse-to-patient ratio for the nurses covering for a colleague, "which could put the nurse's license in peril if a mistake is made or a problem occurs with the extra patients."
The arbitrator held that MultiCare had violated the 2013 Settlement Agreement by failing to provide nurses with rest break relief, held that the so-called "break buddy" system is not working and does not allow nurses to take a real break away from work, and found that MultiCare must abide by its staffing plan and may not violate or change existing staffing ratios in order to provide break relief.
The arbitrator's full decision can be read here.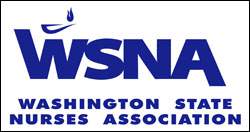 For over a century, WSNA has proudly represented Registered Nurses and the nursing profession across Washington state. Today, WSNA is the voice for more than 75,000 licensed Registered Nurses including staff nurses, nurse educators, nurse practitioners, school nurses, public health nurses, long-term care nurses, nurse managers and nurses in many other practice areas. Learn more about WSNA here.
Short URL: https://www.thestand.org/?p=46111
Posted by
David Groves
on Jan 14 2016. Filed under
LOCAL
. You can follow any responses to this entry through the
RSS 2.0
. Both comments and pings are currently closed.