Our debtors' prisons, Mitch doubles down, Social Security tops concerns…
Tuesday, February 23, 2016
---
L.F.O. REFORM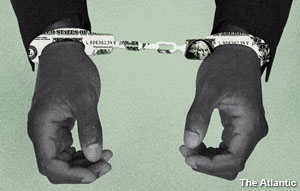 ► From The Atlantic — Debtors' prison in 21st-Century America — Thousands of people throughout the St. Louis metropolitan area are routinely sent to jail because they cannot pay local court fines and fees. These people are poor, and they tend to be black. While there are many terms to describe this — including, importantly, unconstitutional — there is one with historical resonance reserved for such a practice: debtors' prison. Today, the "debts" that lead to incarceration take the form of monetary penalties established and enforced by municipal courts. For many people throughout the St. Louis region, the nightmare of debtors' prison is a recurring one: Each time a payment or court date is missed, the court issues another warrant, and the individual is subject to arrest, jail, and additional fines and court fees. Despite prior attempts on the federal level and across the country to prevent the profound injustice of locking people in cages because they are too poor to pay a debt, the practice persists every day. The racially segregated landscape of the St. Louis metropolitan area, and the prevalence of racially homogenous debtors' prisons within its borders, are not a coincidence.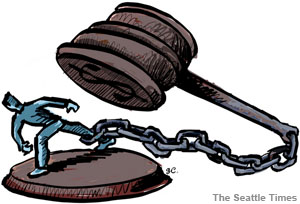 EDITORS' NOTE — This isn't just happening in St. Louis. Here in Washington state, there's a county jail for which, on any given day, 20 percent of its inmates are there because they cannot afford to pay their court fees and penalties, or "legal financial obligations" (LFOs). That's one reason why the Washington State Labor Council is supporting ESSHB 1390, common-sense LFO reform, which has unanimously passed the state House and will be heard in the Senate Law & Justice Committee on Wednesday. Last year, it advanced from that committee but was blocked from a floor vote in the Republican-controlled Senate. Stay tuned to see what happens this year. For more information, see a fact sheet on ESSHB 1390 and last Friday's excellent guest column in the Seattle Times by King County Superior Court Judge Theresa Doyle.
---
STATE GOVERNMENT
► From AP — House seeks pay raise for teachers in supplemental budget — House Democrats would hike the state's portion of the lowest starting salary for public school teachers to $40,000-a-year by closing several tax exemptions as part of their supplemental budget released on Monday. The plan would alter the $38 billion, two-year state budget adopted in 2015, including directing $318 million from the state's emergency fund to pay for needs such as wildfire suppression, reducing youth homelessness and another $148.9 million from the fund for school construction going to the capital budget.
► In today's (Everett) Herald — House Dems road budget tackles I-405, Snohomish Co. gridlock — State House Democrats offered a supplemental transportation budget Monday that if approved would spend millions of dollars to improve travel on I-405 where express toll lanes opened five months ago. It also would ensure the state Transportation Commission moves swiftly to open the toll lanes to vehicles at no cost on evenings, weekends, and holidays.
► In today's Olympian — Senate committee probes why sentencing error didn't get fixed faster — A records manager and a technology specialist flagged an error in calculating inmate release dates as a priority to fix, but the error persisted as thousands of inmates were released early. The Department of Corrections workers testified under oath Monday in front of a state Senate committee investigating the error.
---
BOEING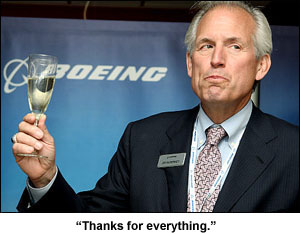 ► In today's P.S. Business Journal — McNerney out — CEO Muilenburg to become Boeing chairman, likely to smooth union relations — Boeing just became a more union-friendly organization. Monday the company announced that CEO Dennis Muilenburg will replace former CEO Jim McNerney as chairman of the company's board. The announcement comes just a week after Muilenburg, 52, revealed a less-confrontational relationship with labor by supporting a contract settlement with the SPEEA. That contract was negotiated in just a few weeks, and approved by nearly three-quarters of the union members who voted.
---
SUPREME COURT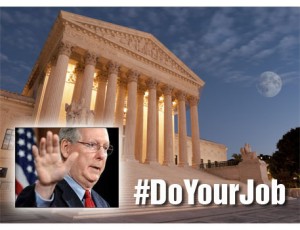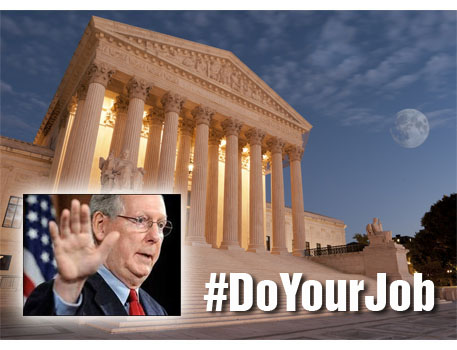 ► This morning from AP — McConnell says Senate won't vote on Obama Court pick — Top Senate Republican Mitch McConnell said Tuesday that his party won't permit a vote on any Supreme Court nominee submitted by President Barack Obama and will instead "revisit the matter" after the presidential election in November.
TAKE A STAND! — Tell the Senate: Do your job, fill the court vacancy!
► From Politico — Majority of Americans say Senate should hold hearings on Scalia replacement — A survey by the Pew Research Center found that 56 percent of Americans believe the Senate should hold hearings and vote on the president's designated successor, while 38 percent say the Senate should wait until the next president. The results break down along party lines.
EDITOR'S NOTE — Translation: the people who voted against Obama don't want him to be able to do what he was elected to do.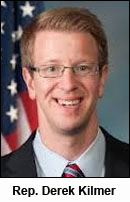 ► From PubliCola — Court vacancy undermine democracy (by U.S. Rep. Derek Kilmer) — Let's keep the pressure on the Senate to fulfill their obligation and allow a vote. The future of our country hangs in the balance. With a new Court we can fix our busted campaign finance system. We can finally return the voice of the people back to the halls of Congress. That's something worth fighting for.
► From Politico — Democrats resist total retaliation in Supreme Court fight — The party could shut down the Senate in response to Mitch McConnell's stall tactics if it wanted to.
► From Think Progress — No, Joe Biden didn't say the Senate should block Supreme Court nominees during an election year
► In today's NY Times — Grief gives way to division in first court arguments since Scalia's death — The day began with extended and sometimes wry reflections from Chief Justice John Roberts Jr. on the life and work of Justice Antonin Scalia, whose empty chair at the Supreme Court was draped in black. It ended with a liberal justice invoking events in Ferguson, Mo., and accusing a conservative colleague of being ignorant of facts in a case that could lead to "a police state."
---
ELECTION 2016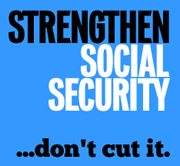 ► From AP — AP Poll: Social Security, joblessness top economic concerns — Ask people what economic issues will be important for the next president, and Democrats, Republicans and independents alike all put a high priority on protecting Social Security and reducing unemployment. Beyond that, though, their lists of top economic concerns for the next president are more fractured.
► From The Hill — Cruz backs deportation for 12 million undocumented immigrants — Republican presidential candidate Ted Cruz is taking a tougher position on illegal immigration, saying he would deport the estimated 12 million immigrants who are in the U.S. illegally.
► From KPLU — Where did all that Jeb Bush SuperPAC money go? — Right to Rise USA raised $118 million, and spent $94 million promoting Jeb!, even as Bush never came close to winning a primary.
► From the Onion — Jeb Bush bungles several questions on first day back at home — He repeatedly stumbled over his words and struggled to formulate convincing and consistent responses when asked by his wife about how he slept and what he wanted to have for breakfast.
---
NATIONAL

► In the NY Times — When a state balks at a city's minimum wage — The Alabama Senate is expected as soon as this week to consider a proposal, which the House approved overwhelmingly last week, that supporters believe would effectively end Birmingham's ambitions for its own minimum wage of $10.10 an hour. Birmingham officials have reacted angrily and plan to consider a proposal on Tuesday that would put the city's wage mandate into effect the next day, before Republicans could complete work on the bill making its way through the Legislature. Said state Rep. David L. Faulkner Jr., a Republican from Mountain Brook, a wealthy Birmingham suburb, who sponsored the state legislation: "I don't know if cities are equipped to analyze and determine what the appropriate minimum wage is, and what those impacts are."
► In the Washington Post — How the birthplace of the American labor movement just turned on its unions — The sense that West Virginia had nothing to lose, repeated in speech after speech that day on the floor of the legislature, suggests that the debate wasn't just about undermining unions. In the same way the legislature moved to place new limits on the ability of people to sue, passing a right-to-work law had become a symbol of the state's eagerness to reclaim its economic glory. "If you look at West Virginia, we're 49th in a lot of things," Del. Lynwood Ireland said. "So we have got to do something different. We can't set back and watch the place decay without trying something."
---
The Stand posts links to Washington state and national news of interest every weekday morning by 10 a.m.
WASHINGTON IS A UNION STATE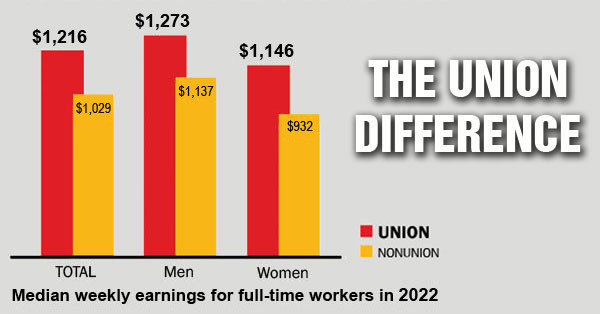 CHECK OUT THE UNION DIFFERENCE in Washington state: higher wages, affordable health and dental care, job and retirement security.
FIND OUT HOW TO JOIN TOGETHER with your co-workers to negotiate for better working conditions and respect on the job. Or go ahead and contact a union organizer today!