Official I-1433 kickoff is Saturday in Seattle
RSVP online to join historic effort; sign up to volunteer statewide

Petitions for Initiative 1433, which would allow all workers in Washington state to earn paid sick and safe leave and raise the state minimum wage incrementally to $13.50/hour, have been printed. Volunteers have already begun collecting signatures to put I-1433 on this fall's ballot.
Join us at the official kickoff event for this historic campaign's signature gathering drive at 8:30 a.m. Saturday, March 5. Enjoy breakfast, a short training, and then hit the streets with fellow volunteers to gather I-1433's first 5,000 signatures. RSVP Today!
Saturday, March 5 — I-1433 Campaign Kickoff
Washington State Labor Council office
321 16th Ave S, Seattle, WA
8:30 a.m. — Breakfast
9 a.m. — Training
10 a.m. — Hit the streets to gather signatures
Click here to RSVP
Can't be there Saturday? Click here to volunteer to collect signatures. You'll get hot-off-the-presses I-1433 petitions so you can collect signatures from your family, friends, co-workers, neighbors, and from folks at public places like farmers' markets and other community events.
Raise Up Washington, the coalition of union, faith and community organizations that support I-1433, are working to gather the 250,000 valid signatures needed by the end of June to qualify I-1433 for this fall's ballot. And labor unions throughout Washington state plan to take a leading role.
BACKGROUND — Washington's state's minimum wage is currently frozen for the second straight year at $9.47/hour. Even before deducting taxes, that's less than $20,000/year for a full-time worker. For many, that means public assistance is needed just to meet their families' basic food, health care and other needs. That's not right. People who work full time doing honest work should not live in poverty.
Meanwhile, one million people in Washington are denied paid sick leave at their jobs. Paid sick leave allows ill workers to stay home –away from coworkers and customers — without losing pay. But the people who can least afford time off without pay, including many who handle food and interact with the public in retail and even health care jobs — are the most likely to have no or very limited paid sick leave.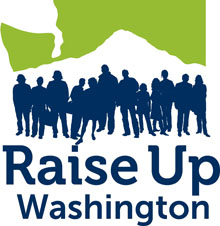 If Initiative 1433 qualifies for this fall's ballot and is approved by voters, Washington's state minimum wage will be increased in phases over four years, beginning at $11 (2017), $11.50 (2018), $12 (2019), and $13.50 (2020). I-1433 also allows workers to earn one hour of paid sick leave for every 40 hours worked, so they can take care of themselves and their family when they're sick without fear of being fired or losing a day's wage.
Employers who already provide these wages or more paid leave would not be affected, and cities like Seattle, SeaTac and any other municipality that has chosen or chooses in the future to enact higher minimum wages or sick leave standards are free to do so under I-1433.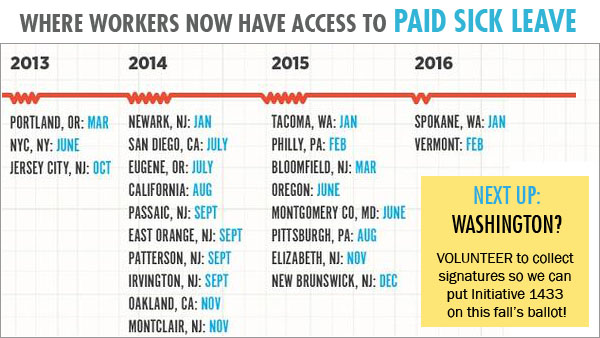 I-1433 would raise wages for 730,000 low-income workers in Washington state. Women and people of color would especially benefit, given that nearly 30 percent of women workers and more than 40 percent of Black and Latino workers currently make less than $13.50 per hour. An increase from $10 to $13.50 per hour would provide an additional $607 to a low-wage worker per month for basic needs. This is equivalent to feeding a family of four for a month, or covering the cost of buying health insurance for an adult in most parts of the the state. 
Short URL: https://www.thestand.org/?p=47177
Posted by
David Groves
on Feb 25 2016. Filed under
ELECTION
. You can follow any responses to this entry through the
RSS 2.0
. Both comments and pings are currently closed.