Support union jobs: Buy union for your Super Bowl party
(Feb. 3, 2016) — Our beloved Seattle Seahawks — whose players are affiliates of the Washington State Labor Council, AFL-CIO — may not be playing in Super Bowl 50 this Sunday, but some of you may be watching the game anyway with family and friends. So you might as well support good family-wage union jobs by serving up union-made food and drinks at your gathering.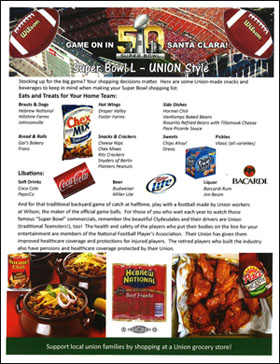 Our friends at the Pierce County Central Labor Council, AFL-CIO, have prepared this flier listing union-made food, snacks and libations that you can buy at your local unionized grocery store for your Super Bowl party.
And today, AFL-CIO Now has posted a similar list — via Labor411.org — that includes:
BEER
1845 Pils, Bass Pale Ale, Beck's, Blue Moon, Budweiser, Busch, Butte Creek, Goose Island, Hamm's, Henry Weinhard's, Hoegaarden, Iron City, Keystone Light, Killian's, Kingfisher Premium Lager, Kirin, Labatt Blue, Land Shark Lager, Leffe Blond, Lionshead, Michelob, Mickey's, Miller, Molson Canadian, Moosehead, Natural, O'Doul's (non alcoholic), Olde English 800, Pabst, Red Stripe, Red Tail Ale, Rolling Rock, Sam Adams, Schlitz, Shock Top, Steel Reserve, Steelhead, Stegmaier and Stella Artois.
MEAT
Alexander & Hornung, Always Tender, Ball Park, Banquet, Butterball, Dearborn Sausage Co., Farmer John, Farmland, Hebrew National, Hormel, Omaha Steaks, Oscar Meyer, Thumann's and Tyson.
SNACK FOOD
Act II Popcorn, Bagel Bites, Bugels, Cheetos, Cheez-It, Chex Mix, Chips Ahoy, Doritos, Fritos, Humpty Dumpty Potato Chips, Lay's, Pirate Booty, Smartfood Popcorn, Rice Krispies Treats, Ritz crackers,  Rold Gold Pretzels, Ruffle, Triscuit and Wheat Thins.
CHIPS, SALSA & SIDES
Mission Chips, Old El Paso chips, dips and salsa, Pace Salsa, Stacy's Pita Chips, Sun Chips, Tostitos chips and salsa, B&M Baked Beans.
The Washington State Labor Council's Union Goods and Services Committee has asked The Stand to regularly post lists of union products to help inform rank-and-file members and supporters what they can buy to support good family-wage jobs. The Entire Staff of The Stand has agreed to do so.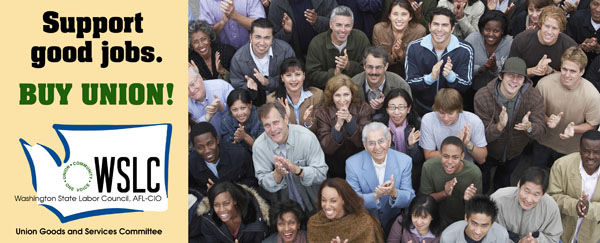 Short URL: https://www.thestand.org/?p=46607
Posted by
David Groves
on Feb 3 2016. Filed under
BUY UNION
. You can follow any responses to this entry through the
RSS 2.0
. Both comments and pings are currently closed.