Unconscionable on trade, more Haggen layoffs, your slaves…
Tuesday, March 15, 2016
---
TRANS-PACIFIC PARTNERSHIP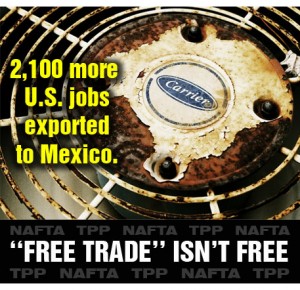 ► MUST-READ in today's NY Times — On trade, angry voters have a point (by Eduardo Porter) — Voters' anger and frustration, driven in part by relentless globalization and technological change, may not propel either candidate to the presidency. But it is already having a big impact on America's future, shaking a once-solid consensus that freer trade is, necessarily, a good thing. What seems most striking is that the angry working class — dismissed so often as myopic, unable to understand the economic trade-offs presented by trade — appears to have understood what the experts are only belatedly finding to be true: The benefits from trade to the American economy may not always justify its costs.
The new evidence from trade suggests American policy makers cannot continue to impose all the pain on the nation's blue-collar workers if they are not going to provide a stronger safety net. That might have been justified if the distributional costs of trade were indeed small and short-lived. But now that we know they are big and persistent, it looks unconscionable.
EDITOR'S NOTE — Of course, The Seattle Times and the rest of Washington's media establishment have not only failed to understand this, they continue to be patronizing and dismissive of the real, legitimate damage done by free-trade deals like the TPP. Instead, they keep regurgitating the "Washington is a trade-dependent state" talking points like it's still 1992.
ALSO at The Stand — Murdering manufacturing is 'strictly business' (by Leo W. Gerard)
► From The Hill — Anti-TPP Republicans press Trump advantage — Noting the vehemence of opposition to the trade deal in Michigan, they argue their party would face a backlash by seeking to move it.
EDITOR'S NOTE — We changed this headline from "anti-trade" to "anti-TPP" because, although it's commonly used by the media establishment, the former is just plain inaccurate.
---
LOCAL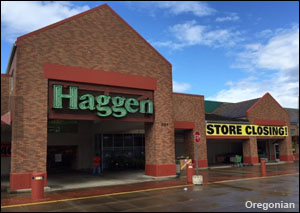 ► In today's Oregonian — 215 more workers to lose jobs as Haggen closes 3 additional stores — In a layoff notice filed with Oregon on Friday, Haggen said a total of 215 workers would be laid off from the stores in in Oregon City, Puyallup and Port Angeles, which are slated to close within 60 days. This notice comes on the heels news that Haggen would lay off 263 people due to closures at its stores in Happy Valley and West Linn in Oregon, and Burien and Federal Way in Washington.
► In the Bellingham Herald — Haggen name to remain on 15 sold stores
► In the Bellingham Herald — Albertsons was the only qualified bidder for Haggen core stores
► In the P.S. Business Journal — Group Health members vote to support Kaiser Permanente acquisition — Group Health voting members agreed Saturday to the $1.8 billion acquisition by Oakland, California-based Kaiser Permanente that was announced in December. Of the about 27,000 members of Group Health who were eligible to vote, 8,824 voted in support and 1,586 voted against the deal.
ALSO at The Stand — SEIU 1199NW nurses at Group Health endorse Kaiser deal
► In today's (Longview) Daily News — Former KapStone workers fired after strike await judge's decision — Six months after mill workers walked out, a federal judge is considering whether KapStone acted legally when it fired four striking union pickets. A hearing into the cases ended last Tuesday in Portland, but an administrative law judge isn't expected to rule for another two months.
► From NW Accountability Project — Mobile billboard in Portland, Vancouver pressures Wells Fargo — You may see a new mobile billboard on Portland and Vancouver streets calling on Wells Fargo Executive Vice President Jeffrey Grubb to stop supporting groups that promote anti-LGBT agendas. The roaming billboard, scheduled to travel Portland and Vancouver, WA streets this week, promotes a new public petition to Wells Fargo, urging the bank to distance itself from extremist groups in the Pacific Northwest.
ALSO at The Stand — AFSCME, IBT decry right-wing funding by Wells Fargo exec
► In the Seattle Times — Maurice Caldwell (1932-2016) — Maurice Caldwell, a longtime resident of Seattle and a former president of the Society of Professional Engineering Employees in Aerospace (SPEEA) at Boeing, died Feb. 25 after a brief illness.
---
STATE GOVERNMENT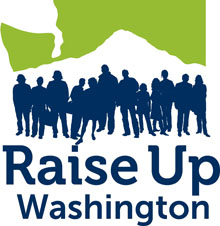 ► From Think Progress — While Congress stalls, the country has now passed 30 paid sick leave laws — On Monday evening, Plainfield, New Jersey became the 30th place in the country to ensure that all workers can take a paid day off if they or their family members get sick. The paid sick leave law will mean the estimated 10,000 workers in the city who previously had no access to leave will be covered.
TAKE A STAND! — Join the Raise Up Washington campaign to allow all workers to earn paid sick leave and raise the minimum wage in Washington state. Volunteer to collect signatures for Initiative 1433!
---
FEDERAL GOVERNMENT
► From The Hill — White House close to finalizing new overtime rules — The Labor Department sent the long-awaited overtime rule to the White House's Office of Information and Regulatory Affairs on Tuesday for final approval. Once the White House signs off, the Labor Department will issue the final rule.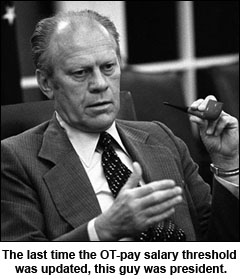 ► From Think Progress — Are you one of the 5 million Americans about to get extra OT pay? — The changes, once in effect, will mark the first time the overtime threshold has been updated since 1975. Because of that lag, the threshold has effectively lowered as inflation has climbed. Loopholes also widened so that more and more employees were classified as exempt. Between both of those forces, the number of salaried workers covered by overtime requirements fell from 12 million in 1979 to 2.5 million in 2014.
► From The Hill — Final preparations for court war — President Obama and his Republican opponents are making the final preparations for a public relations war over the vacancy on the Supreme Court. It is likely to be one of the most heated confirmation fights in recent memory, with both sides expected to unleash television ads, opposition research and grassroots organizing.
► From TPM — GOPer On SCOTUS nom: 'I'll consider' but 'decision has already been made' — Sen. Jerry Moran (R-Kan.) showed some uneasiness with GOP leadership's decision to blockade President Obama's Supreme Court nomination, saying that the "decision has already been made" to not give the nominee a hearing or even a meeting.
---
NATIONAL
► From Eater — Taco Bell must pay workers $500,000 for unpaid lunch breaks — A court case against Taco Bell that dragged on for almost a decade is finally over: A California jury has determined that Taco Bell workers in California are owed nearly $500,000 after finding the chain had underpaid the employees for their meal breaks.
---
TODAY'S MUST-READ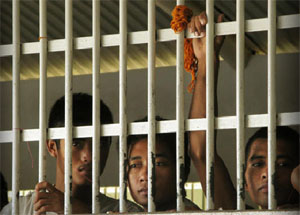 ► In the News Tribune — The list of slave-labor imports you use might surprise you — That new soccer ball you just bought your child? If it came from China, it could have been made by workers who work up to 21 hours a day. That trendy mineral makeup on your face? A child in India could have spent long, hot days mining the sparkly mica in it. Your smartphone? "The likelihood that one of those was not touched by a slave is pretty low," said one U.S. State Department official.
If you've never thought about the slave labor that could have been used to make those cool shoes on your feet, click on SlaveryFootprint.org. The website is run by a nonprofit working to rid the world of slave labor and human trafficking. By answering just a few questions, the website will tell you "how many slaves work for you."
---
The Stand posts links to Washington state and national news of interest every weekday morning by 10 a.m.
WASHINGTON IS A UNION STATE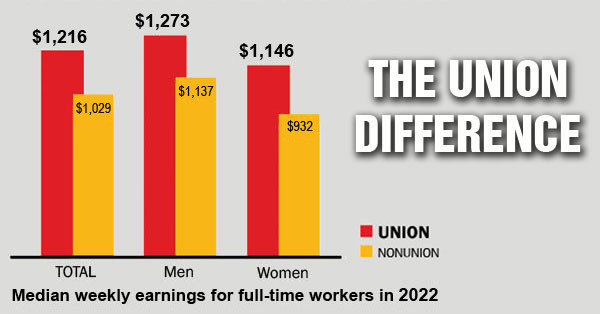 CHECK OUT THE UNION DIFFERENCE in Washington state: higher wages, affordable health and dental care, job and retirement security.
FIND OUT HOW TO JOIN TOGETHER with your co-workers to negotiate for better working conditions and respect on the job. Or go ahead and contact a union organizer today!