As TPP opposition grows, will our members of Congress listen?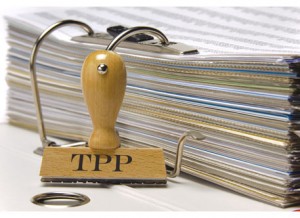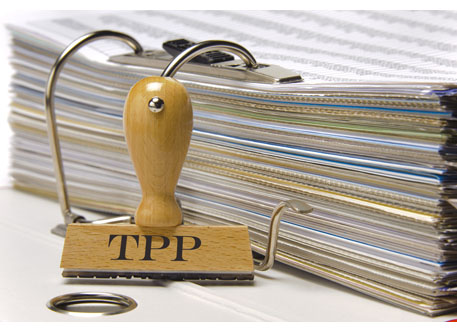 (Mar. 2, 2016) — Like the Seattle City Council before it, the Spokane City Council on Monday announced its unanimous opposition to the Trans-Pacific Partnership (TPP) and urged Washington's congressional delegation to vote against the NAFTA-like free trade agreement covering the United States and 11 Pacific Rim nations.
Washington state's political and media establishment have attempted to portray the TPP vote as a referendum on support or opposition to trade, which is obviously important to the national economy and our state in particular. But as the Spokane resolution points out, "only a few of the chapters of the TPP deal directly with trade, the bulk of the agreement instead establishing limits on food safety, health and environmental policies, expanding patents, and eviscerating financial regulations." (See the entire resolution below.)
The Spokesman-Review marveled at the "rare showing of legislative harmony" in the unanimously approved resolution and the Inlander even touted the "rare opportunity for agreement" among the city's politically opposed "gadflies."
"With its unanimous bipartisan decision, the Spokane City Council has added its voice to cities around Washington and the world that are speaking out against the TPP. We need fair trade policies, not policies that put our workers, environment, and health below profit margins," said Gillian Locascio, Coordinator for the Washington Fair Trade Coalition. "Thank you, Spokane City Council, for listening to your constituents. We hope that our members of Congress will do the same."
B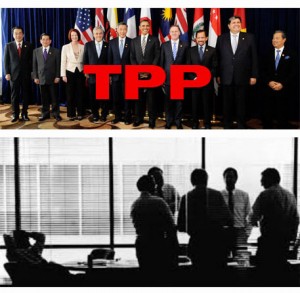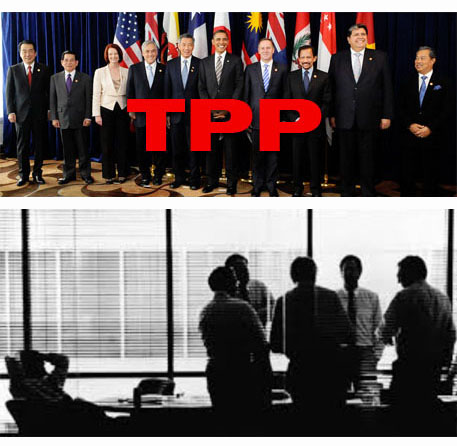 ipartisan opposition to the TPP among the 2016 presidential candidates, as noted today by Seattle Times business columnist Jon Talton, stands in stark contrast to 1992 when both Bill Clinton and George H.W. Bush touted the North American Free Trade Agreement (NAFTA). This year, all the 2016 contenders — Bernie Sanders, Donald Trump, and even former TPP supporters Hillary Clinton and Marco Rubio — say they oppose the TPP because it would harm American workers and consumers. Talton concludes:
"As difficult as it may be for Washington state's business and political establishment to grasp, TPP is in big trouble and will probably be shelved."
The question is, will Washington's congressional delegation — most of whom traditionally support free trade agreements — heed the shifting winds of opinion from an American public that has been repeatedly burned by promises of more jobs from these deals? In the first decade of this century, America lost 56,190 factories or 15 per day.
President Barack Obama and TPP supporters certainly aren't giving up. Last week, five of the nation's most powerful corporate lobbying groups announced a new alliance to push the TPP. And this week, POLITICO reported that the White House and pro-TPP lawmakers "hope to grow support for the TPP among the two dozen Democrats who were on the fence about Fast Track (trade negotiating authority) but ultimately voted against it, including Denny Heck and Adam Smith of Washington."
Last year, Democratic Reps. Heck, Smith and Jim McDermott voted against the Fast Track legislation intended to speed passage of the TPP and block Congress from changing it.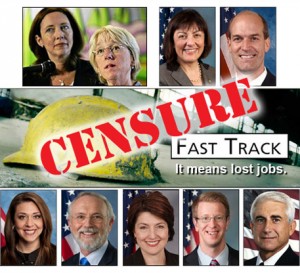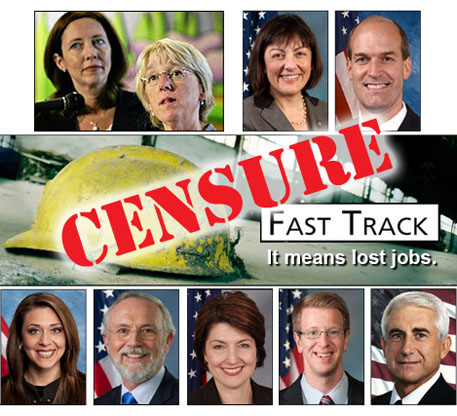 But the rest of the Washington's delegation voted "yes." The Washington State Labor Council, AFL-CIO subsequently censured Democratic Sens. Patty Murray and Maria Cantwell, and Reps. Suzan DelBene (D), Rick Larsen (D), Jaime Herrera Beutler (R), Dan Newhouse (R), Cathy McMorris Rodgers (R), Derek Kilmer (D) and Dave Reichert (R), all of whom voted in favor of Fast Track.
But this year is an election year, and like the presidential candidates, our U.S. senators and representatives campaigning for re-election will soon be expected to declare their support or opposition to the TPP.
Stay tuned.
---
Here is the resolution unanimously approved by the Spokane City Council:
A resolution opposing the Trans-Pacific Partnership Trade Agreement.
WHEREAS, the citizens of Spokane strongly support international trade when fair rules of trade are in place and seek to be an active participant in trading with other nations, and seek to maximize the benefits and minimize any negative effects of international trade; and
WHEREAS, existing trade agreements have effects that extend significantly beyond the bounds of traditional trade matters, such as tariffs and quotas, and can undermine Washington's regulatory authority and constitutionally guaranteed authority to protect the public health, safety, and welfare; and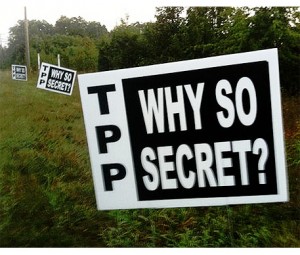 WHEREAS, the Trans-Pacific Partnership (TPP) currently under consideration in Congress was negotiated in secret by corporate trade representatives, lacking sufficient input from workers' rights or environmental organizations, and without public disclosure of the provisions of the agreement even to members of Congress in violation of the democratic values of this country; and
WHEREAS, under the TPP, the Department of Energy (DOE) loses its authority to regulate exports of fossil fuels to countries with which we have a trade agreement, making drastic increases in natural gas exports and dangerously toxic fracking much more likely; and,
WHEREAS, only a few of the chapters of the TPP deal directly with trade, the bulk of the agreement instead establishing limits on food safety, health and environmental policies, expanding patents, and eviscerating financial regulations; and,
WHEREAS, similar to NAFTA, the TPP includes an undemocratic system of corporate privileges including investor-state dispute settlement under which individual foreign corporations are given equal status with the sovereign governments signing the deal; and,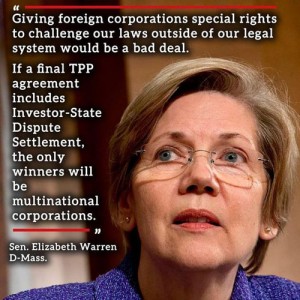 WHEREAS, investor-state dispute settlement allows corporate claimants to challenge governments' health, environmental and other public interest policies before extra-judicial tribunals authorized to order unlimited compensation for lost profits to be paid for with taxpayer dollars; and,
WHEREAS, public health groups such as Doctors Without Borders and the AIDS research group amfAR have warned that the TPP could delay the introduction of generic drugs, boosting drug prices and ultimately costing lives; and
WHEREAS, the TPP threatens our ability to self-govern locally;
NOW, THEREFORE, BE IT RESOLVED, that the City of Spokane opposes the Trans-Pacific Partnership Trade Agreement and urges our Washington state Congressional delegation to oppose this trade agreement.
Short URL: https://www.thestand.org/?p=47260
Posted by
David Groves
on Mar 2 2016. Filed under
NATIONAL
. You can follow any responses to this entry through the
RSS 2.0
. Both comments and pings are currently closed.