Eyman always wins, KPLU hits goal, 30 years of failure, Fall at Your Feet…
Friday, May 27, 2016
---
STATE GOVERNMENT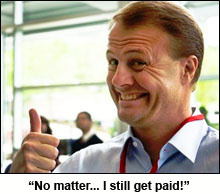 ► From AP — Eyman's tax-limiting initiative unconstitutional, state Supreme Court says — The high court said Initiative 1366, sponsored by anti-tax activist Tim Eyman, was unconstitutional because it violated the requirement that initiatives be limited to a single subject.
► In today's News Tribune — Supreme tax logic (editorial) — It should surprise nobody, least of all Tim Eyman, that the Washington Supreme Court thwarted his latest attempt to bar the door on raising taxes. All nine justices agreed in a ruling Thursday that Initiative 1366, approved by state voters last fall, violates the Washington Constitution. If they split on anything, it was on the number of different violations.
EDITOR'S NOTE — Meanwhile, volatile bathroom vigilante state Sen. Michael Baumgartner (R-Spokane) reaffirms that he is in contempt of court. Classy!

---
LOCAL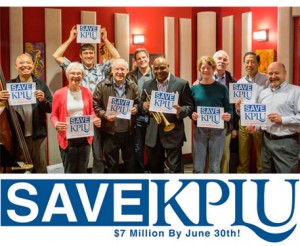 ► In the News Tribune — Supporters of Tacoma-based KPLU reach $7 million mark in bid to buy station — The effort called Save KPLU lived up to its name Thursday afternoon, when KPLU General Manager Joey Cohn took to the station's airwaves to make the official announcement. "We reached our goal of $7 million," Cohn announced shortly after 3:30 p.m. in the studio packed with staff, supporters and media. Now the Friends of 88.5 FM can make an offer to station owner Pacific Lutheran University to keep it out of the hands of the University of Washington's KUOW.
ALSO at The Stand — Help save KPLU, the state's only unionized NPR station
► In today's Kitsap Sun — Teachers vote no confidence in North Kitsap superintendent — Ninety-seven percent of union members participating in a vote this week said they have no confidence in embattled Superintendent Patty Page. The union has for several years been privately sharing with Page, top administrators and the board its concerns that Page's "top-down leadership style" has created a climate of "fear, intimidation and retribution."
► In today's Seattle Times — Light-rail stations could open years earlier under new Sound Transit plan — From Everett to Federal Way and Redmond to Ballard and West Seattle, light-rail service would start a few years earlier than Sound Transit had proposed in March.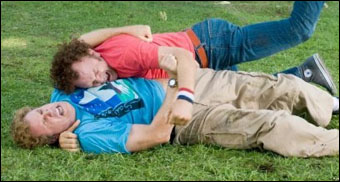 ► In the P.S. Business Journal — Gravity Payments CEO Dan Price set to begin court battle with his brother over $70k minimum wage — CEO Dan Price raised the Seattle company's minimum wage to $70,000 a year. For some Gravity Payments employees, that resulted in dramatic increases in their salaries. By the company's account, employees were thrilled and still are. Fewer people are leaving Gravity than ever, and more people want in. The company has received 30,000 resumes since raising the wage. But when Price sits across from his brother — Gravity Payments minority shareholder Lucas Price — in a King County Superior Court room Tuesday, the company's minimum wage will only be part of the discussion.
---
ELECTION 2016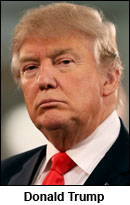 ► In today's NY Times — Trump's delusions of competence (by Paul Krugman) — Trump is a clear case of someone born on third base who imagines that he hit a triple: He inherited a fortune, and it's far from clear that he has expanded that fortune any more than he would have if he had simply parked the money in an index fund. But leave questions about whether Trump is the business genius he claims to be on one side. Does business success carry with it the knowledge and instincts needed to make good economic policy? No, it doesn't.
► In today's Bellingham Herald — Trump's rally in Lynden cost taxpayers $155,000 and counting — More than likely, it won't be reimbursed.
---
SUPREME COURT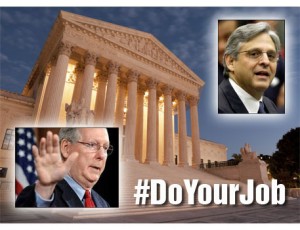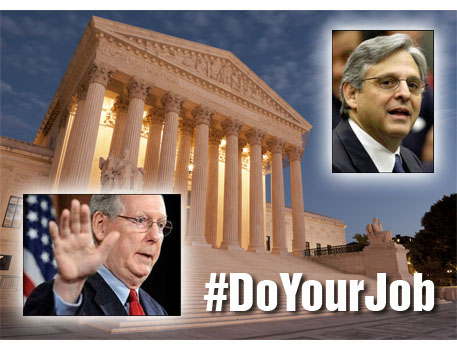 ► In today's Washington Post — Sen. Orrin Hatch reacts to meeting with Merrick Garland before it occurs — "Like many of my Senate colleagues, I recently met with Chief Judge Merrick Garland, President Obama's nominee to the Supreme Court. … Our meeting, however, does not change my conviction that the Senate should consider a Supreme Court nominee after this presidential election cycle," Hatch wrote in an op-ed published before the meeting even occurred. Hatch's pre-baked reaction to his Garland meeting demonstrates how Republicans have been able to maintain their blockade in the face of the nominee's long resume and personal charm.
► From Think Progress — Scalia is dead, but Texas has a devious plan to bring his vote back to life — A landmark lawsuit filed by several states that wish to preserve their ability to engage in anti-transgender discrimination will be heard by a judge with a record of hostility toward LGBT rights. This is not a coincidence.
---
FEDERAL GOVERNMENT
► From Huffington Post — Republicans kill spending bill over its LGBT protections — House Republicans unexpectedly sunk their own $37.4 billion water and energy spending bill on Thursday because it included a provision ensuring that people who work for government contractors can't be fired for being lesbian, gay, bisexual or transgender.
EDITOR'S NOTE — To their credit, Washington's Republicans all voted yes. But, then again, the bill not only undermines the Clean Water Act, it includes language that would prevent the federal government from revoking funds to North Carolina over its controversial law affecting transgender people going to the bathroom.
---
NATIONAL
► From Think Progress — Minimum wage workers can't afford rent anywhere in the country — The report found that to afford a one-bedroom apartment at the average fair market rate without shelling out more than 30 percent of his or her income, someone has to earn at least $16.35 an hour. The necessary pay goes up to $20.30 an hour to afford a two-bedroom unit.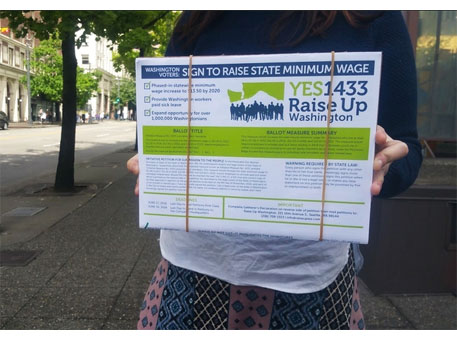 ALSO at The Stand — Volunteers needed for Initiative 1433's home stretch — With the unofficial beginning of summer this Memorial Day weekend, time is running out on the historic Initiative 1433 signature-gathering campaign to raise Washington state's minimum wage in four steps to $13.50/hour and to allow all workers to earn paid sick and safe leave. Volunteer TODAY!
► From MPR News — Minneapolis paves way to give thousands of workers paid sick time — The Minneapolis City Council cleared the way Thursday afternoon for a new mandate that could give thousands of workers paid sick time starting next year.
UPDATE — It officially passed by unanimous vote this morning.
► In the P.S. Business Journal — Finland harshly criticizes Microsoft over Nokia layoffs — A top Finnish government official accused Microsoft of not living up to its promises to bring more jobs to Finland.
---
TODAY'S MUST-READ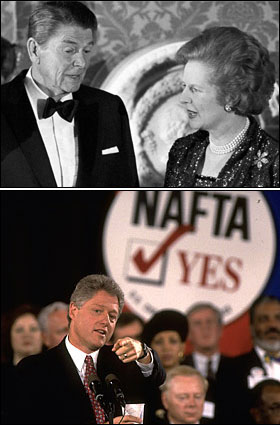 ► From Business Insider — IMF: The last generation of economic policies may have been a complete failure — Neoliberalism, or the opening of economies to foreign capital along with a reduction in government debt burdens, has been the dominant trend in economic policymaking over the past 30 years. This broad framework for thinking about economic policy encourages increasing privatization of investment and a reduced capacity for government's to rack up debts in the pursuit of faster growth. The policies of Ronald Reagan and Bill Clinton in the US and Margaret Thatcher in the UK are often held up as the gold standard of neoliberalism at work.
The International Monetary Fund now argues that the pursuit of neoliberal policies by the international economic and political elite has led to what they call "three disquieting conclusions."
●  The benefits in terms of increased growth seem fairly difficult to establish when looking at a broad group of countries.
●  The costs in terms of increased inequality are prominent. Such costs epitomize the trade-off between the growth and equity effects of some aspects of the neoliberal agenda.
●  Increased inequality in turn hurts the level and sustainability of growth. Even if growth is the sole or main purpose of the neoliberal agenda, advocates of that agenda still need to pay attention to the distributional effects.
---
T.G.I.F.
► Today, the Entire Staff of The Stand wishes New Zealander Neil Finn (Split Enz, Crowded House) a very happy 60th birthday. In his honor, we present Neil singing a beautiful acoustic rendition of the lovely "Fall At Your Feet" ably backed up by Roddy Frame (Aztec Camera) and Graham Gouldman (10cc). Enjoy!
---
The Stand posts links to Washington state and national news of interest every weekday morning by 10 a.m.
WASHINGTON IS A UNION STATE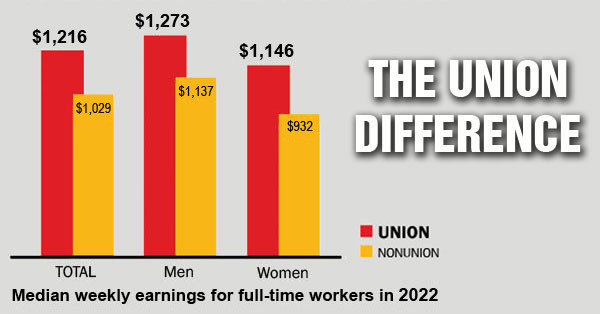 CHECK OUT THE UNION DIFFERENCE in Washington state: higher wages, affordable health and dental care, job and retirement security.
FIND OUT HOW TO JOIN TOGETHER with your co-workers to negotiate for better working conditions and respect on the job. Or go ahead and contact a union organizer today!