UPDATE — Here is a printable one-page list of WSLC endorsements made at the 2016 COPE Convention on May 21, at the WSLC 2016 Convention in Wenatchee on July 21, and after the Primary Election by the WSLC Executive Board.
Also see TVW coverage of the congressional and statewide candidates' speeches/panels prior to endorsement voting.
WSLC President Jeff Johnson at 4:40 — Sen. Patty Murray at 13:55 — Congressional Incumbents Panel 25:30 — Congressional Challengers Panel 51:23 — 7th Congressional District Panel at 1:05:23 — Gov. Jay Inslee at 1:28:40 — Supreme Court Panel at 1:43:40 — Lt. Governor Panel at 2:03:06 — SPI Panel at 2:18:36 — Insurance Comm. Mike Kreidler at 2:35:00 — I-1433 Panel at 2:38:47 (feat. MC April at 2:46:20) — Secretary of State Panel at 2:49:33 — Attorney General Bob Ferguson at 3:00:45 — State Treasurer Panel at 3:07:05 — Lands Comm. Panel at 3:20:05 — Auditor Panel at 3:38:54
---
SEATTLE (May 21, 2016) — Hundreds of delegates representing unions from across Washington state gathered today to vote on the Washington State Labor Council, AFL-CIO endorsements for congressional, statewide and legislative candidates. The WSLC is the largest labor organization in the Evergreen State, dedicated to protecting and strengthening the rights and conditions of working people and their families, and representing the interests of more than 600 local unions with some 450,000 rank-and-file members.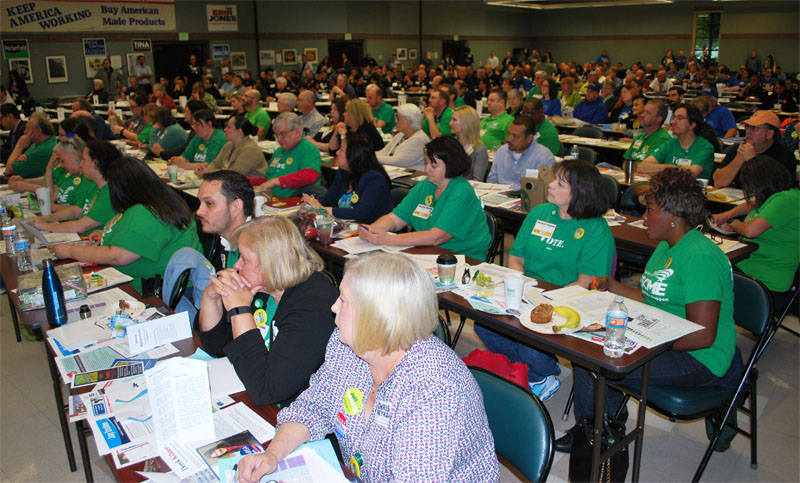 The list of 2016 candidates endorsed today at the WSLC COPE (Committee On Political Education) Convention is posted here and listed below.
---
Statement by Jeff Johnson,
President of the Washington State Labor Council, AFL-CIO
Regarding WSLC endorsement actions and trade policies
May 21, 2016
Delegates representing unions from across the state gathered in Seattle today to vote on the Washington State Labor Council, AFL-CIO endorsements for congressional, statewide and legislative candidates. By WSLC Constitution, a two-thirds majority vote is required for endorsement. Additional endorsement action will be made at the WSLC's 2016 Constitutional Convention on July 19-21 in Wenatchee.
None of the candidates for federal office who voted for "Fast Track" Trade Promotion Authority last year received the WSLC's endorsement. This includes all four of the state's Republican members of Congress, but also some Democratic incumbents who have been endorsed multiple times in the past, including Sen. Patty Murray, and Reps. Suzan DelBene, Rick Larsen, and Derek Kilmer. Fast Track is intended to speed passage of the Trans-Pacific Partnership (TPP) and other NAFTA-like "free trade" deals while blocking Congress from changing them to protect workers, consumers, or the environment.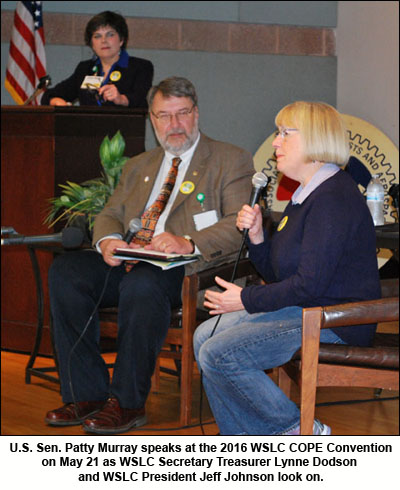 We hold Sen. Patty Murray, in particular, in the highest regard.  She has an outstanding record of advocating for working families on issues like strengthening collective bargaining rights, promoting apprenticeships, extending unemployment benefits, cracking down on wage theft, protecting Social Security, and defending against the many legislative attacks working people are facing from the Republican-controlled Congress.
The fact that rank-and-file delegates from across the state chose to make no recommendation in these races today, despite some of these candidates' excellent records on other working family issues, demonstrates how strongly the labor movement feels about improving U.S. trade policies.
We strongly support trade. Many of our jobs depend on it. But these NAFTA-like "free trade" deals are not working.  They are making it easier and more profitable to export American jobs to other countries and they promote a race to the bottom on basic worker rights and environmental standards. Under these policies, more than 60,000 factories have closed in the United States in just 10 years. That's 15 every single day.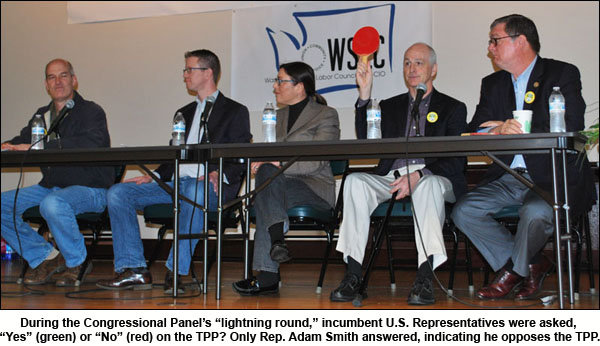 Because Washington is a trade-dependent state, our elected officials here often willfully ignore the clear connections between decades of globalization under these bad trade deals, the growing crisis of climate change, and an out-of-balance U.S. economy that has decimated the middle class. Voters are justifiably angry, which is why all of the remaining presidential candidates now say they oppose the TPP.
It's time for a new economic era. That's why we need to commit to stopping the TPP, go back to the bargaining table, and get it right. This is not a choice between trade and protectionism. This is a choice between bad trade policies and good trade policies. And today, Washington's working people sent a clear message to our congressional delegation that this issue is too important for them to ignore.
---
The following candidates have earned the WSLC endorsement (UPDATED to include endorsements made since the May 21 COPE Convention):
CONGRESS
CD 3 — Jim Moeller
CD 5 — Joe Pakootas
CD 7 — Pramila Jayapal
CD 9 — Adam Smith
CD 10 — Denny Heck

STATEWIDE
Governor — Jay Inslee
Lt. Governor — Cyrus Habib
Insurance Commissioner — Mike Kreidler
Attorney General — Bob Ferguson
Lands Commissioner — Hilary Franz
Secretary of State — Tina Podlodowski
State Auditor — Pat McCarthy
State Treasurer — Duane Davidson
Superintendent of Public Instruction — Chris Reykdal
INITIATIVES
SUPPORT — Initiative 1433 on minimum leave/sick leave
OPPOSE — Initiative 732 on carbon taxes
SUPPORT — Initiative 735 to repeal Citizens United
SUPPORT — Initiative 1501 to protect vulnerable individuals and in-home caregivers
SUPREME COURT
Position 1 — Mary Yu
Position 5 — Barbara Madsen
Position 6 — Charles Wiggins

LEGISLATIVE
LD 1 Representative Pos. 1 — Derek Stanford
LD 1 Representative Pos. 2 — Shelley Kloba

LD 2 Representative Pos. 1 — Amy Pivetta Hoffman
LD 3 Senate — Andy Billig
LD 3 Representative Pos. 1 — Marcus Riccelli
LD 3 Representative Pos. 2 — Timm Ormsby
LD 5 Senate — Mark Mullet
LD 5 Representative Pos. 1 — Jason Ritchie
LD 5 Representative Pos. 2 — Darcy Burner
LD 6 Representative Pos. 1 — Lynnette Vehrs
LD 6 Representative Pos. 2 — Sharlene Lichty

LD 10 Senate — Angie Homola
LD 10 Representative Pos. 2 — Doris Brevoort

LD 11 Senate — Bob Hasegawa
LD 11 Representative Pos. 1 — Zack Hudgins
LD 11 Representative Pos. 2 — Steve Bergquist

LD 12 Senate — Brad Hawkins
LD 12 Representative Pos. 1 — Dan Maher
LD 13 Representative Pos. 2 — Jordan Webb
LD 14 Representative Pos. 1 — Susan Palmer
LD 15 Representative Pos. 2 — A.J. Cooper
LD 16 Representative Pos. 1 — Rebecca Francik
LD 16 Representative Pos. 2 — Gary Downing
LD 17 Senate — Tim Probst
LD 17 Representative Pos. 1 — Sam Kim
LD 18 Senate — Eric Holt
LD 18 Representative Pos. 1 — Justin Oberg
LD 18 Representative Pos. 2 — Kathy Gillespie

LD 19 Senate — Dean Takko
LD 19 Representative Pos. 1 — Teresa Purcell
LD 19 Representative Pos. 2 — Brian Blake

LD 21 Representative Pos. 1 — Strom Peterson
LD 21 Representative Pos. 2 — Lillian Ortiz-Self

LD 22 Senate — Sam Hunt
LD 22 Representative Pos. 1 — Laurie Dolan
LD 22 Representative Pos. 2 — Beth Doglio

LD 23 Senate — Christine Rolfes
LD 23 Representative Pos. 1 — Sherry Appleton
LD 23 Representative Pos. 2 — Drew Hansen

LD 24 Senate — Kevin Van De Wege
LD 24 Representative Pos. 1 — Mike Chapman
LD 24 Representative Pos. 2 — Steve Tharinger

LD 25 Senate — Karl Mecklenburg
LD 25 Representative Pos. 1 — Jamie Smith
LD 25 Representative Pos. 2 — Michelle Chatterton

LD 26 Representative Pos. 1 — Larry Seaquist
LD 26 Representative Pos. 2 — Randy Spitzer

LD 27 Senate — Jeannie Darneille
LD 27 Representative Pos. 1 — Laurie Jinkins
LD 27 Representative Pos. 2 — Jacob Fey

LD 28 Senate — Marisa Peloquin
LD 28 Representative Pos. 1 — Mari Leavitt
LD 28 Representative Pos. 2 — Christine Kilduff

LD 29 Representative Pos. 1 — David Sawyer
LD 29 Representative Pos. 2 — Steve Kirby

LD 30 Representative Pos. 1 — Mike Pellicciotti
LD 30 Representative Pos. 2 — Kristine Reeves

LD 31 Representative Pos. 2 — Lane Walthers

LD 32 Representative Pos. 1 — Cindy Ryu

LD 33 Representative Pos. 1 — Tina Orwall
LD 33 Representative Pos. 2 — Mia Gregerson

LD 34 Representative Pos. 1 — Eileen Cody
LD 34 Representative Pos. 2 — Joe Fitzgibbon

LD 35 Representative Pos. 1 — Irene Bowling
LD 35 Representative Pos. 2 — Craig Patti

LD 36 Senate — Reuven Carlyle
LD 36 Representative Pos. 1 — Noel Frame
LD 36 Representative Pos. 2 — Gael Tarleton

LD 37 Representative Pos. 1 — Sharon Tomiko Santos
LD 38 Representative Pos. 1 — June Robinson
LD 38 Representative Pos. 2 — Mike Sells

LD 39 Senate — Kirk Pearson
LD 39 Representative Pos. 1 — Linda Wright
LD 39 Representative Pos. 2 — Ronda Metcalf

LD 40 Senate — Kevin Ranker
LD 40 Representative Pos. 1 — Kristine Lytton

LD 41 Senate — Lisa Wellman
LD 41 Representative Pos. 1 — Tana Senn
LD 41 Representative Pos. 2 — Judy Clibborn
LD 43 Representative Pos. 1 — Nicole Macri
LD 43 Representative Pos. 2 — Frank Chopp

LD 44 Representative Pos. 1 — John Lovick
LD 44 Representative Pos. 2 — Katrina Ondracek

LD 45 Representative Pos. 1 — Roger Goodman
LD 46 Representative Pos. 1 — Gerald Pollet
LD 46 Representative Pos. 2 — Jessyn Farrell

LD 47 Representative Pos. 1 — Brooke Valentine
LD 47 Representative Pos. 2 — Pat Sullivan

LD 48 Representative Pos. 1 — Patricia Kuderer
LD 48 Representative Pos. 2 — Joan McBride
LD 49 Senate — Annette Cleveland
LD 49 Representative Pos. 1 — Sharon Wylie
LD 49 Representative Pos. 2 — Monica Stonier