Inslee works for I-1433, he's with her, let the man go through…
Friday, June 10, 2016
---
STATE GOVERNMENT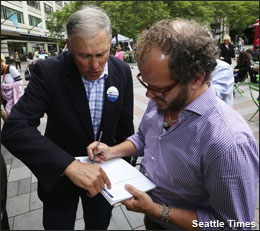 ► In today's Seattle Times — Inslee helps gather signatures for minimum-wage measure — Gov. Jay Inslee gathered signatures in Westlake Park for a labor-backed initiative to raise the state minimum wage to $13.50 an hour and require businesses to provide paid sick leave. Inslee called the measure a "long-overdue" step toward a living wage for workers. Asked about potential concerns by some small-business owners, Inslee argued I-1433 would be good for them, too. "For small businesses to thrive, they have to have consumers. They have to have customers," he said. "This will help if they have more customers that have a dollar to buy something."
ALSO at The Stand — Volunteer petitioners needed for Initiative 1433's home stretch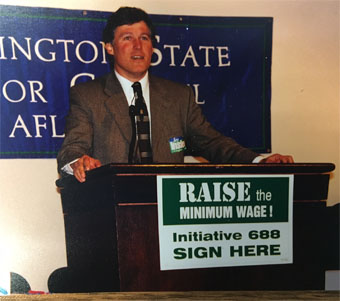 EDITOR'S NOTE — Here's a Throwback Friday photo of then-congressional challenger Jay Inslee speaking in support of 1998's Initiative 688 to raise the minimum wage. Both I-688 and Inslee won.
► In today's Seattle Times — Eyman ordered to say why he's withholding records from state — Two superior courts directed Tim Eyman and others to explain why they haven't handed over business and financial records to the state Attorney General's Office. The orders came hours after State AG Bob Ferguson accused the anti-tax activist of withholding documents subject to subpoena as part of an investigation into alleged campaign-disclosure violations.
► In today's Seattle Times — Justice isn't free — but we shouldn't be jailing for legal financial obligations (editorial) — Last week, the ACLU of Washington settled a lawsuit with Benton County, including an agreement that defendants would no longer be locked up in jail solely because they didn't pay their fines. By one count, 28 percent of defendants at the local jail were incarcerated for lack of payment. Literally, a debtors' prison.
► In today's (Everett) Herald — Forcing lawmakers to act involves big risks (editorial) — (Replicating other states') attempts to coerce lawmakers would put too much faith in a divided Legislature's ability to reach decisions in a reasoned and careful fashion that will fully fund education and at the same time correct inequalities in funding among rich and poor districts. Nor does it take into account how different the Legislature's makeup could be following this fall's elections.
---
LOCAL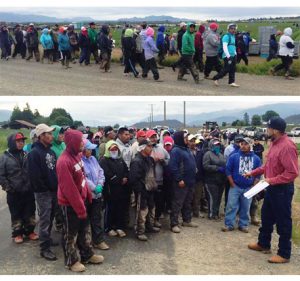 ► In today's Skagit Valley Herald — Farmworkers walk off Sakuma fields one week into picking season — Farmworkers at Sakuma Bros. Farms continued their call for higher wages and a union contract with a walkout Thursday morning. The walkout came one week into the picking season. The workers were to decide Friday morning whether to continue their walkout.
EDITOR'S NOTE — It appears that a smaller group of workers is continuing to withhold their labor today. See the Familias Facebook page for the latest.
ALSO TODAY at The Stand:
Sakuma berry pickers walk out over low pay
Familias boycott of Driscoll's berries is gaining momentum (by Dean Shelton)
► From KPLU — Strawberry pickers stop work, demand higher wages — Strawberry season is just beginning in Washington. But the disagreements over wages between berry pickers and Sakuma Brothers Farms go back several years. On Thursday, tensions boiled over again when some workers walked off the fields.
► In today's (Everett) Herald — Northshore district teachers union votes to prepare for strike — The union representing teachers in the Northshore School District passed a motion Wednesday to prepare for a strike. The Northshore Education Association, which also represents school nurses and aides, passed the motion with "overwhelming support." The motion puts the district on notice. The deadline for action is Aug. 31.
► In today's (Longview) Daily News — Retirees sue Weyerhaeuser over pension cuts — Four former Weyerhaeuser employees have filed a class-action lawsuit against the company in attempt to regain retiree healthcare benefits.
► In today's Columbian — PeaceHealth doctors to picket later this month — Doctors at Sacred Heart Medical Center at RiverBend, Ore., say they were the first group of U.S. hospitalists to organize by forming a labor union in late 2014. Now, after more than a year of negotiations with hospital owner PeaceHealth and still no contract, the hospital doctors are staging another first: an informational picket on June 23.
---
ELECTION 2016
► From The Hill — Obama endorses Clinton for president: 'I'm with her' — President Obama formally endorsed Hillary Clinton for president in a video released just an hour after he met at the White House on Thursday with her rival, Bernie Sanders. "I know how hard this job can be. That's why I know Hillary will be so good at it. In fact, I don't think there's ever been someone so qualified to hold this office," Obama said.
► In today's Washington Post — Hillary will huddle with Elizabeth Warren this morning, fueling VP buzz — This morning's sit-down at Clinton's home, coming just hours after the Massachusetts senator formally endorsed the presumptive Democratic nominee, will fuel speculation about her prospects as a potential vice presidential pick.
► From TPM — McConnell concedes Trump 'doesn't know a lot about the issues' — The Senate GOP leader says he hopes Trump selects a vice presidential candidate with a lot of experience to make up for his lack of policy expertise.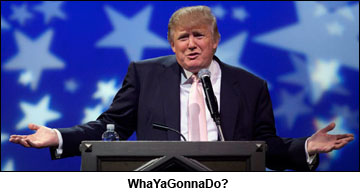 ► MUST-READ in the USA Today — Hundreds allege Donald Trump doesn't pay his bills — Donald Trump often portrays himself as a savior of the working class who will "protect your job." But a USA TODAY analysis found he has been involved in more than 3,500 lawsuits over the past three decades — and a large number of those involve ordinary Americans who say Trump or his companies have refused to pay them. At least 60 lawsuits, along with hundreds of liens, judgments, and other government filings document people who have accused Trump and his businesses of failing to pay them for their work. Among them: a dishwasher in Florida. A glass company in New Jersey. A carpet company. A plumber. Painters. Forty-eight waiters. Dozens of bartenders and other hourly workers at his resorts and clubs, coast to coast. Real estate brokers who sold his properties. And, ironically, several law firms that once represented him in these suits and others.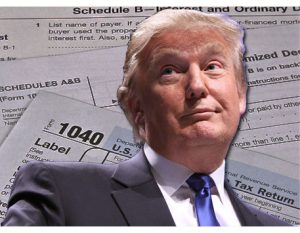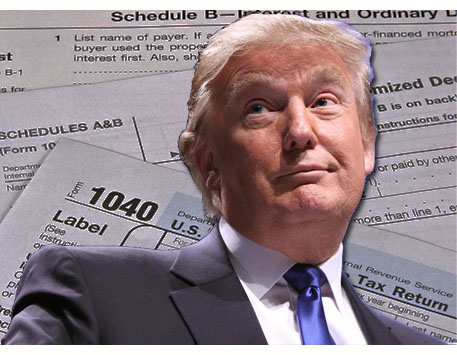 ► In today's Washington post — What's Trump hiding by refusing to release his tax returns? Here are some ideas. (editorial) — Unlike every other major presidential candidate in modern times, he has declined to release them. Theories abound as to why. One is that they would show that he does not make as much money as he boasts. Another is that he might pay little or nothing in taxes. Yet another is that Trump simply is not generous, despite his assurances otherwise.
ALSO at The Stand — Tax-free Trump says his returns are 'none of your business'
► From The Onion — Crowd at Trump rally realizes they've been chanting 'We are frightened and helpless' for last half hour
---
BOEING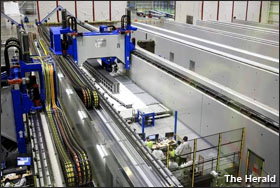 ► In today's (Everett) Herald — What 777X plant means for Boeing — The 777X will use even more carbon-fiber composites than the 787. With the composite material wings, the 777X is expected to boast lower fuel consumption and operating costs than the competition. That's appealing to customers who above all else want an aircraft that is efficient to operate. With this giant new conclave, Boeing will be able to build wings that have fewer pieces… How many people will it employ? Boeing's not saying, at least not right now. However, according to site selection documents sent by Boeing to various states in late 2013, the 777X line is expected to have about 3,250 workers in 2018, peak at 8,500 in 2024 and scale down to about 7,250 by 2026. The wing production center will have more than 2,000 workers, according to those documents.
► In the PSBJ — Boeing reorganizes 787 production, Wyse leaves S.C. for Washington — The company announced a reorganization that aims to align production of the 787 Dreamliner in SC and WA. Beverly Wyse will return to Washington from South Carolina, where she was leading 787 production.
► In the Seattle P-I — Boeing patents strange-looking plane that could fly for years — A plane that can fly at a high altitude and be powered only by the sun could stay aloft for years, but one of the key challenges for flying wings or planes powered by solar panels is keeping the sun's light hitting the panels.
---
NATIONAL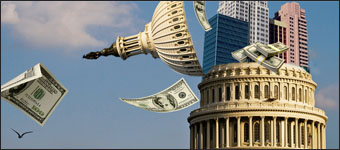 ► From TPM — The history of privatization — Today, after 50 years of attack on government, privatization is a standard conservative response to tight public budgets, a key pillar of attacks on government, and a lucrative market opportunity for domestic and global corporations. Large corporations operate virtually every type of public service including prisons, welfare systems, infrastructure, water and sewer, trash, and schools.
► From Think Progress — NFL star Richard Sherman: Stop making taxpayers pay for billionaires' stadiums — The Stanford graduate and Seattle Seahawks cornerback said that if he was elected to the White House, "I'd stop spending billions of taxpayer dollars on stadiums and probably get us out of debt and maybe make the billionaires who actually benefit from the stadiums pay for them."
► In today's Seattle Times — Meet the new (non-white) working-class majority (by Jon Talton) — The image of the working class as white is changing fast. Soon people of color will make up this backbone of the economy. But working-class obstacles are growing bigger.
---
TODAY'S MUST-READ
► MUST-READ from Rolling Stone — Why Democrats will learn all the wrong lessons from brush with Bernie (by Matt Taibbi) — The twin insurgencies of Trump and Sanders this year were equally a blistering referendum on Beltway politics. But the major-party leaders and the media mouthpieces they hang out with can't see this, because Washington culture is too far up its own backside to see much of anything at all… The maddening thing about the Democrats is that they refuse to see how easy they could have it. If the party threw its weight behind a truly populist platform, if it stood behind unions and prosecuted Wall Street criminals and stopped taking giant gobs of cash from every crooked transnational bank and job-exporting manufacturer in the world, they would win every election season in a landslide. This is especially the case now that the Republican Party has collapsed under the weight of its own nativist lunacy. It's exactly the moment when the Democrats should feel free to become a real party of ordinary working people. But they won't do that, because they don't see what just happened this year as a message rising up from millions of voters…. Through their lens, the uprising among Democratic voters this year wasn't an organic expression of mass disgust, but wholly the fault of Bernie Sanders, who within the Beltway is viewed as an oddball amateur and radical who jumped the line.
---
T.G.I.F.
► Happy birthday to singer-songwriter Mike Doughty, founder and destroyer of Soul Coughing. This experimental rock/jazz/funk fusion band is definitely not everyone's cup of tea, and in the end, it wasn't Doughty's either. After becoming addicted to drugs and alcohol during the band's modestly successful mid-'90s run, he broke up the band and started playing solo acoustic shows. He eventually re-recorded all of band's "hits" as he thought they were intended to sound, expressing animosity toward the Soul Coughing versions. But The Entire Staff of The Stand likes this original so… move aside and let the man go through.
---
The Stand posts links to Washington state and national news of interest every weekday morning by 10 a.m.
WASHINGTON IS A UNION STATE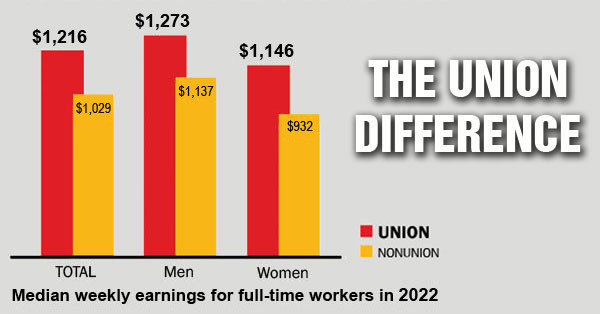 CHECK OUT THE UNION DIFFERENCE in Washington state: higher wages, affordable health and dental care, job and retirement security.
FIND OUT HOW TO JOIN TOGETHER with your co-workers to negotiate for better working conditions and respect on the job. Or go ahead and contact a union organizer today!