Patty Murray, Thomas Perez: Collect signatures for I-1433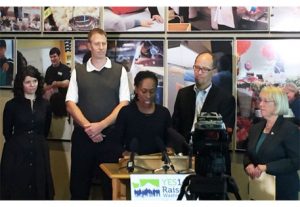 SEATTLE (June 21, 2016) — Sen. Patty Murray and Labor Secretary Thomas E. Perez on Friday urged Washington voters to sign a petition for Initiative 1433, which would raise Washington state's minimum wage in four steps to $13.50/hour and allow all workers to earn paid sick and safe leave. They were joined by UFCW 21 President Todd Crosby, Safeway employee Monica Bryant, and Molly Moon, the owner of Molly Moon's Homemade Ice Cream.
TAKE A STAND — With just two weeks left to gather signatures, please click here to volunteer! You'll get contacted by Raise Up Washington about the best events, sites and opportunities to get signatures in your area. Also, if you have petitions with signatures — even if they are only partially full — please return your petitions now. Drop them off or mail them to: Raise Up Washington, 321 16th Ave. South, Seattle, WA, 98144. Call 206-709-1313 for more information.
"I'm so proud to stand with UFCW, our great advocates and business leaders, and of course Tom Perez in support of Raise Up Washington, which will set an example for our country that when workers get a raise and a few paid sick and safe days, everyone wins," Murray said. "I'm so thankful for everyone who is working so hard to get this important initiative passed, and I'm going to keeping fighting for this same kind of progress — these same great Washington state values — back in the other Washington."
By raising the minimum wage to $13.50 over four years, Initiative 1433 will put an addition $600 more a month into the pockets of low-wage workers. That means more than $2.5 billion added to the economy every year.
"A business is only strong when families in the community around it have the opportunity to thrive," said Molly Moon, owner of Molly Moon's Homemade Ice Cream. "In fact, since we raised the minimum wage in Seattle my business is booming. As working families in our community have been able to earn more money, they have more money to do things like go out for ice cream every now and then, and we all do better."
Initiative 1433 will also allow more than 1 million working men and women to earn paid sick and safe leave.
"I am honored to stand with national leaders like Senator Murray and Honorable Tom Perez," said Monica Bryant, UFCW 21 member and meat cutter at Safeway. "Passing Initiative 1433 will improve my life and the lives of a million workers like me because we'll earn paid sick and safe leave and be able to stay at home and care for ourselves or a loved one when we are sick, without missing a day's pay."
In addition to Sen. Murray and Hon. Perez, Initiative 1433 is supported by the Washington State Labor Council, AFL-CIO, and a broad coalition of workers, unions, faith leaders, businesses and community organizations. The campaign has until July 8 to turn in the signatures needed to qualify. Click here for more information.
Short URL: https://www.thestand.org/?p=50149
Posted by
David Groves
on Jun 21 2016. Filed under
STATE GOVERNMENT
. You can follow any responses to this entry through the
RSS 2.0
. Both comments and pings are currently closed.