Sakuma caves, IBT takes on Uber, big NLRB ruling, working sick…
Tuesday, July 12, 2016
---
LOCAL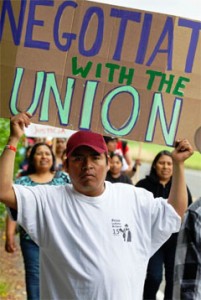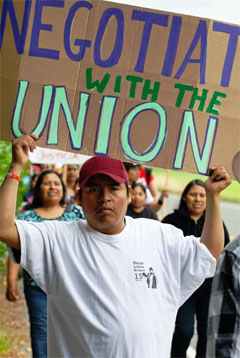 ► From The Stranger — Sakuma Brothers Farms caves, will negotiate with farmworkers' union — After a long stalemate between labor rights campaigners and management, Sakuma Brothers Farms has offered a pathway toward unionization for its berry pickers. Familias Unidas has been urging consumers to boycott Sakuma Brothers Farms since 2013, when workers began striking over what they said were unfair wages, substandard housing, and intimidation by supervisors.
► In the Skagit Valley Herald — Sakuma Bros. Farms to allow farmworkers to vote on union representation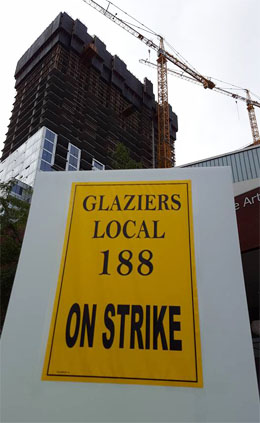 ► From KOMO News — Striking window installers slow downtown construction projects — A strike by union workers who install windows is beginning to have an impact on construction projects in Seattle and across the western part of the state. On July 1st, the Glaziers Union Local 188 decided to strike for the first time in close to 30 years after union members voted down a new contract proposal with 13 window contractors.
ALSO at The Stand — Glaziers' strike slows construction in Seattle, Everett, elsewhere
► In the (Everett) Herald — Window installers strike against major glass contractors
► In today's Tri-City Herald — Unions halt Hanford tank work over vapor protection — The Hanford Atomic Metal Trades Council called a halt Monday to any work in the Hanford tank farms without supplied air respirators. Dave Molnaa, president of HAMTC, said he would not lift the stop-work order until supplied air respirators are mandatory for all work in Hanford tank farms.
ALSO at The Stand — Hanford work halted over safety concerns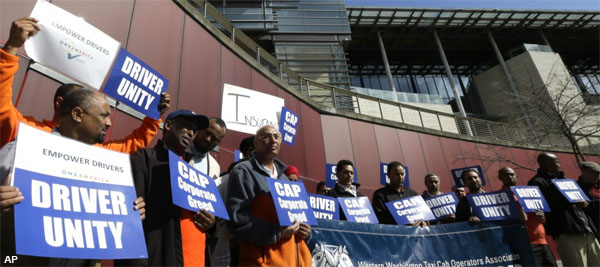 ► From The American Prospect — Seattle progressives fight inequality: Teamsters take on Uber — Teamsters Local 117 has mounted a multi-pronged campaign to organize the city's for-hire drivers, those who sit at the wheels of 1,000 regulated yellow and orange cabs, as well as their nearly 10,000 competitors who are deployed via apps backed by billions in venture capital at Uber and Lyft.  For all the drama surrounding Uber's invasion of America's cities, this battle in Seattle is unique because the Teamsters aim to build a union that unites what are usually two opposing groups or workers. Their goal is to build one union that wields power for all the for-hire drivers, not an association without bargaining rights or worker power.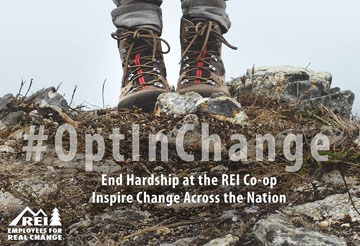 ► From KUOW — REI employees demand better hours, pay — Monday night, employees from the outdoor equipment company shared their concerns publicly in a forum at Seattle's City Hall. City Councilmember Kshama Sawant helped organize the event. The group REI Employees for Real Change says the company boasts good benefits for full-time employees, but that people rarely get full-time work. Seattle-store employee Collin Pointon said instead, the company just hires new workers to fill open shifts.
► From The Stranger — REI workers call for better pay and working conditions, consider unionization — Low-level REI employees, including some in Seattle, say they struggle with too few hours and too much scheduling unpredictability, making it hard to live off their jobs at the company.
---
STATE GOVERNMENT
► In today's Peninsula Daily News — State DOT: Human error resulted in unplanned Hood Canal Bridge closure — An uneven lift span on the state Highway 104 bridge caused the closure when a hydraulic fluid valve that was inadvertently left closed after preventive maintenance work last week. 
---
AEROSPACE
► In today's (Everett) Herald — Boeing supplier Triumph Group to lay off half its Everett workers — The aerospace supplier confirmed plans last week to close its Everett-based subsidiary, Triumph Structures-Everett, by March 2017. It notified the state that it plans to lay off 99 of its roughly 200 employees starting Sept. 30.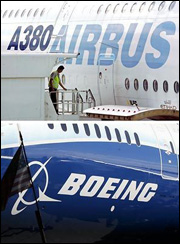 ► In today's Seattle Times — Boeing sales chief delivers sharp attack at Farnborough Air Show — Prompted by questions about the company's sales, Boeing's sales chief John Wojick made an unusually pointed argument by comparing his company's backlog to that of rival Airbus.
► From Bloomberg — Boeing and Airbus rack up orders from Asia, Europe — On Day 2 of the 2016 Farnborough Air Show Tuesday, Boeing pulled ahead of Airbus in the aircraft order stakes, announcing more deals in China and one with Europe's biggest tour operator, before its European rival hit back with a blockbuster 72-jet sale to Go Airlines India Pvt.
► From AP — Boeing announces 737 deal with Chinese airline — Boeing has announced an order from Kumming Airlines for 10 of its 737 Max 7s, which are designed for operations from high-elevation airports.
---
ELECTION 2016
► In today's NY Times — Bernie Sanders, following many of his supporters, is set to back Hillary Clinton — When Sen. Bernie Sanders of Vermont takes the stage to endorse Hillary Clinton on Tuesday in Portsmouth, N.H., a majority of his supporters will have already told pollsters they would back her in a general election.
---
FEDERAL GOVERNMENT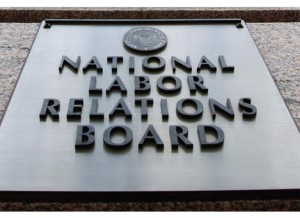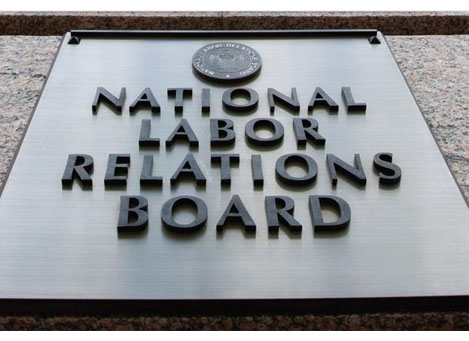 ► In the American Prospect — The war over Obama's labor agenda — The NLRB is reaffirming its view that labor law must now address the brave new world of the fissured workplace — where workers are often separated from their actual employer by layers of subcontractors and staffing agencies. On Monday, the board ruled that unions that want to represent bargaining units including direct employees as well as "permatemps," contract workers, and other indirect workers that share a "community of interest" are no longer required to get permission from the parent company, a requirement mandated by George W. Bush's NLRB in 2004. In an increasingly fractured world of labor relations, it's hard to understate how big of a deal this is for easing union organizing efforts.
► From NPR — Obama renews call for a 'public option' in federal health law — The president on Monday called on Congress to revisit the controversial idea of providing a government-run insurance plan as part of the offerings under the Affordable Care Act. He says a lack of competition among insurance plan offerings in some regions may warrant a new look.
► In today's NY Times — Failed spending bills pile up in Senate amid dispute over budget deal — After years of warfare over fiscal cliffs, government shutdowns and the debt ceiling, congressional Republicans pledged in January to work diligently through the dozen regular spending bills needed to finance the federal government — and Democrats promised to cooperate. But as Congress prepares to recess until September, it has become clear that a presidential election year was not the ideal time to get back to so-called regular order.
---
NATIONAL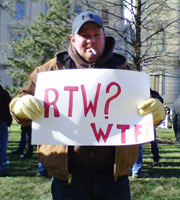 ► In today's Atlanta J-C — Unions rejoice after federal judge strikes down Georgia labor law — The most contentious part of the 2013 Georgia law allowed employees to cancel their union membership at any time, rather than only after a one-year period. It was backed by Republicans as a way to bolster Georgia's "right to work" status and burnish the state's pro-business reputation. U.S. District Judge William O'Kelley ruled this month that the Georgia rules were "unenforceable" because they were at odds with federal labor rules.
► In today's Washington Post — Half of America's childcare workers need food stamps, welfare payments or Medicaid — The people who are paid to watch America's children tend to live in poverty. Nearly half receive some kind of government assistance: food stamps, welfare money, Medicaid. Their median hourly wage is $9.77 — about $3 below the average janitor's.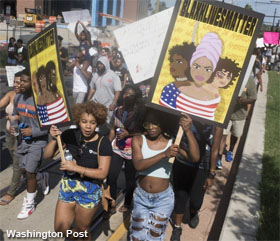 ► In today's Washington Post — What racial injustice looks like in America's economy (by Jared Bernstein) — I cannot begin to speak to the many wrenching and challenging emotions and issues raised by the escalation of racial violence and killings. One option is to wait for the news cycle to revert back to "normal," and return to my usual policy analysis. Another option is to document some of the systemic racial injustice embedded in the economy. It would be ridiculously reductionist to argue that these data are the same problem that we've seen highlighted so vividly in recent years. But these persistent, unequal trends are very much in the mix and, at a time when we need to think deeply about institutional prejudices in all corners of society, they are worth a look.
► In today's NY Times — Rudy Giuliani's racial myths (editorial) — The country won't get past its stunted discourse about racialized violence when people like Giuliani are spreading poisonous disinformation.
---
TODAY'S MUST-READ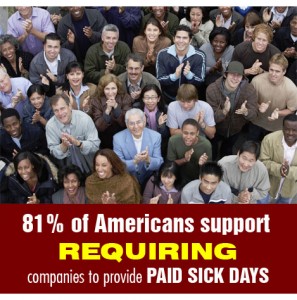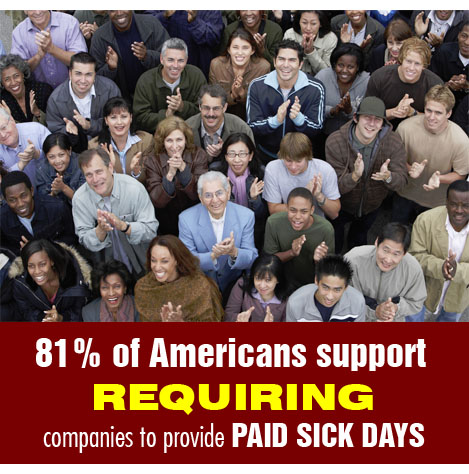 ► From KPLU — Sick? People say they still go to work, even when they shouldn't — At least half of people who work in very public places, like hospitals and restaurants, report going to work when they have a cold or the flu. "It's definitely the norm to go into work sick. That's what I and most of my co-workers usually do," says Anthony Peeples. He used to work at an Olive Garden restaurant. Now he's a bartender at a casino in Michigan City, Ind. At Olive Garden, he says, he was in a bind when he got sick, because he didn't have any paid sick leave.
EDITOR'S NOTE — Washington state can do something about this public health crisis this fall by voting YES on Initiative 1433.
---
The Stand posts links to Washington state and national news of interest every weekday morning by 10 a.m.
Short URL: https://www.thestand.org/?p=50587
Posted by
David Groves
on Jul 12 2016. Filed under
DAILY LINKS
. You can follow any responses to this entry through the
RSS 2.0
. Both comments and pings are currently closed.