Trumka's in town, Dorn sues, all about Hillary, hottest ever…
Wednesday, July 20, 2016
---
LOCAL
► From KPQ — AFL-CIO head Richard Trumka to speak at Wenatchee Convention Center — The speech addressing hundreds of union representatives from the Washington State Labor Council, kicks off at 9:30 at the Wenatchee Convention Center. The WSLC's Constitutional Convention is underway, and Communications Director David Groves says Trumka is likely to speak in disfavor with the Trans Pacific Partnership deal that's being considered by the federal government.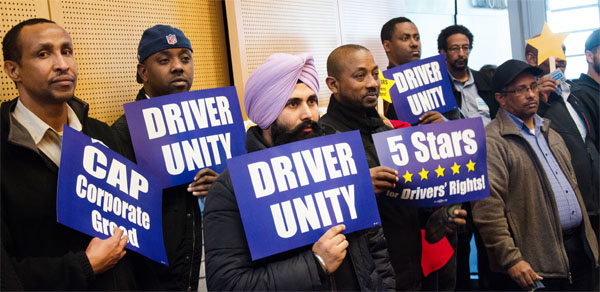 ► In the P.S. Business Journal — Seattle asks federal judge to dismiss U.S. Chamber lawsuit on city's Uber union law — Seattle city attorney Pete Holmes asks a federal judge to dismiss a U.S. Chamber of Commerce lawsuit filed against the city after councilmembers passed a law to allow Uber and Lyft drivers to unionize.
► In the P.S. Business Journal — Seattle study: 'True win-win scenarios' difficult to come by when regulating shift worker schedules — The city of Seattle has taken the first step in developing legislation that would regulate shift worker schedules. Released Tuesday, the Seattle City Council-commissioned study describes the current state of employee scheduling practices in Seattle, with an emphasis on the retail and food service industries. It will be used to better inform any legislation on predictability in workers' schedules.
► In the Columbian — Unanimous vote bans oil facilities in Vancouver — Protesters broke into applause and gave Vancouver city councilors a standing ovation Monday night after they unanimously approved a ban on new oil refineries and facilities.
► In the News Tribune — Tacoma food co-op shutdown comes as a surprise — The Central Co-op on Tacoma's Sixth Avenue never opened its doors early Monday. The co-op's board unexpectedly shut the grocery without warning to members and customers.
---
STATE GOVERNMENT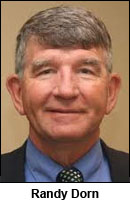 ► In the News Tribune — Schools chief Randy Dorn sues state, 7 school districts over teacher pay — The state's top education official is suing seven of Washington's largest school districts, saying they are illegally using local property tax levies to supplement employee salaries that should be paid out of the state budget. State Superintendent Randy Dorn, who isn't seeking re-election this fall, said he filed the lawsuit Tuesday out of frustration that the Legislature isn't doing more to comply with court orders to fully fund public schools.
► In the Seattle Times — Kudos to Randy Dorn for suing over school-funding reform — The lawsuit from the state Superintendent of Public Instruction helps ratchet up pressure on lawmakers to solve Washington's school-funding problem. It's too bad that such a move is necessary.
---
BOEING
► In the (Everett) Herald — How Boeing's relations with unions have evolved — Organized labor's influence on Boeing runs back to the company's earliest days. In 1917, the company changed job titles to make it harder for trade unions to organize its workers. When workers unionized in 1935, Boeing didn't support the effort, but the company didn't vigorously oppose it, either. Violent clashes between pro- and anti-labor groups were not uncommon at the time. Boeing generally had good labor relations for the next few decades. However, those relationships have deteriorated in more recent times, a decline exacerbated by workers' and corporate executives' feelings of increasing vulnerability to global economic forces. During that time, those executives have increasingly come to define the company's success in terms of the size of shareholder dividends.
---
ELECTION 2016
► In today's NY Times — Trump claims GOP nomination, with discord clear but family cheering — Donald Trump was formally crowned the Republican nominee for president at the party's convention on Tuesday, ending a tumultuous primary season but not the nagging questions about his polarizing candidacy as he once again found himself embroiled in controversy.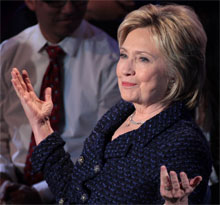 ► In today's NY Times — All about Hillary (editorial) — Donald Trump isn't the star of his own convention. Hillary Clinton is. What really animates the Republicans gathered here is their antipathy toward her, not their embrace of him. Speaker after speaker makes the case against her, not the one for him. And a weird impression is taking hold: They're filling the minutes and running out the clock with all the bad that they can dredge up about her because there's not enough good to plumb in him… So far, they've failed utterly to do the one thing they must: sell Trump to those voters who are still skeptical about him.
► In today's NY Times — Paul Ryan's dance with The Donald (editorial) — The speaker has revealed himself to be a weak opportunist, far from the ideas man and budget wonk he made himself out to be.
► From The Hill — Experts: '1 in a trillion' chance Melania Trump speech wasn't plagiarism — Experts that hunt out plagiarism professionally say there is basically no chance that Melania Trump's speech Monday night did not steal lines from a 2008 Michelle Obama speech.
► From TPM — Here we go again: Language from Trump Jr's RNC speech recycled from article
---
FEDERAL GOVERNMENT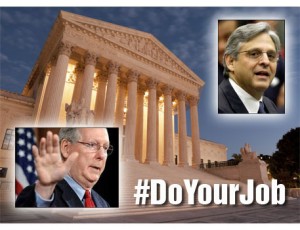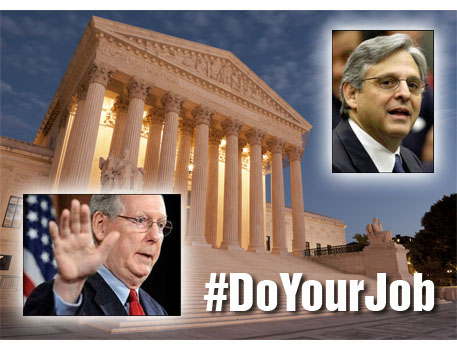 ► From Huffington Post — Obama's Supreme Court nominee makes history for waiting the longest for confirmation — Merrick Garland has been patiently waiting that long for a Senate hearing and a vote. And by all accounts, he is sure to keep on waiting. Congress is on summer recess until Labor Day and Republican leadership in the Senate ― all but set on the idea to have Donald Trump fill this and other Supreme Court vacancies ― has shown no intention of even granting Garland a hearing.
► In the Spokesman Review — Congress skips out on vital business (editorial)
► From The Onion — Officials unveil plan to convert underused Senate chamber into storage facility — "It's been years since people have used that room to do work of any kind, so from an efficiency standpoint, reallocating the space is kind of a no-brainer," said Capitol building superintendent Mark Reed.
► From Think Progress — Federal judge strikes critical blow against Wisconsin's voter suppression law — A federal judge in Wisconsin handed down a decision that will drastically weaken that state's voter ID law, an increasingly common method of voter suppression that is often favored by conservatives because it effectively shifts the electorate rightward. Although the decision leaves the law in place, it permits voters who are unable to obtain an ID to sign an affidavit at the polls testifying to that inability and to receive a ballot.
---
AND… OH, YEAH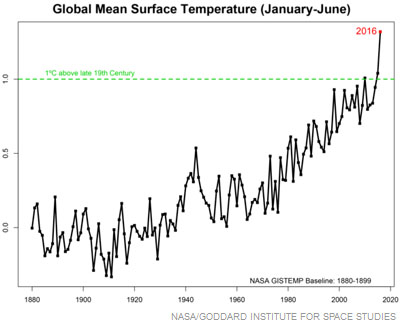 ► From Huffington Post — Earth just experienced the hottest June ever recorded — This marks the 14th month in a row that global heat records have been broken. It's the longest streak of record-breaking temperatures since reporting began in 1880. The planet is well on track to surpass 2015 as the hottest year ever recorded.
---
The Stand posts links to Washington state and national news of interest every weekday morning by 10 a.m.
Short URL: https://www.thestand.org/?p=50734
Posted by
David Groves
on Jul 20 2016. Filed under
DAILY LINKS
. You can follow any responses to this entry through the
RSS 2.0
. Both comments and pings are currently closed.