Talib Kweli to perform Aug. 19 in Seattle for Rock Against the TPP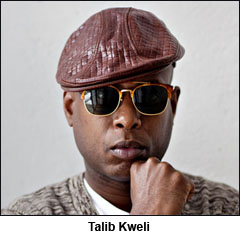 SEATTLE (July 6, 2016) — Internationally acclaimed hip-hop artist Talib Kweli will perform with a full live band at a free concert at Showbox SoDo in Seattle on Friday, Aug. 19 to raise awareness about the dangers of the Trans-Pacific Partnership (TPP) agreement, an anti-democratic "trade" deal that was negotiated in secret with hundreds of corporate advisors.
The event is part of the Rock Against the TPP tour, a series of concerts, protests, and teach-ins organized by digital rights group Fight for the Future and Firebrand Records, the new activist record label from Tom Morello and Ryan Harvey. The tour's organizers also unveiled additional dates on July 30 in San Diego, CA, and Aug. 20 in Portland, OR. The San Diego date features Jolie Holland and rising East LA Chicano band Las Cafeteras. Golden Globe nominated actress Evangeline Lilly (Lost, The Hobbit, Ant-Man) will act as an emcee at all of the events announced so far.
GET YOUR FREE TICKET! Click here and sign the TPP petition to get your free ticket to the Seattle show on Friday, Aug. 19.
The Rock Against the TPP tour kicks off in Denver on July 23 at an event featuring legendary guitarist Tom Morello (Prophets of Rage, Rage Against the Machine, Audioslave), popular punk band Anti-Flag, Denver-based hip-hop outfit Flobots, and buzzworthy bi-lingual rockers Downtown Boys (who are also performing at the Seattle and Portland stops.) Activists, musicians, and celebrities are coming together to sound the alarm about the toxic deal, which has little to do with trade, but would provide multinational corporations with new rights and powers that threaten good paying jobs, Internet freedom, the environment, access to medicine, and food safety.
The West Coast tour stops will also feature renowned rock cellist Bonfire Madigan (Kill Rockstars, K Records), Firebrand Records artist bell's roar, Puerto Rican vocalist Taina Asili, and Fight for the Future campaign director Evan Greer, the tour's lead organizer.
"Working people everywhere have had enough," said Tom Morello, "The TPP is nothing short of a corporate takeover of our democracy. That's why people are rising up to stop it. Corporate lobbyists want to sneak the TPP through Congress quietly; that means it's time for us to get loud."
"This fight against the TPP is not about right and left, it's about right and wrong," said Evangeline Lilly, "Whatever you're passionate about, whether it's human rights, internet freedom, climate change, or food safety, the TPP is a bad deal for humanity, and a threat to the future of democracy. The more people learn about the TPP, the less they like it. It's our responsibility to sound the alarm, before it's too late."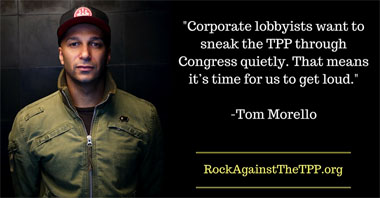 The Rock Against the TPP Tour is being organized by Fight for the Future, the viral Internet freedom group best known for organizing the largest online protests in history against online censorship and in favor of free speech and privacy. Firebrand Records, the new social justice infused record label co-founded by Tom Morello and Ryan Harvey, is acting as the tour's artistic partner. The roadshow is sponsored and co-organized by a diverse coalition of groups fighting against the corporate power grab that is the TPP, including Citizens Trade Campaign, Communications Workers of America, CREDO, Demand Progress, the International Labor Rights Forum, Public Citizen, the Sierra Club, and the Teamsters.
"The TPP is not a trade deal, it's a corporate coup — an attack on the future of democracy and free speech," said Evan Greer, "people from across the political spectrum overwhelmingly oppose it, and we're going to fight not only to stop the TPP, but to make sure that decisions that affect all of us are never made behind closed doors in the future."
Additional Rock Against the TPP tour dates and participants will be announced in the coming weeks.
Brooklyn-based MC Talib Kweli earned his stripes as one of the most lyrically-gifted, socially aware and politically insightful rappers to emerge in the last 20 years. After nearly 20 years of releasing mesmerizing music, Talib Kweli stands as one of the world's most talented and most accomplished Hip Hop artists. Whether working with Mos Def as one-half of Black Star, partnering with producer Hi-Tek for Reflection Eternal, releasing landmark solo material or collaborating with Kanye West, Pharrell Williams, Just Blaze, J Dilla, or Madlib, Kweli commands attention by delivering top-tier lyricism, crafting captivating stories and showing the ability to rhyme over virtually any type of instrumental.
Short URL: https://www.thestand.org/?p=50447
Posted by
David Groves
on Jul 6 2016. Filed under
NATIONAL
. You can follow any responses to this entry through the
RSS 2.0
. Both comments and pings are currently closed.