#OurTimeCounts, Hillary Gored, School of Koch…
Wednesday, September 7, 2016
---
LOCAL
► From Teamsters Local 117 — Stewards at Safeway dairy propel organizing win — Almost everyone working at Safeway Dairy is a union member, but there is a small group of lab technicians who have never been part of our Union. Alan Inderbitzen and Andy Peterson understand the value of their Teamsters contract and they wanted to extend the benefits and protections to the lab technicians. So they got to work.
ALSO TODAY at The Stand — Unions are working people standing together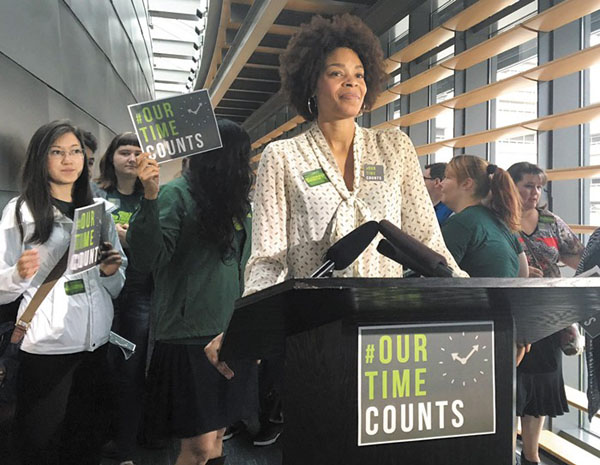 ► In the Chicago Tribune — Seattle weighs new rules for businesses with hourly workers — Seattle leaders have proposed new rules for retail and food-service businesses with hourly employees, including requiring them to schedule shifts two weeks in advance and compensate workers for some last-minute changes. It's the latest push by a city that has led the nation in mandating worker benefits. Seattle was among the first to phase in a $15 hourly minimum wage, mandate sick leave for many companies and offer paid parental leave for city workers. Now, the mayor, city officials and labor-backed groups are targeting erratic schedules and fluctuating hours they say make it difficult for people to juggle child care, school or other jobs, to count on stable income or to plan for the future.
ALSO from The Stand's Calendar — The next hearing on Seattle's Secure Scheduling proposal will be TODAY (Wednesday, Sept. 7) at noon at Seattle City Hall, 600 4th Ave. Join the M.L. King County Labor Council and community leaders as they to express support for the proposed legislation, with no substantive amendments.
► In the (Longview) Daily News — KapStone stalemate continues a year after strike — A year later, though, little has changed at the mill. Employees continue to work without a ratified contract two years after the old one expired. No contract talks have occurred in eight months, and no bargaining is scheduled. Labor leaders speak of a "toxic" relationship between labor and management. The firing of four picketing workers last year still is festering. And there's still a distant possibility of another strike.
---
STATE GOVERNMENT
► From AP — In hearing today, state Supreme Court demands answers on school funding — The state Supreme Court ordered the state to appear in court Wednesday in the long-running McCleary school-funding case. The justices have a series of questions they want the state and the plaintiffs to answer before they decide whether to lift the $100,000 a day fine or add additional sanctions.
► In the Spokesman-Review — Finding a way to compare teacher pay, school funding tough, consultants say — Determining how much the state pays public school teachers now, and how much it should pay them in the future, is a complicated task, consultants told a special legislative panel Tuesday.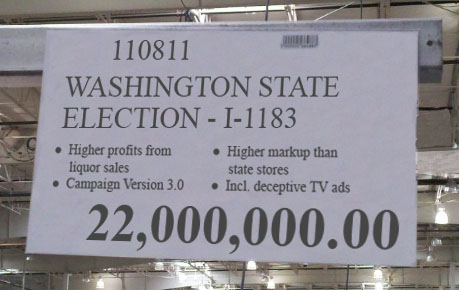 ► In today's Spokesman-Review — Few reasons to toast privatized liquor sales (by Shawn Vestal) — We keep expecting cheaper booze, and our expectations keep leading us astray. Most of us voted to privatize liquor sales here in Washington because of the reflexive assumption that it would bring down prices… No, the shift from state-run liquor stores to private sales was predicted to be a wash, in terms of prices, by everyone who knew anything.  Overall, like much in politics, the new law works best for those who invested the most in it – Costco, which spent a lot of money on I-1183 and where massive jugs of basic stuff can now be had at a volume discount.
► In the P.S. Business Journal — Report: Washington's health care environment among worst in nation — Finance website WalletHub released an analysis of states with the best and the worst health care on Tuesday and Washington came in at No. 37 overall — thanks in part to the high cost of care and accessibility to that care.
---
STATE ELECTIONS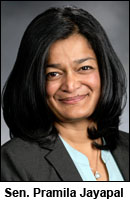 ► From Slog — New poll shows Jayapal leading Walkinshaw in congressional race — The Jayapal-funded poll asked 500 likely voters in mid-August how they'd vote if the election were held that day. Forty-three percent said Jayapal, 29 percent said Walkinshaw, and the rest were undecided.
► From Slog — The cost of light rail will be cheap in the long run (by Charles Mudede) — It's not a matter of just how much it costs, but the manner in which that cost will spread across the city's interconnected economy.
---
NATIONAL ELECTIONS
► From The Hill — AFL-CIO claims Trump's union support is fading — The AFL-CIO on Wednesday released an internal poll showing Trump's support among rank-and-file members in key states dropped from 41 percent in June to just 36 percent now.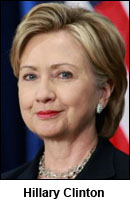 ► MUST-READ in the NY Times — Hillary Clinton gets Gored (by Paul Krugman) — George W. Bush was dishonest in a way that was unprecedented in U.S. politics. His campaign lies presaged what would happen during his administration — an administration that, let us not forget, took America to war on false pretenses. Yet throughout the campaign most media coverage gave the impression that Bush was a bluff, straightforward guy, while portraying Al Gore — whose policy proposals added up, and whose critiques of the Bush plan were completely accurate — as slippery and dishonest. Gore's mendacity was supposedly demonstrated by trivial anecdotes, none significant, some of them simply false. No, he never claimed to have invented the internet. But the image stuck. And right now I and many others have the sick, sinking feeling that it's happening again to Hillary Clinton.
► In the Dallas Morning News — We recommend Hillary Clinton for U.S. president (editorial) — There is only one serious candidate on the presidential ballot in November. We recommend Hillary Clinton. We don't come to this decision easily. This newspaper has not recommended a Democrat for the nation's highest office since before World War II — if you're counting, that's more than 75 years and nearly 20 elections.
► In today's NY Times — Pay to play, Mr. Trump? (editorial) — He gave Florida's attorney general a campaign donation days after her office said it was reviewing allegations against Trump University.
---
FEDERAL GOVERNMENT
► From Huffington Post — Reid vows to jam up meetings until GOP moves on Supreme Court vacancy — Going on vacation doesn't make all your problems go away, as Congress will find out as it returns from its seven-week break. The budget is still set to run out, Zika is still spreading and the Supreme Court is still missing a ninth justice.
---
NATIONAL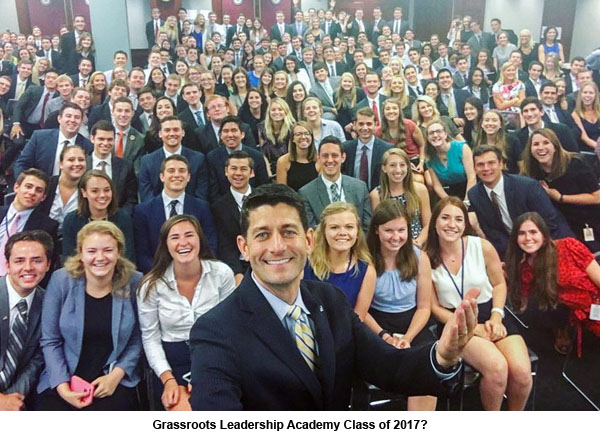 ► In today's NY Times — With Koch brothers academy, conservatives settle in for long war — If the Koch brothers have lost the battle for conservative values in 2016 to Donald Trump, they are also quietly preparing for a long war. Their secret weapon is the Grassroots Leadership Academy, intended to groom the next generation of conservative activists to shape the future of the Republican Party.
► In today's NY Times — Driscoll's aims to hook the berry-shopping buyer — The company plans a new marketing campaign intended to place it in the company of other big fruit brands like Dole and Chiquita.
ALSO at The Stand — Union election set at Sakuma; boycott of Driscoll's berries ends
---
The Stand posts links to Washington state and national news of interest every weekday morning by 10 a.m.
Short URL: https://www.thestand.org/?p=51757
Posted by
David Groves
on Sep 7 2016. Filed under
DAILY LINKS
. You can follow any responses to this entry through the
RSS 2.0
. Both comments and pings are currently closed.