Scare out the vote, false equivalency, media fail…
Wednesday, November 2, 2016
---
STATE ELECTIONS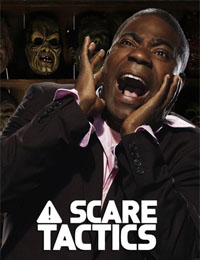 ► In today's News Tribune — Income tax 'bogeyman' haunts Democrats in swing districts — So far, at least 14 Democrats in competitive swing districts have been accused of being sleeper agents for a state income tax. Republicans say it's a fair charge. Democrats say it's hogwash.
► In today's News Tribune — $13.50 minimum wage would boost economy (by Tacoma City Council member Ryan Mello) — Businesses in our community depend on people being paid enough to be customers at their stores. So it matters to me that the current state minimum wage is not enough for someone to afford a one-bedroom apartment and other living expenses anywhere in the state.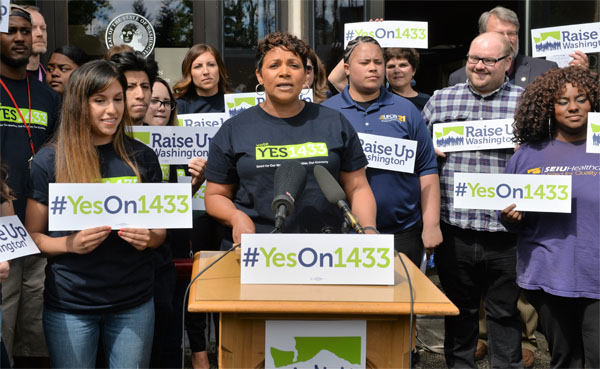 ► From The American Prospect — GOP lawmakers won't raise the minimum wage — so voters are about to — Republican aversion to wage increases, and their control of most statehouses, means that legislative action is a non-starter in the majority of states. Labor advocates, however, have a strategy to cut out the middleman: ballot measures to be voted on next week. In four states, voters will consider whether to increase the state minimum wage.
---
STATE GOVERNMENT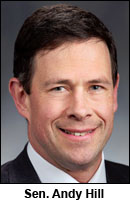 ► In today's Olympian — Washington Sen. Andy Hill dies of lung cancer at age 54 — Sen. Andy Hill, the key budget writer for the Washington state Senate, has died of lung cancer. He was 54. A former program manager at Microsoft, Hill was elected in 2010 to represent the 45th legislative district, which includes his hometown of Redmond. Hill, who became chairman of the Senate Ways and Means Committee in 2013, was currently serving a second term following his re-election in 2014.
► In the P.S. Business Journal — Highest-paid lobbying firms in Washington state — and who's paying them — Amazon, Boeing, Costco, Expedia, F5 Networks, Microsoft, Russell Investment Group and Weyerhaeuser are among clients of the top 25 highest-paid lobbying firms registered in Washington state.
---
NATIONAL ELECTIONS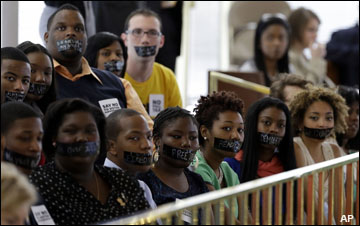 ► From The Hill — Black early voting turnout falls in key battleground states — Numbers are down in both Florida and North Carolina. Hillary Clinton is popular with black voters, but she does not appear to be inspiring the level of enthusiasm and support that was behind Obama. Many on the left also point to early voting restrictions imposed by a GOP-controlled state legislature as the reason for the downturn.
ALSO at The Stand — Don't wait! Find that ballot and send it in, Washington! (by John Burbank)
► From The Hill — KKK paper embraces Trump in front-page article
► From Politico — White nationalists plot Election Day show of force — Energized by Trump's candidacy and alarmed by his warnings of a "rigged election," white nationalist, alt-right and militia movement groups are planning to come out in full force on Tuesday, creating the potential for conflict at the close of an already turbulent campaign season.
► From TPM — Trump camp, Nevada GOP ordered to appear in court in voter intimidation lawsuit — A U.S. District Court judge orders the Trump campaign and state party to turn over any training materials they provided to "poll watchers, poll observers, exit pollsters or any other similarly tasked individuals."
► In today's NY Times — Avoiding taxes, Trump-style (editorial) — Having spent his career trying not to pay taxes, why would Donald Trump want to fix the system?
► From Time — Donald Trump more trustworthy than Hillary Clinton, poll finds — The Republican presidential nominee leads his Democratic rival on honesty and trustworthiness by eight points in a Washington Post-ABC News poll, which found 46% of likely voters saying Trump is more honest and deserving of trust.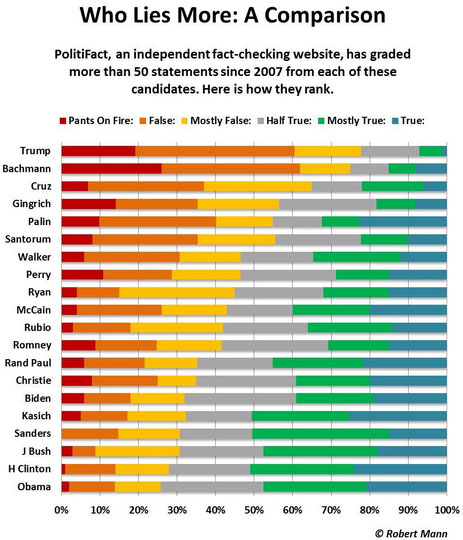 EDITOR'S NOTE — C'mon, America. You're better than this. It's time to call out your friends, relatives and co-workers who regurgitate this "they're all liars" nonsense. It's JUST… NOT… TRUE, and it's the Republican Party that wants you to believe it is. We agree with Bill Maher on this one…
► From Real Time with Bill Maher — The danger of false equivalency (NSFW) — "Republicans have one path to victory in this election and it's called false equivalency. They can't deny Trump is horrible. It's on tape. So they want voters to believe Hillary is just as bad. And in pursuit of that goal they have a very powerful ally: lazy people. people who like to say 'they're all bad.' Because when you say that, you don't have to do any homework. Say they're all the same and you can sound justifiably jaded by the entire process when, really, you just don't know anything."
---
TODAY'S MUST-READ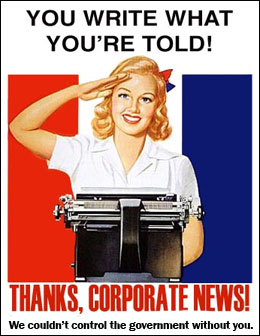 ► From Vox — Mass media has utterly failed to convey the policy stakes in the election (by Matthew Yglesias) — Someone who'd been following the election moderately closely — scanning headlines, watching cable news, and tuning in to debates — would simply have no idea that this sweeping shift in American public policy is in the offing if Trump wins. Nor would they have any real sense of what the more modest shift in public policy that would emerge from a Clinton win would look like. Beneath the din of email coverage and the mountains of clichés about populism, the mass-market media has simply failed to convey what's actually at stake in the election.
ALSO at The Stand — Ignore the noise, it's decision time: Want more talk, or real plans?
---
The Stand posts links to Washington state and national news of interest every weekday morning by 10 a.m.
Short URL: https://www.thestand.org/?p=53044
Posted by
David Groves
on Nov 2 2016. Filed under
DAILY LINKS
. You can follow any responses to this entry through the
RSS 2.0
. Both comments and pings are currently closed.