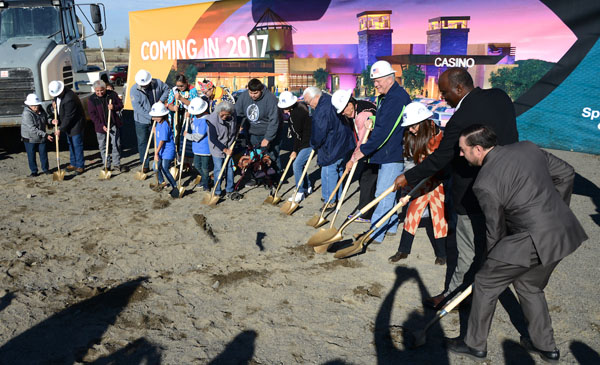 SPOKANE (Nov. 15, 2016) — Last week, fully 10 years after it was first proposed, the Spokane Tribe broke ground on a $400 million casino and hotel complex in Airway Heights. And it did so under a partnership formalized earlier this month between the tribe and Spokane Building Trades Unions that will promote local hiring and apprenticeship utilization on the 10-year phased project.
The groundbreaking held Nov. 9 was for the first $40 million phase of the Spokane Tribe Economic Project (STEP): the casino, two restaurants and an outdoor plaza, with the opening planned within 10 months. The long-range plan also includes a resort hotel, more restaurants, entertainment venues, shopping and a tribal cultural center. Upon completion, the tribe says the complex will support more than 5,000 jobs with an annual payroll of about $66 million.

The Community Workforce Agreement between the tribe and area building trades unions was reached "due to the never ending support from the 6,000-plus members of the Northeastern Washington/North Idaho Building and Construction Trades Council," said Mike Foley, the council's president. "The construction jobs alone on this project are much needed for our community, especially for the Spokane Tribe of Indians which has had 30 to 40% unemployment on the reservation."
The apprenticeship utilization portion of the Community Workforce Agreement will benefit the tribal members as well, Foley noted, by granting them lateral direct entry to apprenticeship programs through the Tribal Employment Rights Office.
"This is a perfect opportunity to start a quality career in the building trades," Foley said, "which of course includes earning a livable wage with benefits for their whole family, instead of just working on a job that will eventually end."
It took nine years for the federal government to approve STEP, and Gov. Jay Inslee signed off on the project last summer.
Foley thanked the NE Wash./N. Idaho BCTC affiliates for embracing this project back in 2010 and working diligently ever since to gain support from the federal and state governments. He added that support from Jeff Johnson, President of the Washington State Labor Council, AFL-CIO, and Lee Newgent, Executive Secretary of the Washington State Building and Construction Trades Council gave a critical boost to the STEP's approval.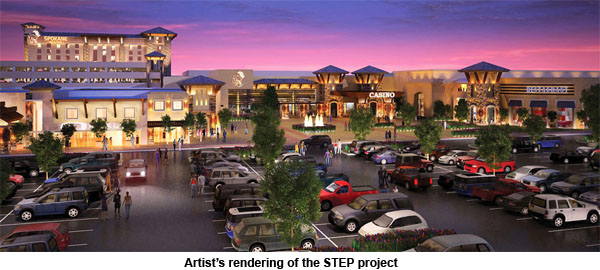 In a letter to Inslee urging the greenlighting of the project, Jeff Johnson, President of the Washington State Labor Council, AFL-CIO, said it "will be a major economic engine to the region and provide thousands of jobs for both tribal members as well as the general public."
The STEP will create a significant boost to building and construction trade jobs in Spokane County and Eastern Washington. This in turn will be a stimulus to opening positions in our apprenticeship programs to train our future workforce. This would be a win for everyone… We, in labor, are excited about the possibility of working together to build and operate STEP.
Learn more about the project at STEPSpokane.com or at the STEP Facebook page.