Historic election victories for Washington workers
(Nov. 9, 2016) — Washington state's labor movement led the charge for some historic victories on behalf of working families on Tuesday night, but the stunning election of Donald Trump as President of the United States cast a dark cloud over local celebrations.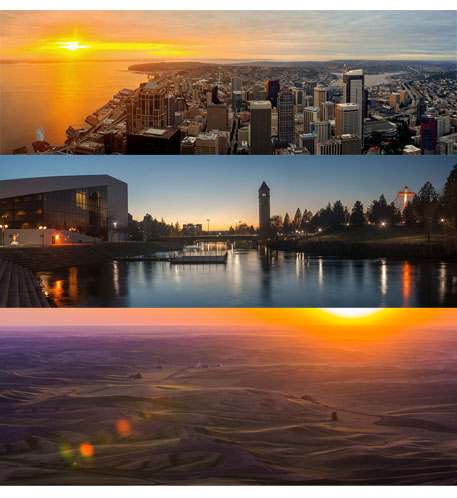 Nevertheless, this morning the sun rises on an Evergreen State that will lead the nation in raising its minimum wage to $13.50 over the next four years, will allow all workers to earn paid sick leave to care for themselves and their families, will establish groundbreaking new protections for hotel workers in Seattle, and will make major forward-thinking investments in its mass transit systems in Spokane and the Puget Sound region. These victories are all good news for working families and promise to boost our state economy now and for future generations.
Voters soundly rejected a labor-opposed initiative to address climate change in a regressive way that would have exacerbated state budget challenges and failed to invest in a just transition to a clean-energy economy. Voters also rejected a disturbing effort by the state's billionaires and right-wing conservatives to politicize our state Supreme Court.
By wide margins, voters re-elected Democratic Gov. Jay Inslee and the vast majority of other labor-endorsed candidates for statewide office. In the 7th Congressional District, voters selected a true progressive leader in Pramila Jayapal, the first Indian-American woman ever elected to Congress.
Efforts to establish pro-worker legislative majorities in both the House and Senate appear to have failed, so the status quo of a politically divided State Legislature will continue for two more years. This sets the stage for another contentious legislative session in 2017, as lawmakers struggle to comply with a court order to fully fund public schools.
But overall, there is much to celebrate in Washington state this morning. Keep that in mind as we cast a wary eye toward the other Washington and rededicate ourselves to what has proven successful here: standing together with our community allies to protect and improve living standards for all Washingtonians.
"Now, more than ever before, labor and community need to speak with one voice and act together," said Jeff Johnson, President of the Washington State Labor Council, AFL-CIO, in a statement regarding Trump's election. "We are being given an historic opportunity to pull together the various movements in our society. This is an opportunity we must take at the national, state and local levels. Everything is at stake and worth fighting for."
See the latest state election results here.
Short URL: https://www.thestand.org/?p=53249
Posted by
David Groves
on Nov 9 2016. Filed under
ELECTION
,
TAKE A STAND!
. You can follow any responses to this entry through the
RSS 2.0
. Both comments and pings are currently closed.