No ACA answers, reject Puzder, nothing to see here…
Tuesday, February 14, 2017
---
AFFORDABLE CARE ACT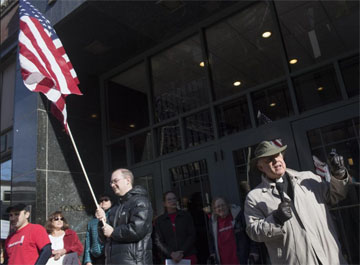 ► In today's Spokesman-Review — Demonstrators target Trump and defend health care law outside McMorris Rodgers' office — About 100 protesters carried signs, many of them naming Rep. Cathy McMorris Rodgers or Trump, chanted for the congresswoman to hold a town hall meeting in the district. "The (Affordable Care Act), that's how our people get their coverage, the majority of them," said Rachel Dorfman, secretary and treasurer of Local 105, a union that represents close to 200 studio musicians and live performers from genres including folk and country. "Musicians, we have multi-employers, most of us," said Tina Morrison of the Spokane Regional Labor Council. "To get our employer to cover healthcare was impossible."
► In today's NY Times — Angry town hall meetings on health care law, and few answers — Republicans have found themselves on the defensive — for all their fury aimed at repealing the law, so far they have not agreed on an alternative. The imminent problem: Constituents want answers, and without any consensus on how to go about replacing the law, Republicans have little to say.
► From Huffington Post — Conservatives take a hard line on Obamacare repeal, putting GOP in a bind — Conservatives in the House Freedom Caucus voted among themselves Monday night to band together and support only an Obamacare repeal that is at least as aggressive as a bill the House and Senate passed in 2015, putting GOP leaders in a bind with their conference and perhaps even threatening the possibility of passing a repeal.
---
BOEING
► From ABC News — Boeing workers, Machinists rally ahead of unionization vote — Two days before South Carolina Boeing employees vote on whether to join a union, workers gathered Monday to hear from union leaders why they should vote to organize in a state where union membership is the lowest in the country.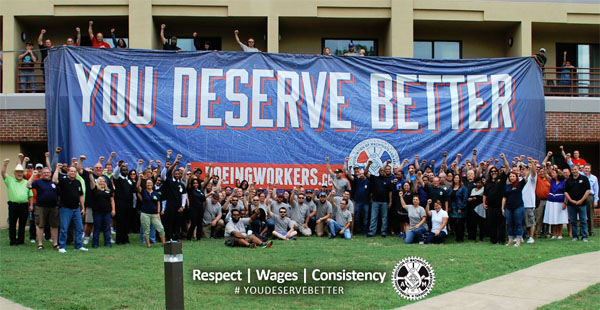 EDITOR'S NOTE — Nearly 3,000 Boeing workers at the North Charleston facilities will have the opportunity to vote yes for the IAM tomorrow (Wednesday, Feb. 15). But workers and their families are facing a barrage of television and radio ads urging them against joining the IAM. Voice your support on the Boeing Workers at South Carolina – BSC Facebook page.
► In today's NY Times — Union vote at Boeing S.C. plant tests labor's sway under Trump — "If Boeing loses, it removes the ability to hold nonunion Charleston over the heads of the union in Seattle, to beat up that union for more concessions in the future," said aviation analyst Scott Hamilton… Two Boeing officials, who would not speak for attribution, expressed confidence that the company would turn back the unionization effort. Mike Evans, the Machinists' lead organizer in South Carolina, rejected that suggestion, saying the union believes it has the votes to prevail.
► In today's Seattle Times — Trump may attend Friday rollout of first Boeing 787-10 in Charleston
---
LOCAL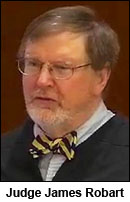 ► In today's News Tribune — Judge says Trump travel ban case can proceed in lower court — U.S. District Judge James Robart in Seattle says a lawsuit by Washington state and Minnesota challenging President Donald Trump's travel ban will proceed in a lower court as an appellate court considers an injunction in the case.
ALSO at The Stand — Credit mass resistance, not Judge Robart, for lifting travel ban (by Jonathan Rosenblum)
► In today's Seattle Times — Seattle will offer city employees 12 weeks of paid parental leave — The Seattle City Council voted unanimously Monday to offer city employees up to 12 weeks of paid parental leave, rather than the four weeks they are offered now.
► In today's Tri-City Herald — Vancouver oil terminal seeks support from Tri-Cities — An oil industry executive called on Pasco on Monday to build political support for a $210 million oil-by-rail terminal in Vancouver.
► In today's (Everett) Herald — Snohomish Council approves labor agreement with deputies
► In today's Bellingham Herald — Council affirms Bellingham will protect undocumented immigrants
---
REJECT PUZDER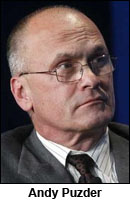 ► In today's Washington Post — Four key Republicans could vote against Puzder for labor secretary — The unenthusiastic reception from the Republican lawmakers comes after weeks of intense criticism from Democrats and liberal groups over workplace violations at Puzder's restaurants Hardee's and Carl's Jr., sexually suggestive ads featuring bikini-clad models eating burgers, and his opposition to wage regulations. Puzder has also been accused of domestic abuse — an accusation that was later recanted — and has acknowledged hiring an undocumented worker for his home… The Republican senators who were noncommittal about Puzder's nomination on Monday sit on the committee that will hold his confirmation hearing Thursday. If they oppose him, his nomination is all but certainly dead.
ALSO at The Stand — Sen. Patty Murray: Labor nominee 'uniquely unqualified'
► From Politico — Oprah gives tape with Puzder abuse allegations to Senate — Senators in both parties have viewed an episode of "The Oprah Winfrey Show" in which President Donald Trump's Labor Secretary nominee Andrew Puzder's former wife leveled allegations of physical abuse against him, according to sources familiar with the matter. Sen. Patty Murray (D-Wash.) said she was "deeply troubled" by the video.
► From Huffington Post — Hardee's, Carl's Jr. got caught in an immigration audit under Trump's labor nominee — In 2014, ICE audited some 180 Hardee's and Carl's Jr. burger restaurants in the Southwest and Midwest, finding documentation problems with roughly one out of every three workers.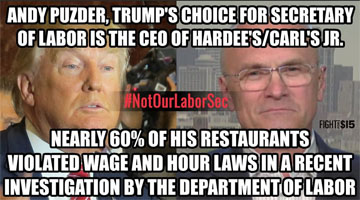 ► In today's Seattle Times — Puzder is dangerous pick for labor (by Elizabeth Ford and Dylan Orr) — Wage theft is already rampant in the low-wage economy, and Puzder's record leading a major fast-food company demonstrates a clear disregard, if not contempt, for even our most basic labor standards. If you believe we need to do more to advance opportunities and protect the rights of low-wage workers, then Puzder is not the person who should lead the Department of Labor.
► From The Nation — Fast-food workers are protesting Trump's Labor Secretary nominee today — With a billionaire controlling the White House and union membership still tumbling to record lows nationwide, the labor movement might be recoiling in despair in Washington. But as workers across the country protest the nomination of a fast-food magnate as labor secretary today, they're working to seize power on the local level.
---
THAT WASHINGTON

► From CNN — National security adviser Flynn resigns over Russian ties –The Justice Department warned the Trump administration LAST MONTH that Flynn misled administration officials regarding his communications with the Russian ambassador to the United States and was potentially vulnerable to blackmail by the Russians.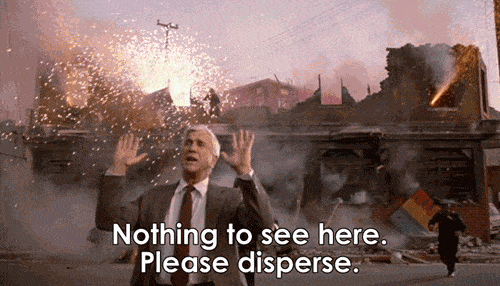 ► From TPM — GOP oversight chair says his committee won't investigate Flynn — House Oversight Committee Chairman Jason Chaffetz (R-UT) said on Tuesday that his panel will not investigate the circumstances that led to former national security adviser Michael Flynn's resignation.
EDITOR'S NOTE — This is the same guy who planned multiple investigations of Hillary Clinton from Day 1 of her anticipated presidency. About… whatever. But when the National Security Adviser for his party's president resigns after revelations he lied about his ties and interaction with Russia, he's all, "There's nothing to see here." Why must taxpayers finance an overtly partisan House Oversight Committee? It's like we're all paying for the Republican National Committee.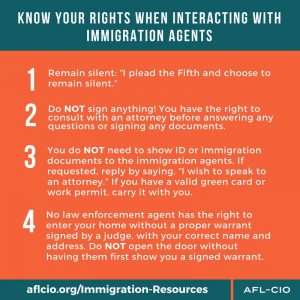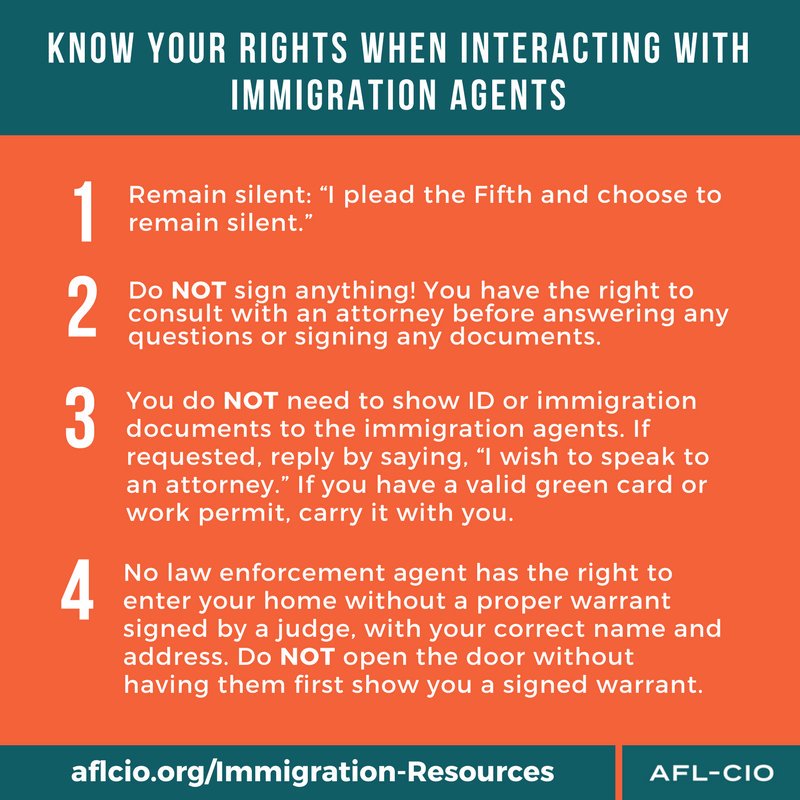 ► From Politico — Trump just getting started with immigration raids — The arrests of hundreds of immigrants last week marked the first large-scale raid under the Trump administration — and the crackdown was, by all indications, just the start of much more to come.
ALSO at The Stand — What immigrants should know amid stepped-up ICE raids
► From Quartz — Donald Trump requested 64 foreign guest workers for his 'winter White House' — He got permission from the U.S. Department of Labor to hire 64 foreign guest workers to wait on his guests, cook their food and clean their rooms during the winter high season at Trump's Palm Beach resort Mar-a-Lago.
► From The Hill — Trade groups push Congress to reverse NLRB joint employer ruling — More than 50 business and trade groups are asking Congress to pass legislation to repeal the National Labor Relations Board's (NLRB) new joint employer standard.
► In today's NY Times — The latest voter-fraud lie (editorial) — Donald Trump won the election, but he and his administration continue to spread untruths about illegal voting. These baseless claims continue to get converted into policy in the form of stricter voting laws, like requiring prospective voters to show a photo ID. The real effect of the laws is to make voting harder for students, the poor and people of color, all groups that lean Democratic.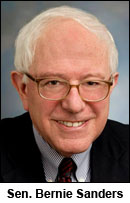 ► From The Hill — Schumer tries to keep the peace as Sanders speaks out — Sen. Charles Schumer (D-N.Y.) is trying to keep the peace in the Senate Democratic Caucus, as Sen. Bernie Sanders's (I-Vt.) aggressive effort to push the party left is giving some colleagues heartburn. The Senate minority leader convened a meeting last month between Sanders, a liberal stalwart, and a group of Democrats Sanders criticized for voting against an amendment he co-wrote to lower the cost of prescription drugs by allowing their importation from Canada.
EDITOR'S NOTE — Sens. Patty Murray and Maria Cantwell both voted against Sanders's amendment on prescription drugs.
---
NATIONAL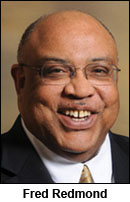 ► From AFL-CIO Now — Racial discrimination has a negative impact on all working people (by Fred Redmond) — Often, the issue of racial politics and discrimination is not seen as a central priority of the labor movement — but it is our duty to protect workers from racial discrimination in our work places and in our society. One of the labor movement's most important challenges is to understand how racial discrimination hurts all working people and impedes our ability to protect workers' rights… This Black History Month, let's focus on the future of labor — a future that empowers black workers to advance their leadership in unions, their contributions to community and their political power to build a more vibrant and dynamic labor movement.
► In today's NY Times — In peril at Oroville Dam, a parable on infrastructure (editorial) — Warnings of the current threat were ignored, as have many warnings about our crumbling public works.
---
The Stand posts links to Washington state and national news of interest every weekday morning by 10 a.m.
Short URL: https://www.thestand.org/?p=55485
Posted by
David Groves
on Feb 14 2017. Filed under
DAILY LINKS
. You can follow any responses to this entry through the
RSS 2.0
. Both comments and pings are currently closed.