Washington workers in Olympia: HANDS OFF OUR UNIONS!
More than 1,000 swarm Capitol to oppose Republicans' Right-to-Work bill
OLYMPIA (Feb. 9, 2017) — In the end, more than 1,100 people signed in opposed to SB 5692. Just one person supported it.
More than 1,000 union members and supporters, most of them members of building and construction trades unions from around the state, swarmed the State Capitol on Wednesday to voice their objection to SB 5692, legislation to make Washington a "Right-to-Work" state.
SB 5692, sponsored by Sens. Michael Baumgartner (R-Spokane) and John Braun (R-Centralia) was heard in the Senate Commerce, Labor & Sports Committee chaired by Baumgartner. The hearing and overflow rooms set up to accommodate the crowds were all full, so hundreds more protested in different buildings and outside in the rain — with M.L. King County Labor Council leader Nicole Grant leading chants of "Hands off our Unions!" — while many visited their legislators' offices to object to anti-union Right-to-Work legislation.
The bill would ban unions and employers in Washington state from agreeing to union-security clauses in collective bargaining contracts. Such a ban allows and, in fact, encourages workers to stop paying for union representation because they can get it — and the benefits of the contract — for free. It would be like allowing people to opt out of paying taxes, but still allowing them to use and benefit from all government services, whether they are taxpayers or free-riders.
"Right-to-Work never has and doesn't now have anything to do with creating or protecting jobs," said Jeff Johnson, President of the Washington State Labor Council, AFL-CIO, during testimony on the bill. (See Johnson's written testimony.) "Its purpose is to curb the power of workers and their unions at the bargaining table and in the Legislature."
"(Right-to-Work) doesn't belong in this state and all of our unions, including building trades unions, are going to stand up strong against it," said Lee Newgent, Executive Secretary of the Washington Building Trades. "It doesn't belong in Washington state now or ever."
But the most passionate testimony came from the handful of union members who were lucky enough to testify during the relatively short hearing.
"Being a dues-paying union member has afforded me and many others the opportunity to complete an apprenticeship, to learn a skilled trade, provide for my family, and plan for the future," said Christine Cole, a union carpenter from the 24th Legislative District. "The true goal of this bill is to undermine labor organizations that promote living wages with family benefits, a safe work environment, and also a workplace free of discrimination and intimidation."
Tim Burns, a union retiree with the Puget Sound Advocates for Retirement Action, said his 39-year career in a union shop enabled him to retire with a pension, earn good wages and benefits throughout his career, and have better safety on the job.
"As a retiree, my focus is beyond myself, it's on my kids and grandkids," Burns said. "I want them to have the opportunities to retire with dignity and to work in a safe workplace. And with a 'Right-to-Work For Less' bill, that would be jeopardized."
Listen to the entire hearing at TVW (audio only).
Here are some scenes from inside and outside the hearing room on Wednesday: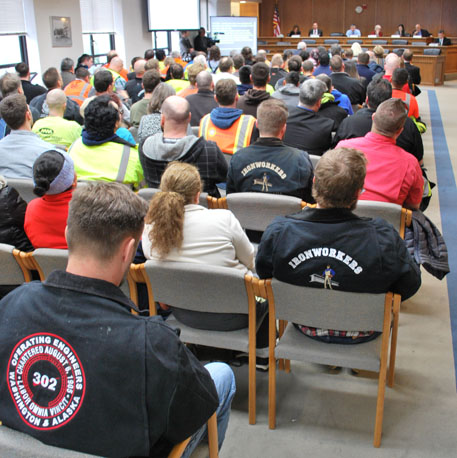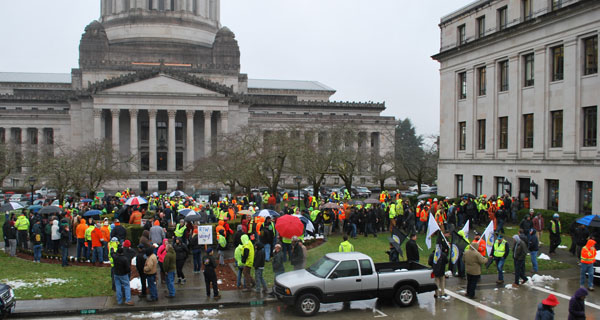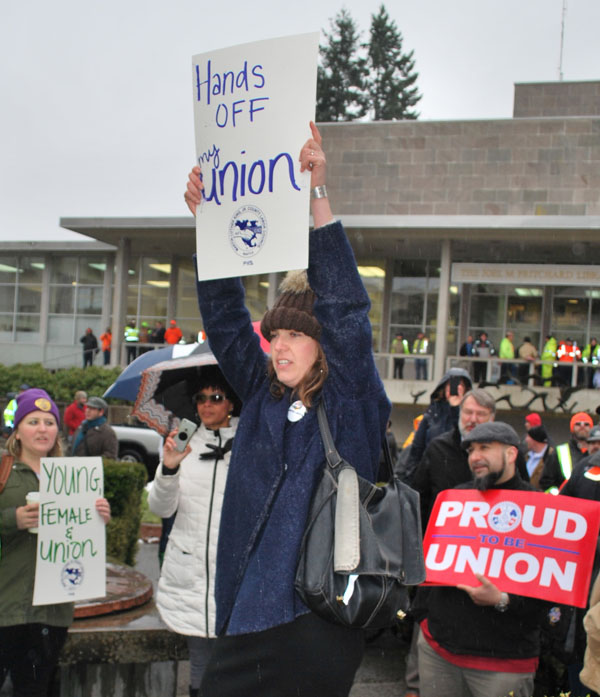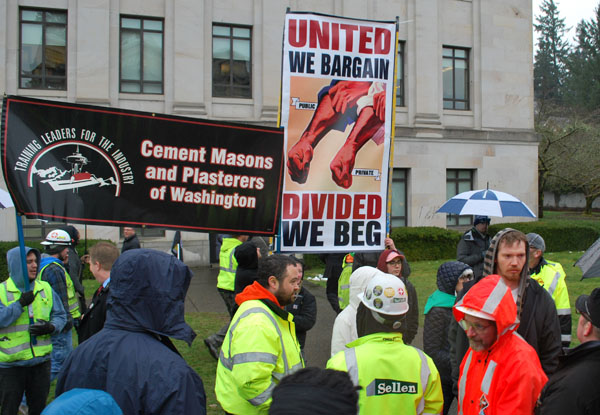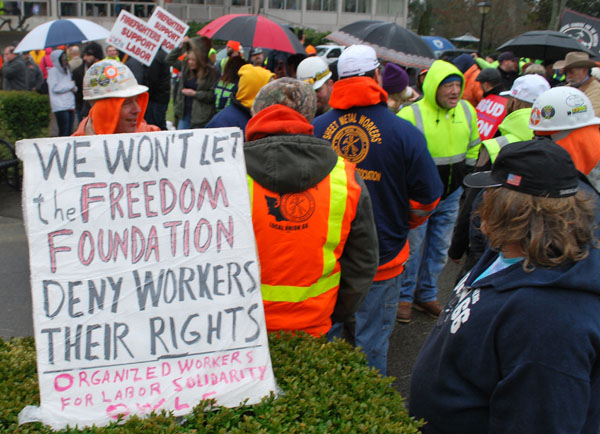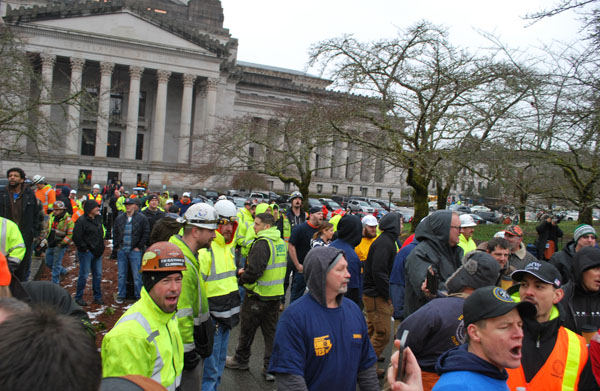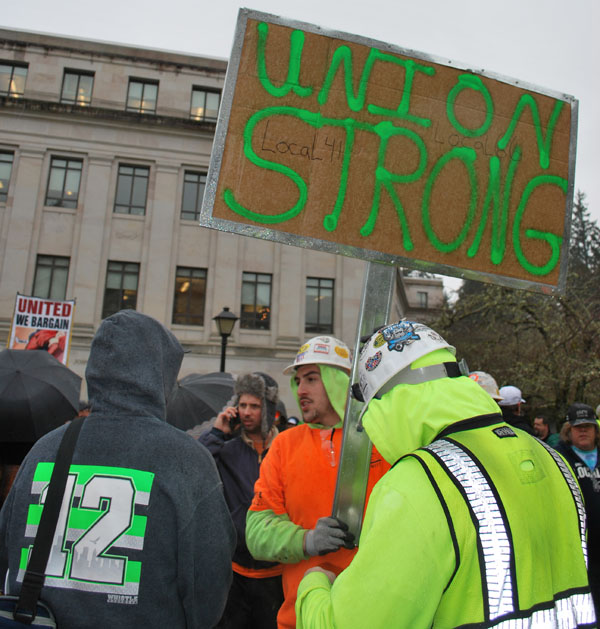 Short URL: https://www.thestand.org/?p=55328
Posted by
David Groves
on Feb 9 2017. Filed under
STATE GOVERNMENT
. You can follow any responses to this entry through the
RSS 2.0
. Both comments and pings are currently closed.