Trump-timatum, partisan budget, Gorsuch filibuster, vacation…
Dearest Readers: The Entire Staff of The Stand is on vacation next week, so your next update will be on Monday, April 3. — Sincerely, TESOTS
---
---
Friday, March 24, 2017
---
TRUMPCARE
► In today's Washington Post — Trump's high-risk gamble with House GOP: Pass bill today or keep Obamacare — Top House leaders said a vote to overhaul the nation's health-care system is expected by late afternoon Friday, as they and President Trump pressed for "yes" votes from fellow Republicans.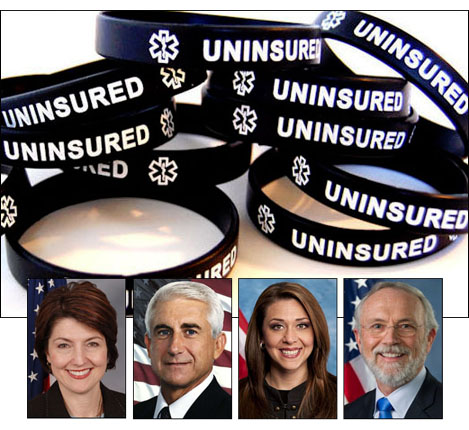 ALSO at The Stand — Will Jaime, Dave cave today on Trumpcare? — Although Rep. Jaime Herrera Beutler (R-3rd) announced Thursday she would vote "no" and Rep. Dave Reichert (R-8th) now says he is reconsidering his support and is now "undecided" because of changes made to the bill, the AFL-CIO tells The Stand that both are facing extreme pressure from President Trump and House Republican leaders to switch their votes back to "yes" today.
► From Huffington Post — Trumpcare is more unpopular than Obamacare ever was — Reactions to the proposal have been overwhelmingly negative, with most surveys finding less than one-third of the public in favor of the bill. Support reached a new nadir Thursday in a Quinnipiac poll, which found just 17 percent of voters expressing approval, and only 6 percent approving strongly. Meanwhile, public opinion of Obamacare is the highest since it was signed into law.
► From The Hill — CBO releases new score for Trumpcare — The CBO found that this revised version contains significantly less deficit reduction ($150 billion over 10 years, down from $337 billion in the original) but would lead to essentially the same levels of coverage losses and premium increases. The plan would still result in 24 million more people being uninsured in 2026.
► From The Hill — GOP rushes to vote without knowing full impact of healthcare plan –Republicans on Thursday night announced that they would make more significant changes to the bill with the intention of winning over conservatives. The most prominent of those changes is to repeal ObamaCare's essential health benefits, which mandate which health services an insurance plan must cover, including areas like mental health, prescription drugs, and maternity care.
EDITOR'S NOTE — And here are the negotiations where they decided to remove maternity care coverage. Notice anything missing?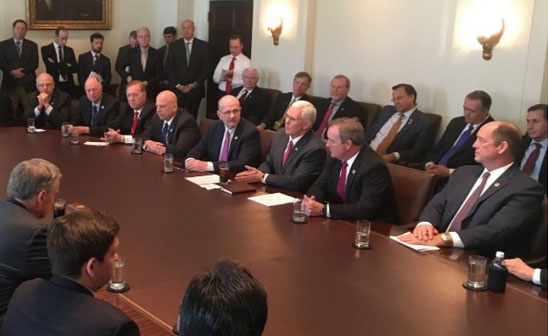 EDITOR'S NOTE 2 — Called out on the removal of maternity care coverage, Trump budget director Mick Mulvaney said that if you don't like it, just move to a state that does require maternity coverage! Or you are welcome to lobby your state legislature to require it.
► In today's Washington Post — The GOP wants to take money from Medicare's trust fund and give it to the rich (by Max Ehrenfreund) — Republicans would repeal the Medicare tax, a 0.9 percent surcharge on annual salaries of at least $200,000 for individual taxpayers or $250,000 for married couples. The CBO projects that over a decade, repealing the tax would forego $117 billion that those wealthy households are currently expected to pay into the financially distressed Medicare trust fund, which is used to cover the costs of health care for elderly Americans.
---
THIS WASHINGTON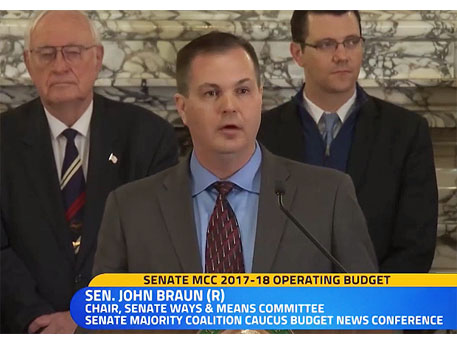 ► From AP — Senate passes $43 billion state budget proposal — The Senate on Friday passed a $43 billion two-year state budget proposal that relies, in part, on a statewide property tax earmarked for education, while also making cuts to some social services. The spending plan, which cleared the Republican-led Senate on a 25-24 vote after a multi-hour, middle-of-the-night debate, would raise property taxes for some, while lowering taxes for others in the state.
ALSO at The Stand — Senate budget short-changes state employees
► From WFSE — Senate GOP budget passes; balanced on backs of the poor, the safety net and state employees — The Republican plan rejects our (state employees') raises, illegally dictates the terms of re-negotiation (no more than the equivalent of $500 a year, a mandate that violates state law) and raises our health costs. It also closes institutions and cuts state programs and state workers. And it shreds the safety net by cutting help for the poor, the homeless, single mothers, public safety, housing, essential needs and much more.
► In today's Olympian — Wither the capital gains tax? (editorial) — The Senate Republican budget relies too much on a large boost in the state property tax rate to make ends meet… It trades the unfairness of the tax code that afflicts rural areas today for unfairness targeting urban areas tomorrow. There is a better way. A capital gains tax, which Gov. Jay Inslee proposed as part of his plan to raise billions in new funding for schools, is a tool that could help bridge differences between the Democratic governor's more expensive budget plan and the Republican plan. House Democrats are expected to release their budget plan as soon as Monday, and including a capital-gains tax would be smart.
---
THAT WASHINGTON

► In today's Seattle Times — Sen. Patty Murray will oppose Neil Gorsuch for Supreme Court — Washington's senior Democratic Sen. Patty Murray says she will vote against confirming Neil Gorsuch to the U.S. Supreme Court — and filibuster him if necessary… Sen. Maria Cantwell, has not announced her vote on Gorsuch. A spokesman for her office said she'll meet with Gorsuch next week.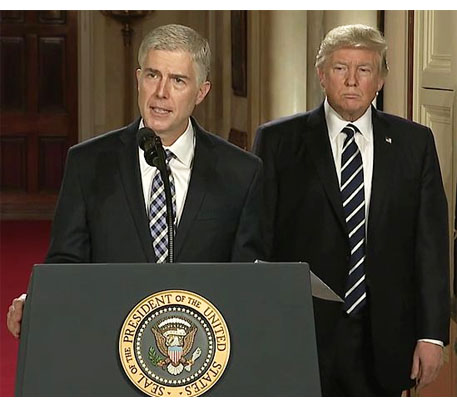 ► In today's Washington Post — Democrats will seek to filibuster Gorsuch's Supreme Court nomination, Schumer says — The Senate minority leader said he will vote no on President Trump's nominee and asked other Democrats to join him in blocking an up-or-down vote on him.
► From The Hill — Under pressure, Dems hold back Gorsuch support — Centrist Democrats are withholding their support of Supreme Court nominee Neil Gorsuch after Senate Democratic Leader Charles Schumer (D-N.Y.) came out strongly against him. Republicans control 52 seats in the Senate. They will need the support of eight Democrats to end the filibuster of Gorsuch that liberals are vowing to wage. Right now, getting eight votes Democratic votes is looking like a heavy lift.
► From Politico — Trumka: No dealmaking on Gorsuch — Senate Democrats willing to haggle over confirmation of Supreme Court nominee Neil Gorsuch are delivering "a slap in the face to every worker out there."
► In today's Wall Street Journal — Trump's trade vows at risk under moderate advisers, Trumka says — White House trade moderates are watering down President Trump's tough trade plans, charged AFL-CIO President Richard Trumka, and could undermine plans to battle currency manipulation and remake trade deals.
---
TREASON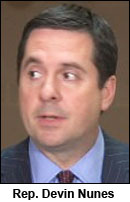 ► In today's Washington Post — Shut down Nunes's investigation — and investigate him for leaking (editorial) — It was doubtful that an investigation headed by Rep. Devin Nunes (R-Calif.) into Russia's interference in the election could be adequate or credible. The chairman's contradictory and clownish grandstanding makes that a certainty. His committee's investigation should be halted immediately — and Nunes deserves to be subject to the same leaking probe he demanded for the previous disclosures.
► In today's NY Times — Rep. Nunes is a lapdog in a watchdog role (editorial) — The head of the House Intelligence Committee is trying to shift attention away from allegations of collusion between Russia and the Trump campaign.
---
NATIONAL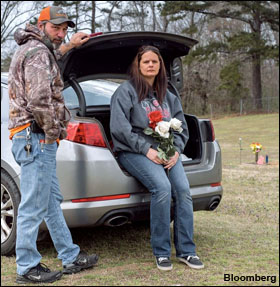 ► From Bloomberg — Inside Alabama's auto jobs boom: Cheap wages, little training, crushed limbs — Alabama has been trying on the nickname "New Detroit." Its burgeoning auto parts industry employs 26,000 workers, who last year earned $1.3 billion in wages. Except that it also epitomizes the global economy's race to the bottom. Parts suppliers in the American South compete for low-margin orders against suppliers in Mexico and Asia. They promise delivery schedules they can't possibly meet and face ruinous penalties if they fall short. Employees work ungodly hours, six or seven days a week, for months on end. Pay is low, turnover is high, training is scant, and safety is an afterthought, usually after someone is badly hurt. Many of the same woes that typify work conditions at contract manufacturers across Asia now bedevil parts plants in the South.
► In today's L.A. Times — AT&T workers end their strike in California and Nevada — Thousands of AT&T technicians in California and Nevada went back to work Thursday, ending a one-day strike after their union and the Dallas telecommunications giant reached a truce.
---
T.G.I.F.
► We'll be back on Monday, April 3.
---
The Stand posts links to Washington state and national news of interest every weekday morning by 10 a.m.
WASHINGTON IS A UNION STATE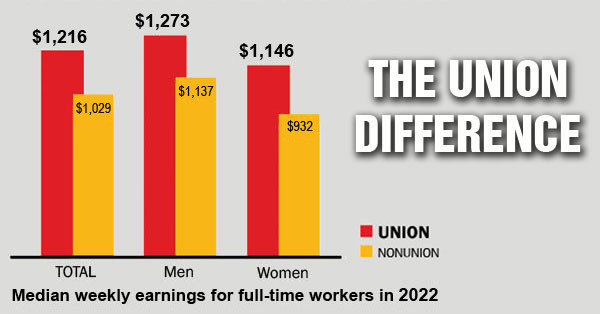 CHECK OUT THE UNION DIFFERENCE in Washington state: higher wages, affordable health and dental care, job and retirement security.
FIND OUT HOW TO JOIN TOGETHER with your co-workers to negotiate for better working conditions and respect on the job. Or go ahead and contact a union organizer today!