AFL-CIO 'deeply troubled' by Judge Gorsuch's record
AFL-CIO: Supreme Court nominee sides with corporations over people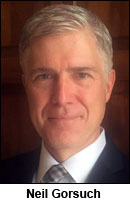 WASHINGTON, D.C. (March 21, 2017) — Senate confirmation hearings began Monday for Donald Trump's nominee to the U.S. Supreme Court, federal appellate Judge Neil Gorsuch. If confirmed to a lifetime appointment on the nation's highest court, Gorsuch will play a critical role in shaping and enforcing laws, including those intended to protect working people.
Following are excerpts the "AFL-CIO Review of Judge Neil Gorsuch's Record in Workers' Rights Cases."
Working families need and deserve a Supreme Court justice who understands and respects the importance of the laws and protections for working people in this country, including the right to form unions; to be free from discrimination because of race, gender, national origin, age or disability; to have a safe workplace; and to be paid for all hours worked.
The AFL-CIO, a federation of 55 national and international unions representing approximately 12.5 million working men and women, is deeply troubled by Judge Gorsuch's record: It reflects an unduly narrow and restrictive view of worker protections. His record also indicates a disturbing tendency to favor the rights of corporations over working people.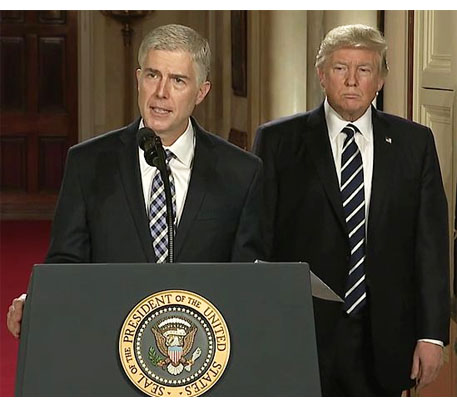 Judge Gorsuch routinely ruled against workers with health and safety concerns.
HEALTH AND SAFETY: Christopher Carder, a trench hand, died on-the-job after being electrocuted by an overhead power line at a surface mine site. The Occupational Safety and Health Administration imposed a $5,550 fine on the employer, finding that the accident could have been avoided had the employer adequately trained Carder. The employer appealed, and the court majority upheld OSHA's findings against the employer: It was "undisputed that Compass did not give this employee any instruction . . . [on the] fatal danger posed by the high voltage lines located in the vicinity of his work area." Judge Gorsuch dissented, finding no government regulations existed requiring the employer to provide training on such workplace conditions. He further contended that this case was yet another example of administrative agencies wielding "remarkable powers" and unfairly "penalizing" the company. Compass Environmental, Inc. v. OSHRC, 663 F.3d 1164 (2011)
WHISTLEBLOWER PROTECTION: A shipping company fired trucker Alphonse Maddin for abandoning his cargo, when out of safety concerns, Maddin refused in subzero temperatures to drag a trailer with frozen brakes. He reported the problem to the company, waiting hours in the truck in freezing temperatures for the company's tow truck to arrive. When Maddin became numb and had difficulty breathing, he unhitched the trailer from the truck, leaving the trailer behind while he drove to seek help. The employer later fired Maddin for abandoning his cargo and not following instructions to stay waiting for the tow truck. The court majority, applying the whistleblower protections of the Surface Transportation Act, found the company had improperly fired Maddin, and awarded him reinstatement and backpay. Judge Gorsuch dissented, finding the driver unprotected. He deemed worker health and safety as "ephemeral and generic" goals, and challenged the Department of Labor's position that the phrase "refuse to operate" should be interpreted within the Transportation Act's context of promoting health and safety because, "What, under the sun, at least at some level of generality, doesn't relate to 'health and safety'?" TransAm Trucking, Inc. v. Administrative Review Board, U.S. Department of Labor, 833 F.3d 1206 (10th 2016)
SEXUAL HARASSMENT: A female employee, Betty Pinkerton, filed claims for sexual harassment and retaliation, complaining that over several months her supervisor made sexually inappropriate remarks to her (e.g., asking about "whether she had sexual urges," "her breast size," and "if she had breast enlargements,"), and that after an investigation of her internal complaint, she was fired. The two-judge majority in which Judge Gorsuch joined found that Pinkerton's termination was not caused by discrimination, but by her performance. The majority also decided that her two-month wait to report the harassment to the agency was too long a time. The dissent, however, found sufficient evidence to establish a harassment claim. The dissent also reasoned that it was for a jury, not the judges, to decide whether two months was a reasonable time within which to report the harassment, noting that Pinkerton's termination just six days after the completion of the internal harassment investigation established a genuine issue of retaliatory discharge. Pinkerton v. Colorado Department of Transportation, 563 F.3d 1052 (10th Cir. 2009)
Judge Gorsuch frequently denied workers' efforts to secure earned wages and benefits. In cases involving pensions and benefits, he has ruled for employers 21 out of 23 times.
WAGES/LABOR LAW: The National Labor Relations Board ruled that the interim earnings of 13 respiratory-department workers should be disregarded when calculating backpay awards where a hospital unlawfully reduced their full-time work hours. The Board reasoned that, on balance, workers who take on additional outside jobs should retain the benefit (wages from their outside jobs) of their "extra effort," not "recalcitrant" employers who violated the law. The hospital appealed, and the majority of the court agreed with the NLRB about how best to make the hospital workers "whole." Judge Gorsuch dissented, deciding the backpay award gave too much money to the workers and observing that the Board's "statutory charge isn't to promote full employment . . . It's not some sort of reincarnation of the Works Progress Administration." NLRB v. Community Health Services, Inc., 812 F.3d 768 (10th 2016)
RETIREMENT: Judge Gorsuch sided with the company, finding a group of employees who had sued their employer were not entitled to any kind of relief, even though the employer failed to give the employees adequate notice of the negative implications of changes to their pension plan, specifically the elimination of early retirement subsidies. Judge Gorsuch reasoned that the employer didn't intentionally misinform them about the changes. Jensen v. Solvay Chemicals, Inc., 721 F.3d 1180 (10th Cir. 2013)
HEALTH CARE: Judge Gorsuch joined the divided en banc majority in ruling that corporations that have religious objections to contraception may withhold insurance coverage for women employees' health care that otherwise was required by the Affordable Care Act. Hobby Lobby Stores, Inc. v. Sebelius, 723 F.3d 1114 (10th Cir. 2013) (en banc)
Judge Gorsuch routinely favored the rights of corporations over those of individuals. Judge Gorsuch regularly sided with companies in not only workers' rights cases, but other areas of the law as well, such as campaign finance, religious freedom, and securities fraud.
CORPORATE MONEY IN POLITICS: Judge Gorsuch wrote a concurring opinion in a campaign finance case in which he suggested that corporate contributions to political campaigns are a "fundamental" right and, therefore, should be given the highest level of constitutional protection ("strict scrutiny"). Courts have reserved strict scrutiny for protecting the most important of individual rights, such as the right to be free from racial discrimination. If Judge Gorsuch's approach were adopted, corporations and wealthy donors would be able to spend almost unlimited amounts of money in political campaigns. Riddle v. Hickenlooper, 742 F.3d 922 (10th Cir. 2014)
CORPORATE RELIGIOUS FREEDOM: Judge Gorsuch joined the majority in a divided en banc opinion that enabled businesses to assert religious freedom to eliminate their obligation to provide federally-required contraceptive care to women. Hobby Lobby Stores, Inc. v. Sibelius, 723 F.3d 1114 (10th Cir. 2013) (en banc). In so holding, the Tenth Circuit majority extended to the workplace the concept that corporations are persons, which was embraced in the campaign finance context by the U.S. Supreme Court in Citizens United v. Federal Election Commission, 558 U.S. 310 (2010) (holding that political spending is a form of protected speech under the First Amendment, and the government may not keep corporations from spending money to support or denounce individual candidates in elections).
Neil Gorsuch, as a Private Attorney, Denigrated Constitutional Litigation by Liberal Organizations, Which May Reflect a Closed Mindset
The AFL-CIO is also dismayed by Judge Gorsuch's writings as a private attorney, specifically his pejorative denigration of what he called the "overweening addiction" to constitutional lawsuits by "American liberals." Neil Gorsuch, "Liberals' N' Lawsuits," National Review Online (Feb. 7, 2005). Gorsuch acknowledged such litigation has abolished racial segregation in our public schools. More recently, constitutional litigation has established the right to same-sex marriage. It has also given working people the right to speak out to expose government malfeasance without fear of retaliation. If Judge Gorsuch were to be confirmed to the U.S. Supreme Court, he will hear such constitutional challenges by American liberal, conservative and other advocacy organizations. We are concerned that his admonition to "kick" the litigation addiction and to "win elections rather than lawsuits" may reflect a closed mindset to such important lawsuits.
Read the entire AFL-CIO face sheet on Gorsuch here.
Short URL: https://www.thestand.org/?p=56484
Posted by
David Groves
on Mar 21 2017. Filed under
NATIONAL
. You can follow any responses to this entry through the
RSS 2.0
. Both comments and pings are currently closed.