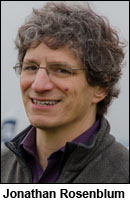 SEATTLE — Join author and labor activist Jonathan Rosenblum, Seattle City Councilperson Kshama Sawant, and others in celebrating the release of Rosenblum's new book, Beyond $15: Immigrant Workers, Faith Activists, and the Revival of the Labor Movement. All are invited to attend this book launch party from 6 to 8 p.m. Thursday, March 16 at the Washington State Labor Council office, 321 16th Ave. South in Seattle. (See the Facebook event page.)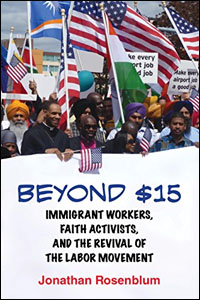 With captivating narrative and insightful commentary, Beyond $15 tells the inside story of the first successful fight for a $15 minimum wage, which renewed a national labor movement through bold strategy and broad inclusiveness. Just outside Seattle, an unlikely alliance of Sea-Tac Airport workers, union and community activists, and clergy staged face-to-face confrontations with corporate leaders to unite a diverse, largely immigrant workforce in a struggle over power between airport workers and business and political elites.
Digging deep into the root causes of poverty wages, Rosenblum gives a blunt assessment of the daunting problems facing unions today. Beyond $15 provides an inspirational blueprint for a powerful, all-inclusive labor movement and is a call for workers to reclaim their power in the new economy.
The March 16 book launch event is sponsored by the WSLC, Faith Action Network, Harry Bridges Center for Labor Studies at University of Washington, Church Council of Greater Seattle, OneAmerica, Teamsters Local 117, Puget Sound Advocates for Retirement Action, CASA Latina, Valley and Mountain Fellowship, Kadima Reconstructionist Community, Hillman City Collaboratory, Socialist Alternative, Seattle Transit Riders Union, Al-Noor Mosque, and Riverton Park United Methodist Church.