Boeing minus 13,600 jobs, AHCA suffering, Americans last, et tu Harley?
Tuesday, May 23, 2017
---
LOCAL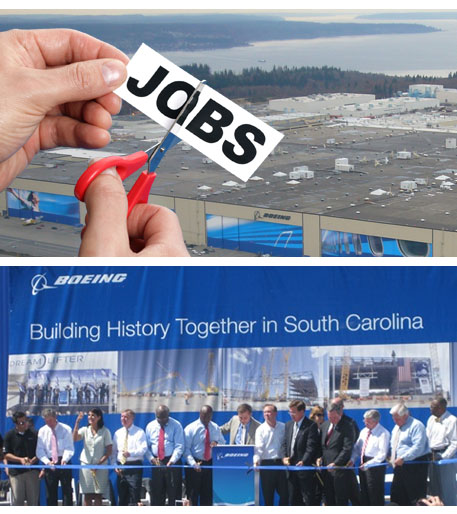 ► In today's (Everett) Herald — Cuts continue as Boeing issues more layoff notices — Boeing issued more layoff notices Friday, as the aerospace giant continues trimming its workforce. At least 281 workers were told they will be out of a job by late July. The company laid off 249 IAM members and 32 SPEEA members. A Boeing spokesman declined to say how many non-union employees were laid off. Boeing's workforce has dropped by more than 13,600 since the beginning of 2016. Those cuts have hit heaviest around Puget Sound.
ALSO from the Charleston Post-Courier — Boeing North Charleston workers not affected by West Coast layoff plans (March 20)
PREVIOUSLY at The Stand:
Why are we paying Boeing billions to send jobs away? (by John Burbank — April 6, 2017)
Hold Boeing accountable for state tax breaks (WSLC Legislative Update — March 13, 2017)
► From CNBC — Amazon Prime Air pilots are heading to shareholders meeting to confront execs over low wages — More than 50 pilots are set to protest at Amazon's shareholders meeting on Tuesday. The Teamsters say that Atlas Air and ATSG pay 50 to 60 percent below the rest of the industry. Without better pay and benefits, the pilots fear there won't be enough of them to keep up their end of the contract with Amazon.
---
THIS WASHINGTON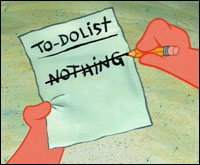 ► In today's (Everett) Herald — Plenty to do: Lawmakers ready for another special session — Democratic and Republican lawmakers are slated to adjourn at 11:30 a.m. without an agreement on how the state will adequately fund public schools as demanded by the state Supreme Court. They also still need to cut a deal on a new two-year budget for the operations of state government. Gov. Jay Inslee intends to speak with party leaders and budget writers in the House and Senate Tuesday morning and later discuss his plans for a second special session at a news conference. Lawmakers anticipate he will start the next extra session Tuesday afternoon.
► In the Yakima H-R — Senate budget is wrong approach on both sides of the Cascades (by Sen. Rebecca Saldaña) — There is something my district in South Seattle shares with communities in the Yakima Valley: We can count ourselves among many throughout Washington who will see a big property tax hike under the state Senate Republican budget. Raising taxes on some homeowners to buy lower taxes for others is not an equitable solution to our school funding question.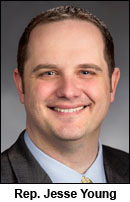 ► In the News Tribune — Local politicians — and their moms — are planting comments on the internet. And it's working — State Rep. Jesse Young (R-Gig Harbor) and his supporters knew the story was about to come out. So before the local newspaper could post an article about him allegedly screaming at staff members, his mom went on the offensive. The night before it was scheduled to appear online, Young's mother, Maureen Flanagan, sent an email urging Young's supporters to flood the online comments section at the end of the article. In part, she encouraged supporters to bash the "liberal media," as well as criticize the reporter's use of anonymous sources and question whether the story was "hack journalism."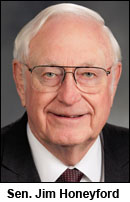 ► In today's Seattle Times — Using masks, hoods at protests could become crime under new bill — Protesters wearing masks or hoods during demonstrations could be charged with a crime, if state Sen. Jim Honeyford (R-Sunnyside) has his way. SB 5941 would make it illegal for someone to stand on a sidewalk, road or any public ground with their face covered, unless that person was exempted for religious or myriad other reasons spelled out in the bill.
EDITOR'S NOTE — Maybe he just wants to see which ones are "coloreds."
---
TRUMPCARE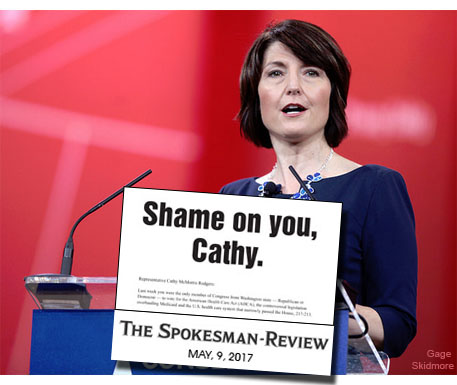 ► In today's Seattle Times — Rep. McMorris Rodgers, we beg to disagree: Those with pre-existing conditions will suffer (by Mark Stroh, Sue Elliott and Ed Holen) — Millions of Americans with disabilities, and their families and friends, do not share McMorris Rodgers' confidence in the AHCA… In Washington state, where McMorris Rodgers serves, there are 44,000 people qualified for developmental-disabilities services — almost exclusively Medicaid-funded. In Washington state, the projected AHCA cuts to Medicaid over the next decade would be $20 billion. With this in mind, we wonder if future parents of children with Down syndrome will share McMorris Rodgers' confidence regarding the availability of health care for their sons and daughters. In fact, this Op-Ed has been endorsed by 56 disability organizations, a number of which serve clients in McMorris Rodgers' 5th Congressional District.
ALSO at The Stand — Unions to Rep. Cathy McMorris Rodgers: Shame on you
► From The Hill — Divisions emerge in the Senate on pre-existing conditions — Some conservatives, including Sen. Mike Lee (R-Utah), want to simply repeal those provisions and other ObamaCare protections and leave them up to the states. But advocates of a more centrist approach, like Sen. Bill Cassidy (R-La.), are speaking out in favor of pre-existing condition protections and endorsing a "Jimmy Kimmel test" for the bill, where no one can be denied coverage.
► From NPR — GOP bill could undercut some coverage in job-based insurance — If any single state weakened its essential health benefits requirements under the Republican health care plan, it could affect large employer plans in every state. That's because these employers, who often operate in multiple states, are allowed to pick which state's definition of essential health benefits they want to use.

► From ABC News — Uncertainty grows as Trump delays a health care decision — The Trump administration is leaving in limbo billions of dollars in federal subsidy payments. The fate of $7 billion in "cost-sharing subsidies" remains under a cloud as insurers finalize their premium requests for next year. Experts say premiums could jump about 20 percent without the funding.
► In today's NY Times — It's time to worry about health care in the Senate (by David Leonhardt) — While attention is elsewhere, Senate leaders are laying the groundwork to take health insurance from millions.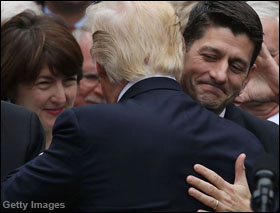 ► From Vox — Paul Ryan's agenda has been a much bigger liability for the GOP than Trump's scandals (by Jeff Stein) — Despite the constant swirl of Trump-related Russia controversies, the early evidence from the campaign trail is that the president's scandals are far from the Republican Party's most serious political vulnerability. Half a dozen political scientists and political organizers on the ground said in interviews that they see one issue galvanizing voters more than any other — health care.
EDITOR'S NOTE — These smiling, silent bobbleheads are complicit in Trump's scandals even as they use them to distract from their destructive agenda. We will remember.
---
WHAT WILL IT TAKE?


► In today's Washington Post — Trump asked intelligence chiefs to push back against FBI collusion probe after Comey revealed its existence — President Trump asked two of the nation's top intelligence officials in March to help him push back against an FBI investigation into possible coordination between his campaign and the Russian government. Trump made separate appeals to the director of national intelligence, Daniel Coats, and to Adm. Michael S. Rogers, the director of the National Security Agency, urging them to publicly deny the existence of any evidence of collusion during the 2016 election. Coats and Rogers refused to comply with the requests, which they both deemed to be inappropriate.
---
THAT WASHINGTON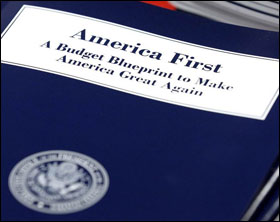 ► In today's NY Times — Trump's budget cuts deeply into Medicaid, anti-poverty efforts — President Trump plans to unveil on Tuesday a $4.1 trillion budget for 2018 that would cut deeply into programs for the poor, from health care and food stamps to student loans and disability payments, laying out an austere vision for reordering the nation's priorities. The document, grandly entitled "America First: A Budget Blueprint to Make America Great Again," calls for an increase in military spending of 10 percent and spending more than $2.6 billion for border security — including $1.6 billion to begin work on a wall on the border with Mexico — as well as huge tax reductions and an improbable promise of 3 percent economic growth.
EDITOR'S NOTE — …Americans Last.
► In today's Spokesman-Review — Washington Congress members worry Trump budget would cut Hanford cleanup — Even before reports of President Trump's budget suggested significant cuts in energy programs, Washington members of Congress warned about slashing cleanup at the Hanford Nuclear Reservation.
► From Politico — Trump's budget hits his own voters hardest — Donald Trump, whose populist message and promises to help American workers propelled him to the White House, is set to issue a budget proposal on Tuesday that instead takes aim at the social safety net on which many of his supporters rely.
► From New York magazine — Trump budget based on $2 trillion math error — One of the ways Donald Trump's budget claims to balance the budget over a decade, without cutting defense or retirement spending, is to assume a $2 trillion increase in revenue through economic growth. This is the magic of the still-to-be-designed Trump tax cuts. But wait — if you recall, the magic of the Trump tax cuts is also supposed to pay for the Trump tax cuts. So the $2 trillion is a double-counting error.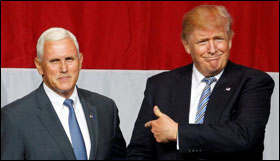 ► In the People's World — Pence leads under-the-radar attack on unions — Since he took office, Vice President Pence has been working with high-level Trump backers to develop a comprehensive strategy to weaken labor unions. The strategy he is developing revolves around so-called "right to work" laws that have already been rammed through numerous state legislative bodies. Among the GOP bright lights attending the closed-door sessions with Pence have been Wisconsin Governor Scott Walker and former House Speaker Newt Gingrich.
► From The Hill — Will the Supreme Court draw the line on gerrymandering? — One of the most far-reaching issues reaching this court this year and next is the issue of partisan gerrymandering. Gerrymandering is the practice by which one party jimmies the lines so that the other side loses no matter who has the majority of votes. Justice Anthony Kennedy's is the crucial vote. And there has been some ground to believe he might lean toward a way to outlaw the practice.
► From AP — City pays Indiana congressman's wife $20K/month — A burgeoning Indianapolis suburb has paid the wife of Republican Rep. Luke Messer $580,000 since 2015 for legal consulting she largely does from the Washington, D.C. area. She hasn't been present at a meeting since 2015.
---
NATIONAL
► From Fortune — AT&T strikers return to work after weekend walkout forced store closings — AT&T wireless workers and thousands of others at the company returned to work on Monday after a weekend strike aimed at jump starting contract talks. AT&T said only a small number of its stores were affected but declined to release any numbers. Union members posted pictures on Twitter and Facebook of picketing in front of dozens of closed stores over the weekend.
EDITOR'S NOTE — Meanwhile, CWA's AT&T bargaining team thanks everyone who supported the strike last weekend and reports: "After months of stalling, the company started filling the data requests that had been left unanswered until the strike. The Company has been put on notice that if they don't start bargaining a fair contract, we can strike again at any time."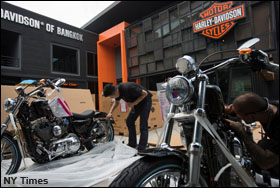 ► In today's NY Times — Even Harley Davidson can't resist tug of overseas factories — President Trump has held up Harley-Davidson as a pillar of American manufacturing. But even as he praised Harley-Davidson's all-American credentials, the company was busily building a new plant — in Thailand. Harley-Davidson, an icon of American style and know-how, serves as a strong example of the nuanced economic realities that are pushing American companies to lay off workers at home and set up new factories overseas. Unions representing its workers accuse the company of cutting American jobs to hire lower-paid foreign workers. Yet global trade barriers and proximity to a growing base of new customers also play roles, complexities inherent in Trump's ambition to overhaul trade policy.
► In today's Washington Post — Is it possible to resist deportation in Trump's America? — Living under draconian state laws, Arizona activists honed an effective strategy for keeping undocumented immigrants in the country. Can the same tools still work today?
---
The Stand posts links to Washington state and national news of interest every weekday morning by 10 a.m.
WASHINGTON IS A UNION STATE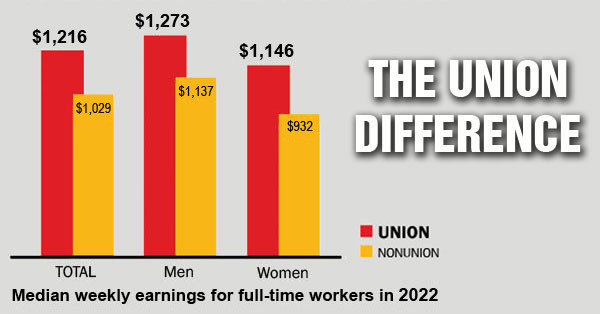 CHECK OUT THE UNION DIFFERENCE in Washington state: higher wages, affordable health and dental care, job and retirement security.
FIND OUT HOW TO JOIN TOGETHER with your co-workers to negotiate for better working conditions and respect on the job. Or go ahead and contact a union organizer today!