AT&T workers ON STRIKE from May 19 to 21
UPDATE (May 19, 2017) — AT&T workers in 36 states, including Washington, are officially ON STRIKE as of noon today through Sunday, May 21. Get details.
---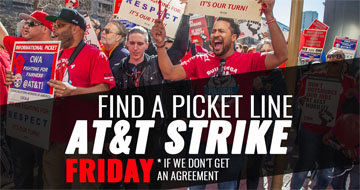 UPDATE (May 19, 2017) — With the addition of landline and DirecTV workers in some states, an estimated 40,000 AT&T workers are set to go on a 3-day strike — starting today at noon Pacific time (3 p.m. Eastern) — unless the company presents what the Communications Workers of America calls a "serious contract offer." Check back here at The Stand or click here to get the latest update. If a strike occurs, union members and community supporters are urged to join AT&T workers on the picket lines this afternoon through Sunday, May 21.
Here are some of the locations around Washington state where workers will be on strike (find more on CWA's national list of picket sites):
Bothell Call Center, 3555 Monte Villa Parkway, Bothell, WA 98021.
Retail Stores:
Bellevue — Lincoln Square, 700 Bellevue Way NE
Burlington — 1820 South Burlington Blvd.
Everett Mall — 1402 SE Everett Mall Way
Marysville — Smokey Point store, 2701 171st NE
Moses Lake — 601 S. Pioneer Way
Redmond Town Center — 7537 166th Ave NE
Seattle — Century Square, 1501 4th Ave.
Silverdale — Kitsap Mall, 10315 Silverdale Way NW
Silverdale — 11065 Pacific Crest Place NW
Spokane — Cricket store, 1601 N. Division St.
Spokane — AT&T store, 6117 N Division St.
Tacoma — Lincoln Plaza, 2505 S 38th St.
Tukwila — 16425 Southcenter Parkway
Wenatchee — 1304 N Miller St.
Yakima — 2595 Main St.
---

(May 17, 2017) — Some 21,000 AT&T Mobility workers will go on strike this Friday, May 19 at noon Pacific time if the Communications Workers of America is not able to reach a contract agreement with the company. If it happens, the union is calling for a short strike with employees returning to work on Monday, May 22 for their scheduled shift. Bargaining ans strike updates will be posted on UnityAtMobility.org, Facebook, and Twitter.
"This greedy company makes billions off our backs but continues to try and take from us — demanding more work for less and trying to replace us with low-wage workers at third party dealers and overseas," wrote Dennis G. Trainor, CWA District 1 Vice President. "It's time to show them we're not going to sit back and take it."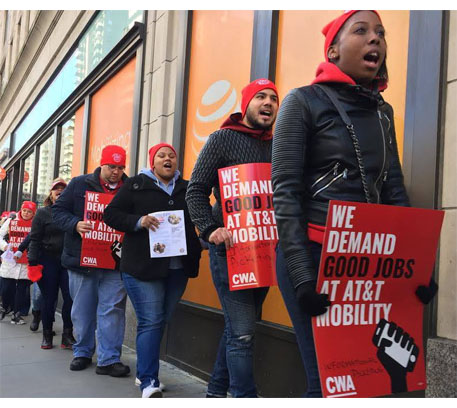 This strike will affect AT&T Mobility workers covered under the Orange contract in 36 states, including Washington. Stay tuned to The Stand as Friday's deadline approaches for information about where union members and other supporters can show their solidarity on the picket lines.
AT&T Mobility (formerly Cingular) workers across the country who work in customer service, telesales, retail, technical support and other positions have been working under an expired contract since Feb. 11. That contract can be terminated with 72 hours' notice.
"Going on strike is a decision that is not made lightly," Trainor wrote in a message to members. "Your bargaining team has worked countless hours to negotiate in good faith to reach an agreement, but this company is refusing to budge on the issues that matter the most to us. The Union has also filed unfair labor practice charges at the National Labor Relations Board over AT&T's refusal to furnish information related to bargaining.  We need to make it clear to AT&T that this information is crucial to reaching a fair contract."
CWA members at AT&T Mobility have made it clear that they are fighting back against AT&T's attempt to hurt their jobs and families by closing retail stores and shifting work to authorized dealers, cutting commissions, moving call center jobs overseas, and other actions. The 21,000 Mobility members covered by the union's Orange Contract voted overwhelmingly to authorize a strike if a fair contract isn't reached.
Here are some of the key issues CWA members are fighting for:
► A fair wage increase that is enough to cover increased healthcare costs. AT&T offered a 2% increase per year – not enough to pay for the healthcare increases coming.
► For RSCs: a higher base and/or a commission plan that AT&T can't change every month. Commissions for Retail Sales Consultants have gone down steadily over the past 2 years. Commissions are wages and a mandatory subject of bargaining.
► No increase to healthcare contributions in 2021. Ending the 2-tier plan so new employees can afford healthcare. AT&T wants us to pay even more!
► Job security language. Company-owned retail stores are being replaced with authorized dealers in record numbers. Call centers are shrinking here and AT&T is outsourcing more of our work. Network contracting continues and we are being left out of the new technology.
► We need AT&T to commit to keeping a ratio of COR stores to Authorized Retail. So far, they say NO!
► Outsourced calls must be returned to our call centers.
► Absence and attendance policy. AT&T wants to add "wait days" before we can be paid when we call in sick. They also want to drastically reduce sick days for new employees.
Short URL: https://www.thestand.org/?p=57950
Posted by
David Groves
on May 17 2017. Filed under
LOCAL
,
NATIONAL
. You can follow any responses to this entry through the
RSS 2.0
. Both comments and pings are currently closed.