Trump budget 'most significant betrayal yet of working people'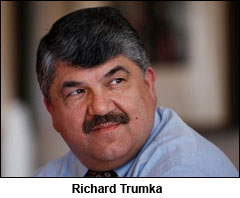 WASHINGTON, D.C. (May 24, 2017) — AFL-CIO President Richard Trumka released the following statement Tuesday on President Donald Trump's FY2018 budget proposal:
President Donald Trump's budget is the most significant betrayal yet of the working people he claims to support. This budget is a blueprint for how to rig the rules of the economy to favor the wealthy and corporations, while taking away our freedoms and protections at work.
The proposals presented in this budget defund core programs that are vital to working families. Breaking Trump's promise from the campaign trail, this budget slashes $1.5 trillion from Medicaid, $59 billion from Medicare and up to $64 billion from Social Security. It strips funding for workplace safety research by 40% and totally wipes out health and safety training and investigations of chemical accidents, putting more working people at higher risk of dying on the job. It starves our children of the education they deserve by cutting $10.6 billion in education and $143 billion in student loan funds that help students afford college. And it forces a 6% pay cut on the people who make our government work.
The ultimate insult of this budget is that all of these sacrifices are levied on working families in order to justify massive tax cuts for the wealthy and corporations.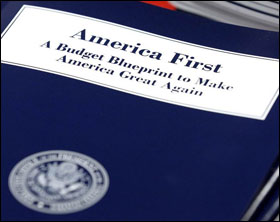 The following was released by the American Federation of Government Employees:
(May 24, 2017) — President Trump's budget funds huge tax breaks for corporations and the wealthiest Americans by slashing take-home pay, benefits, and jobs for the civil servants who care for our veterans, guard our borders, support our military, and ensure our health, the head of the largest federal employee union said today.
Federal workers would be forced to pay more toward their retirement — amounting to a six-percent pay cut — and would see those retirement benefits shrink through a change in how benefits are calculated and the elimination of annual cost-of-living adjustments.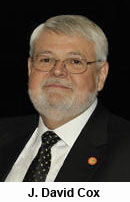 "Thanks to years of pay freezes, meager wage hikes, and mandatory increases in retirement, federal employees earn 6.5 percent less today than they did at the start of the decade when adjusted for inflation," American Federation of Government Employees J. David Cox Sr. said. "President Trump's budget continues this race to the bottom by penalizing the working-class people who serve and protect their fellow Americans."
Specifically, the budget would:
Increase current workers' out-of-pocket payments toward their pensions by about 6 percent, not including payments they already make into the Thrift Savings Plan and Social Security.
Reduce future pension benefits by averaging an employee's highest five years of salary, instead of the highest three years.
Eliminate annual cost-of-living adjustments for current and future employees under the Federal Employees Retirement System, and cut the COLA for employees under the older Civil Service Retirement System by 0.5 percent from the current formula.
Eliminate supplemental payments to employees who retire before age 62, such as law enforcement agents and firefighters.
"This budget rips away any sense of financial security that federal workers currently have and shows how little regard this administration has for the everyday Americans who keep our government running," Cox said.
The retirement cuts total about $117 billion over a decade, which would be on top of $182 billion in cuts to federal employee pay and benefits since 2010. Federal employees also are at risk by budget proposals that would eliminate subsidized student loans and end student debt forgiveness for those who enter public service.
The budget also proposes eliminating thousands of current jobs, with significant cuts at the Environmental Protection Agency and the Agriculture, Interior, and Treasury departments.
"The federal government has roughly the same number of workers today as it did when Dwight Eisenhower was president, serving a population that has doubled in size," Cox said. "Federal employees do a tremendous job serving the public with limited resources and little appreciation. Unfortunately, this budget stacks the deck against them by cutting their jobs, wages, and benefits — all to benefit Wall Street executives and the wealthy elite."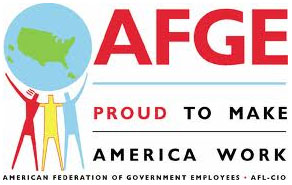 AFGE is the largest federal employee union, representing 700,000 workers in the federal government and the government of the District of Columbia.
Short URL: https://www.thestand.org/?p=58115
Posted by
David Groves
on May 24 2017. Filed under
NATIONAL
. You can follow any responses to this entry through the
RSS 2.0
. Both comments and pings are currently closed.