Overlake RNs plan overpass protest June 15 over staffing
The following is from the Washington State Nurses Association: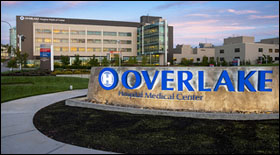 BELLEVUE (June 15, 2017) — Registered nurses at Overlake Hospital represented by the Washington State Nurses Association will be gathering on the I-405 overpass at NE 10th Street in Bellevue TODAY (Thursday, June 15) from 3:30 to 5:30 p.m. to let the community know about unsafe management proposals that could directly impact patient care.
Among the top concerns is management's proposal to expand its ability to "float" nurses outside of their specialty areas to address chronic short-staffing in certain units of the hospital. Floating is not a safe staffing plan. Rather than bringing in RNs from other units, the answer is appropriate staffing and an expansion of the Float Pool where RNs proficient in multiple areas of specialty float to units as needed.
TAKE A STAND — WSNA invites all union members and community supporters to join Overlake RNs at their Action for Safe Patient Care on the I-405 overpass at NE 10th Street in Bellevue (see map) on Thursday, June 15, 3:30 to 5:30 p.m.
Overlake management's floating proposal is concerning on multiple levels. First, Overlake administration wants to be able to toss aside best practices to float RNs from their specialty areas into units with patients that have conditions the RN would likely be unfamiliar with. RNs train for many months and in some cases, years to become proficient in their area of specialty.
The potential absurdity and danger of floating nurses broadly is illustrated in WSNA's video, "A Nurse is a Nurse is a Nurse? Not to my patients!" Would you want an oncology nurse delivering your baby? A radiology nurse taking care of your mother after open heart surgery? Of course not.
Secondly, RNs at Overlake, like nurse at many hospitals around the state, are not able to consistently get meal and rest breaks they are entitled to. When RNs are consistently able to get breaks every 4 hours and get their much needed meal breaks, their practice is safer. It is really about safe patient care. When nurses are rested, they are on the top of their game just as any of us would expect from someone caring for our loved one. That's why WSNA has proposed dedicated rest break relief RNs.
Additional issues at the bargaining table include Overlake's Anti-Union proposals of prolonged opt-outs and cessation of automatic dues collection in the event of contract expiration. WSNA has proposed Fair Share membership that doesn't cost the hospital a penny and creates no obligation for RNs currently working there. Fair share simply requires newly hired RNs to either join as a member in good standing or pay a reduced monthly fee equal to the cost of WSNA representation. This proposal gives RNs a stronger, more unified voice, which is the exact opposite of what management wants.
Overlake nurses have been in negotiations for three months and have held seven sessions, with an eighth session scheduled for Monday, June 19.
Short URL: https://www.thestand.org/?p=58636
Posted by
David Groves
on Jun 15 2017. Filed under
LOCAL
. You can follow any responses to this entry through the
RSS 2.0
. Both comments and pings are currently closed.