UW students score victory on Nike accountability at factories
But your help is needed to ensure apparel giant is accountable for labor rights
By HANNAH DOLLING
---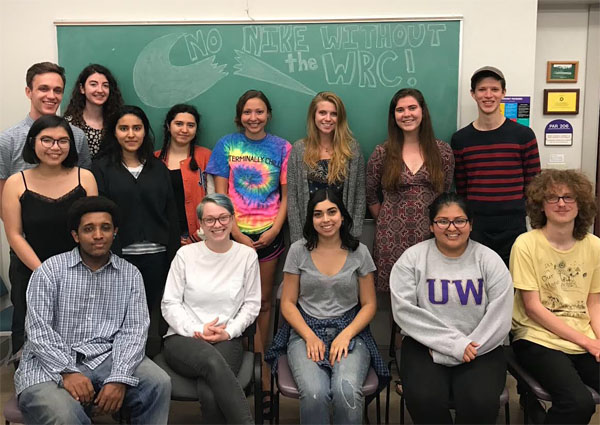 SEATTLE (June 7, 2017) — The University of Washington made a landmark decision last month that will impact thousands of workers that produce Husky apparel.
After an intensive 18-month campaign by UW's chapter of United Students Against Sweatshops (USAS), President Ana Mari Cauce announced May 19 that the university would let its licensing contract with apparel giant Nike Inc. lapse on June 30, 2017, if Nike does not grant the university's affiliated monitor, the Worker Rights Consortium (WRC), free and full access to supplier factories for the purpose of labor rights investigations.
This is an exciting commitment, but USAS needs your help to make sure it is implemented!
For the last two years, Nike has refused to guarantee factory access to the WRC at its supplier plants, despite the WRC's status as the collegiate industry's premier anti-sweatshop watchdog. In 2016, the WRC uncovered horrific abuses at Nike's Hansae factory in Vietnam. Despite Nike's claims of self-monitoring its factories and relying on pro-corporate monitors, the moment the WRC gained one-time access to Nike's Hansae plant, its independent investigators uncovered monstrous labor rights abuses at a factory from which Nike has sourced for 10 years.
The following labor and human rights violations are detailed in the WRC's report:
► Chronic problems of garment workers fainting on the job — the worst fainting violations uncovered by the WRC in its history of collegiate monitoring.
► Factory temperatures well above the legal limit of 90 degrees Fahrenheit.
► Unsafe spraying of toxic solvents and dozens of other serious health and safety violations.
► Wage theft; extortion of illegal recruitment fees from workers by managers; verbal and physical abuses of workers; pregnancy discrimination; forced overtime; limited bathroom access; and denial of sick leave.
The WRC reports on Nike's violations of university codes of conduct triggered actions by USAS chapters all over the United States. Get more information at nikesweatshops.org.
USAS is very proud of the University of Washington's commitment to take measures that will make sure labor abuses by UW licensees do not go undetected in the future. However, negotiations are going on right now between the University of Washington and Nike, and the outcome remains to be seen.
USAS wants President Cauce to know that the community of Seattle stands behind her decision and that we expect this decision to be upheld in negotiations.
Please sign this community letter in support of President Cauce's decision to require WRC access. Your support is crucial to making sure this decision to protect workers is upheld.
---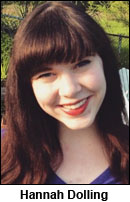 Hannah Dolling is a member of the University of Washington chapter of United Students Against Sweatshops.
Short URL: https://www.thestand.org/?p=58402
Posted by
David Groves
on Jun 7 2017. Filed under
OPINION
. You can follow any responses to this entry through the
RSS 2.0
. Both comments and pings are currently closed.