Today's vote of shame, burn it down, no infrastructure
Tuesday, July 25, 2017
---
TRUMPCARE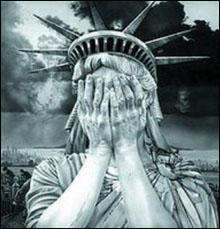 EDITOR'S NOTE — The United States Senate will vote today on… well, they don't know what they will vote on exactly. They won't say. What we do know is that every iteration of Trumpcare they have released publicly would cost at least 22 million Americans to lose their health coverage and effectively let insurers reject people with preexisting conditions, all so wealthy people can pay lower taxes. The vote on whether to proceed with this shameful malicious legislation could happen this afternoon. Stay tuned.
► From Politico — Affordable Care Act repeal vote still too close to call — Senate Republicans are barreling toward a dramatic and highly unusual vote on Obamacare Tuesday without knowing whether they'll have the votes to start dismantling the health care law. At stake is not just the seven-year-old campaign pledge to repeal Obamacare, but also demonstrating that Republicans — when given full control of Washington — can govern.
EDITOR'S NOTE — Hey, look! We can "govern" by taking away health care for millions of Americans to pay for a tax break for the rich! Look at us go!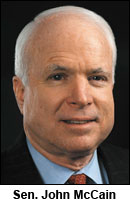 ► From Daily Kos — McCain interrupts taxpayer-sponsored cancer treatment to vote to take care away from millions (by Joan McCarter) — Dragging Sen. John McCain out of the hospital to fly 2,000 miles and cast a vote to remove healthcare from 22 million people is an amazingly apt metaphor for the whole Republican ethic.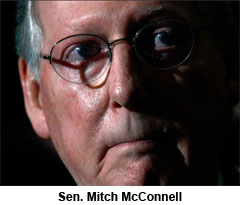 ► In today's NY Times — Senate Republicans' gross irresponsibility (by Jennifer Rubin) — Of all the reckless and counterproductive stunts the Senate Republicans have pulled — including shutting down the government in 2013 — none is as glaring and destructive as their decision to vote without a single hearing on a bill dramatically reshaping health care and taking coverage away from tens of millions of people. And they don't even know what they are voting on. I don't mean they are confused as to what's in the bill; that would be commonplace laziness. No, in this case less than 24 hours before voting the GOP had not decided what bill to vote on.
► From TPM — McConnell is betting most GOPers will cave on their ACA repeal demands — If Senate Republicans pass their Frankenstein monster of a health care plan this week, it's because Majority Leader Mitch McConnell (R-KY) bent the dozen or so Republicans previously against it to his will, and not the other way around.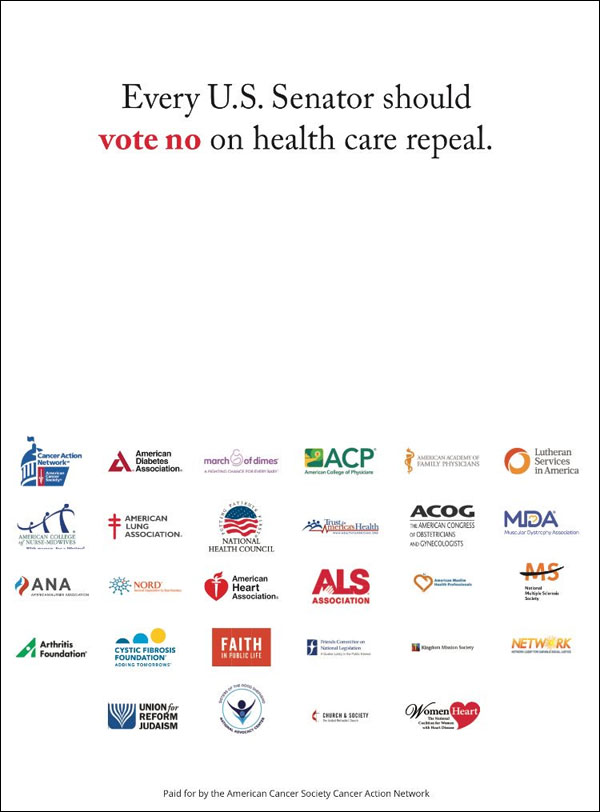 EDITOR'S NOTE — Meanwhile, the experts who actually know something about health care (and care) weigh in. Every major patients' rights group in the country took out a full-page ad in today's edition of the New York Times to urge a No vote on repeal of the Affordable Care Act.
► In today's NY Times — How the health bill could cost senators in the next election — If they pass the bill, some Republicans might put themselves in a difficult situation because many of them won their last election by fewer votes than the number of people who would lose health coverage in their state under the proposed legislation.
---
LOCAL
► From The Stranger — Feds can't block local nonprofit from giving legal aid to unrepresented immigrants, judge rules — A federal judge issued a preliminary injunction Monday in favor of the Northwest Immigrant Rights Project (NWIRP), a Seattle nonprofit, effectively signaling to nonprofits nationwide that they're free to help undocumented immigrants without going through the cumbersome process ordered by Attorney General Jeff Sessions of formally signing onto the case of every person that they advocate for.
► In today's Tri-City Herald — Hanford workers exposed to vapors could seek help at proposed center — The Department of Energy would be required to establish a resource center to help Hanford workers exposed to chemical vapors, under proposed federal legislation. Sens. Patty Murray and Maria Cantwell, both D-Wash., inserted the requirement into the appropriations bill that would set the budget for the Hanford nuclear reservation for the next fiscal year.
ALSO at The Stand — Murray, Cantwell add protections for Hanford workers to budget bill
► From The Stranger — Congresswoman Pramila Jayapal's Town Hall in Dave Reichert's district was a really good idea — Because Republican Congressman Dave Reichert wouldn't hold a town hall in his own district, Democratic Congresswoman Pramila Jayapal stepped in and did the work for him. Though Jayapal represents Washington's 7th district, she said she accepted Indivisible WA-8's invitation to speak at a town hall in the 8th because she was concerned about the country as a whole, and because people in the 8th deserved to know what was going on in Washington, D.C.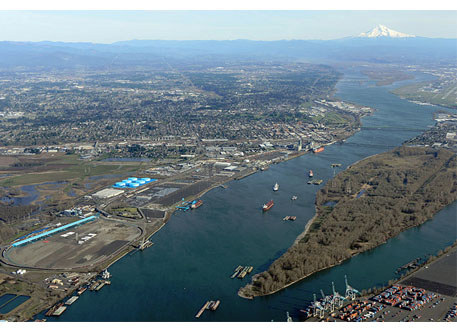 ► In the Columbian — Vancouver Energy terminal will provide many benefits (by Mike Bridges) — The state of Washington has a great opportunity to simultaneously create family-wage jobs, reduce carbon, promote economic stability and improve America's energy security by making it less dependent on foreign oil. The Vancouver Energy terminal at the Port of Vancouver will provide all these benefits and more… the Energy Facility Site Evaluation Council (EFSEC) is supposed to complete its review of proposed major energy projects in one year. Maybe that's unrealistic, but four years is much too long… We need EFSEC to complete its work with a positive recommendation, and for Gov. Inslee to approve it.
► In today's Seattle Times — Horizon Air scheduling havoc will continue into the fall — The pilot-shortage crisis at Alaska Air subsidiary Horizon Air continues after multiple flight cancellations. The airline is contracting with SkyWest as well as bringing in Alaska Airlines jets to handle hundreds of flights in the fall.
---
THIS WASHINGTON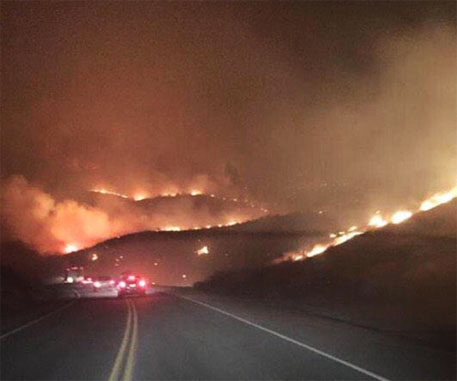 ► From KNKX — Lack of capital budget leaves big wildfire risk for Wash. state forests — The state Department of Natural Resources asked for $15 million this year to thin out forests that have been neglected. But without a capital budget, the department can't do the work. That means state firefighters can expect to see the same intense fires they've been facing over the past decade.
► From the Seattle P-I — 'Burn baby, burn' – Watchwords of Olympia's budget impasse? (by Joel Connelly) — The state's 2017-19 capital budget promised $15 million that would have been spent to thin 15,000 acres in four fire-prone corners of the state. The money for the Department of Natural Resources would have funded 40 Firewise communities in Eastern Washington, educating home and cabin owners in tree and brush removal around vulnerable buildings. "Would have" — "promised" but not to be. An impasse over well drilling in rural areas blocked passage of a capital budget that would have done badly needed work in rural areas.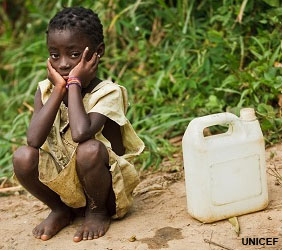 ► In today's News Tribune — GOP compares Washington property-rights dispute to plight of millions without safe water — Republicans in Washington state took a water-rights dispute a step farther Monday by comparing landowners who are unable to drill wells on their property to people lacking clean water in developing nations.
► In the (Longview) Daily News — Capitol budget, Hirst decision tangle frustrates local legislators — The capital budget would have included about $70 million for various efforts for the 19th District, including an update of Tam O'Shanter Park in Kelso. "That budget was so important to our district," Sen. Dean Takko (D-Longview). "They shouldn't have held it hostage for the Hirst bill. The two are completely separate and should be dealt with separately."
► In the (Aberdeen) Daily World — Grays Harbor County frets state budget stalemate — The Port of Grays Harbor has applied for the necessary Army Corps of Engineers and Department of Ecology permits for dredging Westport Marina, but the failure of state lawmakers to pass a capital budget has the project on hold.
---
THAT WASHINGTON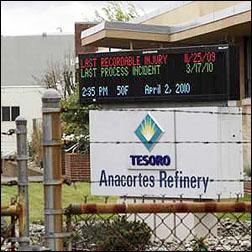 ► From KUOW — 11 states sue Trump admin to reduce risk of chemical explosions — Eleven states including Washington have sued the Trump administration to improve safety at the nation's refineries and chemical plants. The lawsuit aims to force the Environmental Protection Agency to revive safety rules enacted in the final days of the Obama administration. Within days of taking office, the Trump administration put the rules on hold as part of its push to de-regulate the U.S. economy.
► From HuffPost — School choice — past and present (by Randi Weingarten) — At the exact time I was giving a speech last week to 1,400 educators about ensuring that all children have access to a powerful, purposeful public education, Education Secretary Betsy DeVos was addressing the American Legislative Exchange Council — a group of corporate lobbyists and conservative legislators who are working to privatize and defund public education, and cloaking their efforts as school "choice."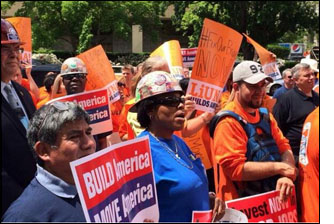 ► In the NY Times — Trump's 'great national infrastructure program'? Stalled — As a candidate, President Trump billed himself as a new breed of think-big Republican, pitching a $1 trillion campaign pledge to reconstruct the nation's roadways, waterworks and bridges — along with a promise to revive the lost art of the bipartisan deal. But an ambitious public works plan, arguably his best chance of rising above the partisan rancor of his first six months in office, is fast becoming an afterthought — at precisely the moment Trump needs a big, unifying issue to rewrite the narrative of his chaotic administration.
► In today's NY Times — The Democrats' agenda — and the art of the possible (editorial) — Democrats' proposals to help the middle class would need Republican cooperation. They should seek it.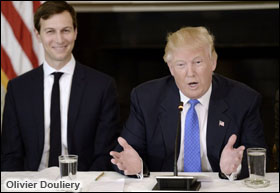 ► In today's NY Times — Trump White House tests a nation's capacity for outrage — President Trump has crossed so many lines that he has radically shifted the understanding of what is standard in the White House. By now, it takes more to shock. After all, this is a president who refused to release his tax returns or divest from his private businesses, who put his son-in-law and daughter on the White House staff, who accused his predecessor of illegally tapping his phones without proof, who fired the F.B.I. director leading an investigation into the president's associates and who has now undercut his "beleaguered" attorney general in public.
► From HuffPost — Trump's 'embarrassing spectacle' at Boy Scout Jamboree panned by former Scouts — Dozens of former Boy Scouts condemned Trump's address Monday, saying efforts to politicize his speech were "embarrassing," "mortifying" and a "disgusting display."
---
NATIONAL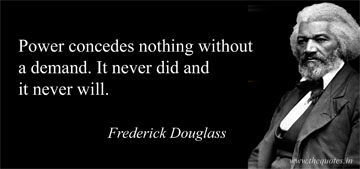 ► From HuffPost — Why more Americans are getting paid sick days — The number of Americans with access to paid sick days increased dramatically in the past two years, the direct result of new laws mandating the benefit passed mostly by Democratic-controlled state and local governments on the West Coast and in the Northeast. Sixty-eight percent of employees in the private sector now get paid sick days — close to 79 million people — an increase of 7 percentage points from 2015, according to data released by the Labor Department last week. Last year, 64 percent of workers had access to paid sick days.
► In today's NY Times — Economy needs workers, but drug tests take a toll — The economic impact of drug use on the work force is being felt across the country, and perhaps nowhere more than the Rust Belt, which is struggling to overcome decades of deindustrialization. Indeed, the opioid epidemic and, to some extent, wider marijuana use are hitting businesses and the economy in ways that are beginning to be acknowledged by policy makers and other experts.
► From Reuters — Massachusetts cannot hold immigrants so U.S. can detain them, court rules — The decision amounts to a rejection of requests by the federal Immigration and Customs Enforcement agency for courts and law enforcement agencies to hold illegal immigrants, who are facing civil deportation orders, in custody for up to 48 hours after their cases are resolved.
---
TODAY'S MUST-READ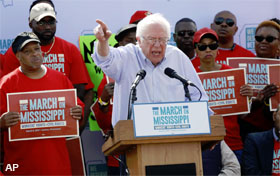 ► In the Guardian — Mississippi Nissan workers hope for historic win in 14-year fight to unionize — "I've never seen a labor campaign of this size," says the civil rights movement veteran Frank Figgers. "This is a historic struggle about overcoming the effects of slavery in Mississippi." Figgers is attending a meeting of 100 Nissan workers at a church preparing for the last push ahead of a historic union election for 4,000 Nissan workers set to take place on 2-3 August in Canton, Mississippi. The vote is the culmination of 14-year campaign to organize the Nissan plant, 80% of whose employees are African American, and a major test for unions who have struggled to make inroads in the southern states as manufacturing jobs have migrated south.
---
The Stand posts links to Washington state and national news of interest every weekday morning by 10 a.m.
Short URL: https://www.thestand.org/?p=59309
Posted by
David Groves
on Jul 25 2017. Filed under
DAILY LINKS
. You can follow any responses to this entry through the
RSS 2.0
. Both comments and pings are currently closed.