Extending leads, 'I look like a dope', maybe it was collusion
Thursday, August 3, 2017
---
ELECTIONS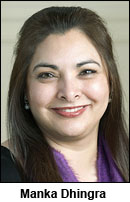 ► In today's Seattle Times — Democrat Manka Dhingra widens lead over Republican Englund in key Eastside state Senate race — Democratic candidate Manka Dhingra on Wednesday widened her lead slightly in primary vote results for a key Washington state Senate seat. The contest will determine which party controls the Senate. Republicans currently have a one-seat majority.
► In today's Seattle Times — Teresa Mosqueda increases lead in Seattle council race; Sara Nelson edges closer to Jon Grant
ALSO at The Stand — How labor candidates fared (UPDATED)
---
THIS WASHINGTON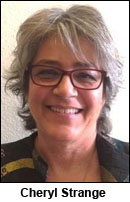 ► From AP — Governor names new head of social services agency — The woman who has been trying to keep Washington state's largest psychiatric hospital from failing has been appointed to run the state Department of Social and Health Services. Gov. Jay Inslee announced Wednesday that Cheryl Strange will replace acting DSHS secretary Bill Moss beginning on Sept. 18. Strange took over as CEO of Western State Hospital last year as federal regulators threatened to strip its funding over safety violations.
---
LOCAL
► In today's Seattle Times — Hundreds flock to Amazon jobs fair in Kent — On Wednesday, job applicants lined up by the hundreds at the company's gargantuan, robot-packed Kent building with the hopes of landing a position there or in other Amazon facilities in the Puget Sound area.
► In today's Washington Post — Thousands line up to work for Amazon: 'I just need a job'
---
TRUMPCARE

► From Politico — New bipartisan Obamacare push faces steep climb — There's never been a major bipartisan Obamacare bill, and the path to passing one now — after the death of Senate Republicans' repeal effort — is steep. Senate HELP Chairman Lamar Alexander (R-Tenn.) and ranking Democrat Patty Murray of Washington are up against both time and history in their race to stabilize the shaky Obamacare markets and solidify their status as the chamber's top dealmakers.
EDITOR'S NOTE — Step 1: Stop calling it Obamacare.
► In today's NY Times — Capitol shocker: Democrats, Republicans start working together on health care — It is, of course, impossible to know if such efforts will succeed… Still, it's good to see politicians actually doing their jobs. The sight of members of both parties working together in the public interest is uplifting, especially after the long partisan campaign to take insurance away from so many Americans.
► From The Hill — GOP states move to cut Medicaid — Republican governors are working with the Trump administration to do something Congress couldn't accomplish — fundamentally alter their state Medicaid programs. At least six states with GOP governors — Arkansas, Kentucky, Arizona, Maine, Wisconsin and Indiana — have already drafted plans meant to introduce new rules people would have to meet to be eligible for Medicaid, which provides healthcare to the poor. Some want to add work requirements or introduce drug testing for recipients. Others want to raise premium prices.
---
THAT WASHINGTON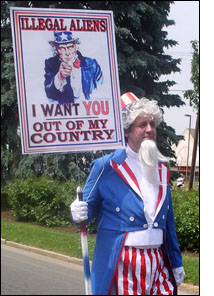 ► From The Hill — Immigration battle brewing in the GOP — Republicans are barreling toward a fight over immigration policy that could expose deep divisions in the party. A renewed push by GOP Sens. Tom Cotton (Ark.) and David Perdue (Ga.) to crack down on legal immigration is threatening to pit President Trump, who endorsed their legislation, against GOP senators who want broader reforms.
► From AP — Fact check: Trump immigration pitch on shaky ground — TRUMP: "The current, outdated system depresses wages for our poorest workers and puts great pressure on our taxpayers." THE FACTS: That doesn't reflect the weight of recent economic research.
EDITOR'S NOTE — Translation: That's bullshit. Speaking of which…
► In today's Washington Post — Trump urged Mexican president to end his public defiance on border wall, transcript reveals — Trump described his vow to charge Mexico as a growing political problem, pressuring the Mexican leader to stop saying publicly that his government would never pay. "You cannot say that to the press," Trump said repeatedly.
► In today's NY Times — Senate Democrats seek to outdo Trump on trade — Democrats have introduced a set of proposals built around two ideas: preventing unfair foreign competition and providing government support for domestic industries. The highlights include a new agency to prevent foreign investments that would harm the domestic economy, and tax incentives for "reshoring" jobs, or bringing jobs back to the United States, from overseas.
---
NATIONAL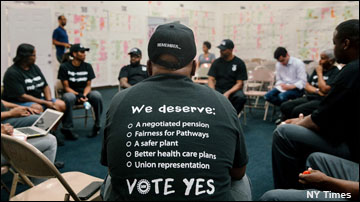 ► In today's NY Times — Racially charged Nissan vote is a test for UAW in the South — Caught among an administration that is frequently hostile to labor, a long-term decline in membership and a steady shift in jobs to the lightly unionized South, the United Automobile Workers long ago settled on this Mississippi town as a key to rebuilding its ranks and energizing the entire labor movement. But for more than 3,500 employees who will be voting Thursday and Friday on whether to unionize the sprawling Nissan plant here, the concern is more immediate: How much they can expect of their employer in a world of diminishing prospects for blue-collar workers — not just in pay and benefits, but also in status and respect.
► In today's Wall St. Journal — A robot can be a warehouse worker's best friend — Instead of developing technology to completely replace manpower, these firms are designing robots meant to work alongside people. These robots, for example, can guide workers to items to be picked or can transport goods across a warehouse to be packed and shipped.
---
TODAY'S MUST-READ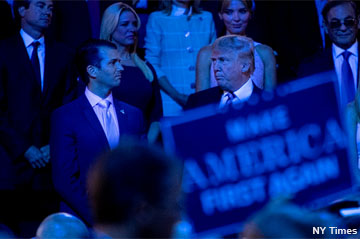 ► In today's NY Times — Oh, wait. Maybe it was collusion. (by John Sipher and Steve Hall, both former CIA bureau chiefs in Russia) — Some analysts have argued that the media has made too much of the collusion narrative; that Jared Kushner and Donald Trump Jr.'s meeting with Kremlin-linked Russians last year was probably innocent (if ill-advised); or that Russian operatives probably meant for the meeting to be discovered because they were not trying to recruit Kushner and Trump as agents, but mainly trying to undermine the American political system.
We disagree with these arguments. We like to think of ourselves as fair-minded and knowledgeable, having between us many years of experience with the C.I.A. dealing with Russian intelligence services. It is our view not only that the Russian government was running some sort of intelligence operation involving the Trump campaign, but also that it is impossible to rule out the possibility of collusion between the two… The overall Russian intent is clear: disruption of the United States political system and society, a goal that in the Russian view was best served by a Trump presidency. What remains to be determined is whether the Russians also attempted to suborn members of the Trump team in an effort to gain their cooperation. This is why the investigation by the special counsel, Robert Mueller, is so important. It is why the F.B.I. counterintelligence investigation, also quietly progressing in the background, is critical. Because while a Russian disruption operation is certainly plausible, it is not inconsistent with a much darker Russian goal: gaining an insider ally at the highest levels of the United States government. In short, and regrettably, collusion is not off the table.
---
The Stand posts links to Washington state and national news of interest every weekday morning by 10 a.m.
Short URL: https://www.thestand.org/?p=59536
Posted by
David Groves
on Aug 3 2017. Filed under
DAILY LINKS
. You can follow any responses to this entry through the
RSS 2.0
. Both comments and pings are currently closed.