WSLC publishes 2017 Legislative Report and Voting Record
Their work still unfinished, here's what happened in their first four sessions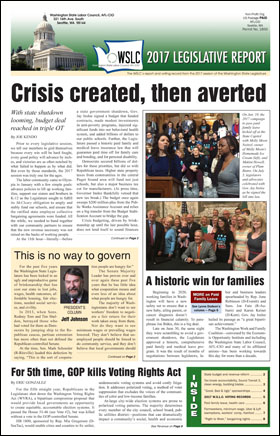 OLYMPIA (Aug. 11, 2017) — The Washington State Legislature still has business to conduct — with the state's $4 billion capital budget being held hostage by Senate Republicans even after three overtime sessions over a rural waters rights bill — but the Washington State Labor Council, AFL-CIO got tired of waiting. The 2017 edition of the WSLC Legislative Report has been published and is now available.
Download the full 8-page PDF or just the 2017 Voting Record.

This report summarizes the action — or inaction — on legislation affecting Washington's working families and how each legislator voted on these issues. Printed copies of the WSLC's 2017 Legislative Report have been mailed to all affiliated unions. Officers, staff, and rank-and-file members of WSLC-affiliated unions can request additional copies or call 206-281-8901 to order multiple copies.
The Stand has posted some of the publication's key stories, including:
2017 operating budget: Crisis created, then averted — At the 11th hour—literally—before a state government shutdown, Gov. Jay Inslee signed a budget that funded contracts, made modest investments in anti-poverty programs, injected significant funds into our behavioral health system, and added billions of dollars to our public schools. Democrats secured billions of dollars for these priorities, but did so with Republican taxes: higher state property taxes from communities in the central Puget Sound area.
This is no way to govern (President's Column by Jeff Johnson) — Twice in three years, the Senate Republicans have taken us to within hours of shutting down government to avoid agreeing to any significant progressive revenue reform and in an attempt to extract unpopular partisan policy changes written by ALEC and funded by the Koch brothers. This has go to stop.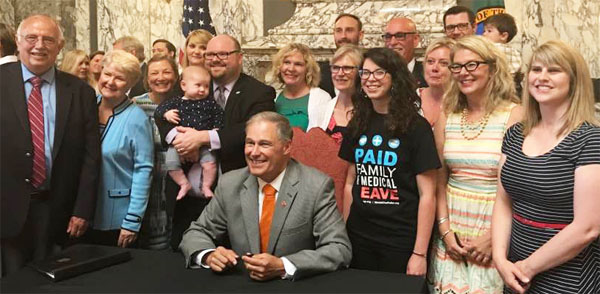 I-1433 set stage for historic family leave victory (Secretary Treasurer's Column by Lynne Dodson) — The law was negotiated with labor, community organizations, business, and legislators from both sides of the aisle. But the table was set last year when we passed Initiative 1433, raising the minimum wage and providing paid sick leave. We knew that paid family and medical leave are popular policies, and so did the business community. The specter of an initiative led by labor and community organizations to secure paid family leave motivated business groups to come to the table to help shape the policy. The leverage we had during the negotiations and in securing passage was profound. We learned from I-1433 that when the Legislature fails to pass policies that benefit working people, we can do so through the initiative process.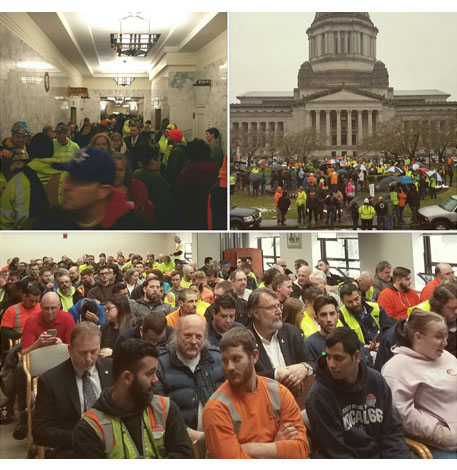 Senate Republicans' right-to-work bill draws fire — More than 1,000 union members and supporters, most of them members of building and construction trades unions from around the state, swarmed the State Capitol on Feb. 8 to voice their objection to SB 5692, Republican legislation to make Washington a so-called "Right-to-Work" state. The bill would deny unions and employers in Washington state the freedom to negotiate union-security clauses in contracts. Such a ban is intended to stop union members from paying for representation because they can get it, and the benefits of the contract, for free. The goal is to weaken unions and lower wages and that is exactly what happens in states that enact such laws.
Senate GOP leaders are anti-labor extremists — Sens. Michael Baumgartner (R-Spokane) and John Braun (R-Centralia) were the sole sponsors of 2017 legislation to make Washington a "Right-to-Work" state. These guys, who added "Sports" to the labor committee's name this year, are making sport of antagonizing unions… They both hail from safe Republican districts, but they are doing real harm to their party's standing among unions and working people across the state.
For the 5th time, GOP kills Washington Voting Rights Act — For the fifth straight year, Republicans in the Legislature shot down the Washington Voting Rights Act, a bipartisan compromise proposal that would provide local governments an opportunity to create equitable, accountable election systems. It passed the House 51-46, but was killed without a vote in the GOP-controlled Senate. HB 1800, sponsored by Rep. Mia Gregerson (D-SeaTac), would enable cities and counties to fix unfair, undemocratic voting systems and avoid costly litigation. It addresses polarized voting, a method of voter suppression that excludes the voices of the communities of color and low-income families.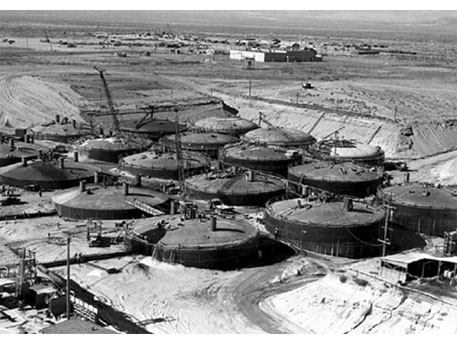 No safety net for workers at nation's most dangerous worksite — For another five decades, Hanford workers — our nation's Nuclear Veterans — will continue to be exposed to some of the most hazardous substances known to man. Unfortunately, many of the chemical and radiological hazards at Hanford are unidentified, and the safety measures meant to contain these chemicals and their vapors are often inadequate. When exposed to these substances, the burden of proof is on the worker to connect their exposure to their disease. This year, Rep. Larry Haler (R-Richland) sponsored HB 1723 to enact a previous recommendation that Hanford workers' illnesses should be presumed to be work-related. It passed the House on a strong bipartisan vote (69-29), but was killed in the Senate Labor, Commerce & Sports Committee chaired by Sen. Michael Baumgartner (R-Spokane).
Senate hears right-wing bills attacking public employee unions — It's no secret that right-wing billionaires like the Koch brothers bankroll foundations that are targeting unions for extinction. Millions of those dollars have found their way into Washington state at "think tanks" like the Freedom Foundation and the Washington Policy Center. So in 2017, the thinkin' fellers from these groups showed up in Olympia to testify in favor of a series of Senate bills with familiar attacks on public employee unions and the freedom to negotiate for better wages and benefits.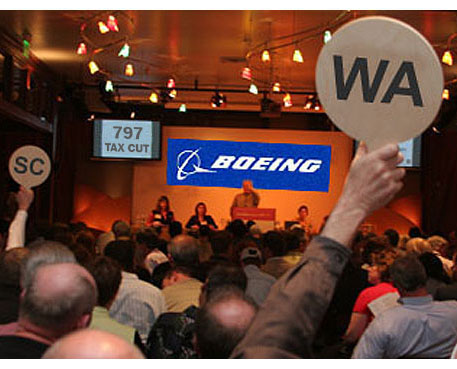 As Boeing sheds jobs, still no accountability — Since 2013, when the Legislature and The Boeing Co. extended an estimated $8.7 billion in tax incentives, instead of increasing employment in the state as our Legislature intended and the public expected, the Chicago-based company has cut nearly 13,000 jobs here, more than 7,000 in the past year alone, with more cuts planned. But two bills to finally establish some job creation and maintenance protections — translation: accountability to taxpayers — failed to advance in 2017. By the time the Legislature reconvenes in 2018, Boeing lobbyists will likely have returned with their hands out. In June, the company announced its next jet, the 797, will be made from carbon fiber composite. All of it, not just the wings like those made for the 777X in Everett. Building a composite fuselage facility would require another big investment from the company. So expect another round of tax-incentive bidding. Will the third time finally be a charm in requiring some accountability?
Voters approve ST3, GOP disapproves — Conservatives in Olympia say every tax increase should be put to voters. And yet, even when that happens and voters say "yes," those same politicians often seek to undermine the will of the voters. Such was the case after voters in the Puget Sound region approved Sound Transit Phase 3 to advance critical plans expanding light rail, commuter rail, and bus rapid transit connecting Tacoma, Everett, Seattle, Redmond, Bellevue, and Federal Way.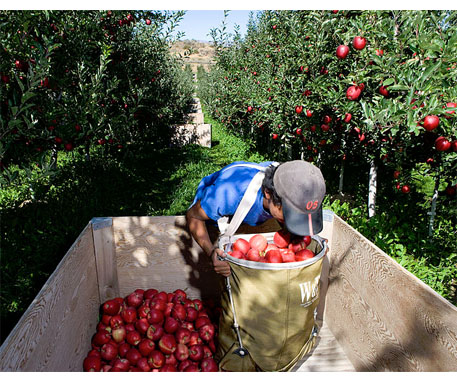 Who gets represented in rural communities? — Republicans offered a series of attacks on working families this session, some that impact the rural workforce in towns, cities and counties they represent. Although these bills failed, the message is clear: when some GOP legislators claim to represent the interests of the rural economy, they don't mean the people who live there.
Clean energy bill gets a hearing — The Clean Energy Transition Act (HB 1646), sponsored by Rep. Joe Fitzgibbon (D-Burien), represents an innovative and comprehensive climate solution based on the principles of the Alliance for Jobs and Clean Energy, a coalition of environmental groups, unions, businesses, organizations and individuals. The bill was heard in the House Environment Committee, but did not advance. This effort cannot wait and, amid reflexive opposition from polluting industries and their advocates in Olympia, it may have to be taken directly to voters in 2018.
This Washington works to expand health care — Amid threats from the Republican Congress and Trump administration to repeal the Affordable Care Act, the Washington State Labor Council, AFL-CIO and the Healthy Washington Coalition continued to prioritize affordable, accessible health coverage for all Washingtonians. The coalition made important headway in improving the health-care landscape during the 2017 session.
---
There are plenty of other articles in the WSLC's 2017 Legislative Report on issues ranging from workers' compensation to app-based drivers' rights, from nurse staffing to building trades issues. Download the full 8-page PDF to read them all, or request the printed edition or call 206-281-8901 to order multiple copies.
Short URL: https://www.thestand.org/?p=59692
Posted by
David Groves
on Aug 11 2017. Filed under
STATE GOVERNMENT
. You can follow any responses to this entry through the
RSS 2.0
. Both comments and pings are currently closed.