The following is from SEIU HealthCare 1199NW:
EVERETT (Sept. 28, 2017) — Hospice and home health caregivers, frustrated with rushing between vulnerable patients and taking long hours of on-call time, hosted a community candlelight vigil on Wednesday to call on Providence Hospice & Home Care of Snohomish County to invest in care and caregivers. More than 200 nurses, chaplains, and other caregivers were joined by elected officials, faith leaders, and community partners to sing and hold vigil for patients whose care is impacted by Providence's refusal to invest in caregivers. Last week the caregivers voted 90% in favor of going on strike, but instead hosted the vigil in hopes of not having to strike.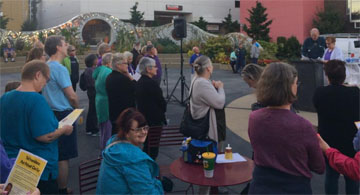 "We need Providence to demonstrate its core values of respect, compassion, justice, excellence and stewardship to its employees as well as our patients," said Jill Workman, a nurse and home health case manager. "We need the organization of Providence to demonstrate its mission to their employees through action so that we can continue to live that mission with our patients every day."
Caregivers report having to race between patients, unable to fully engage with patients or meet patient needs because they need to move on to the next patient.  This happens to hospice nurses who may be caring for patients in their last days of life but need to leave the bedside in order to get to each of their patients. Caregivers in home health have to triage who gets seen, leaving some patients waiting.
"We can't give patients the care they need or deserve when we have too many patients to get to," said nurse Florence Gustafson.  "Each day that Providence refuses to increase staffing is another day our patients can't get the kind of attention we want to give them."
Caregivers are leaving at an alarming rate because of insufficient staffing, low wages, and long on-call shifts.  In the last year, 50 caregivers (out of a 230 person workforce) have left the agency. This means patients don't get reliable, stable care but instead are often seeing caregivers that are new to them.
"Retention is important to our patients and their families because it provides continuity of care and builds confidence around the services we offer," said Carmen Nantez, an RN. "It is also important to management, because high turnover of staff is costly in many ways."
Caregivers have been bargaining their first contract as members of SEIU Healthcare 1199NW for more than a year. Under the recent strike authorization vote, the members on the bargaining team may call a strike when deemed necessary to move forward for better jobs and care.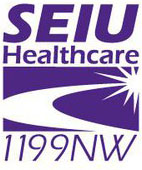 See photos and video from Wednesday's action at the SEIU Healthcare 1199NW Facebook page.
SEIU Healthcare 1199NW is 29,000 nurses, healthcare workers, and behavioral health workers across Washington state united to improve our jobs and the care we give.
---
► In today's (Everett) Herald — Providence hospice workers say they're willing to go on strike — After more than a year of negotiations, 230 unionized staff of Providence Hospice and Home Care of Snohomish County say they're willing to strike to resolve staffing and wage issues. Staff care for about 260 hospice patients a day and oversee the care of about 900 patients with medical needs living in their homes, said Florence Gustafson, a hospice nurse and member of the union's negotiating team. "We've had 50 employees leave in the past 12 months," she said. "We're hemorrhaging employees."