How to fix Hirst, DACA deadline, a little respect
Thursday, October 5, 2017
---
STATE GOVERNMENT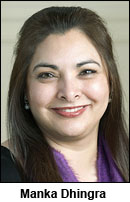 ► In today's (Everett) Herald — When it comes to majorities, Democrats must use them or lose them (by Jerry Cornfield) — Ten people were laid off from the state parks department last week and another 15 will be soon from the state Department of Enterprise Services. They are the first casualties of this cold war of public servants that until now had been waged through a series of staged political events and exchanges of impolite pablum in 140 characters, or less, plus a hyperlink. The Republican-led Senate is insistent it won't act on a capital budget — from whence those pink-slipped workers are paid —  until enactment of a response to the Supreme Court's Hirst decision… Some hope that a Democratic victory by Manka Dhingra in the 45th Senate race will spur a bipartisan Hirst compromise.
EDITOR'S NOTE — Today is Day 166 of our state's capital construction budget being held hostage by Senate Republicans over this unrelated property/water rights issue. The GOP's hardball strategy has cost our state an untold number of construction jobs on projects either suspended or delayed this summer and fall. And now public employees are losing their jobs as well, with more layoffs on the way. When will this nonsense end? The Washington Federation of State Employees/AFSCME Council 28 is asking everyone to call Sen. Joe Fain (R-Auburn) at 360-786-7692 and urge him to end the capital construction budget impasse. As Senate Floor Leader and a member of both the Ways & Means and Rules committees, Fain is uniquely positioned to break the logjam and end this growing crisis. You can also call your own legislators with that same message via the Legislature's toll-free hotline at 1-800-562-6000.
---
LOCAL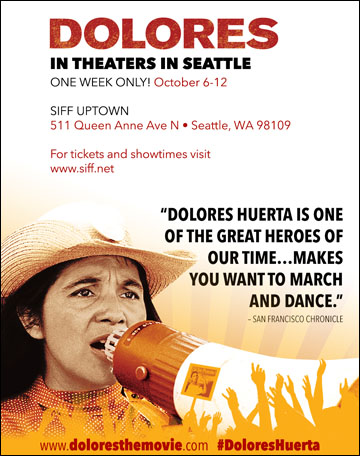 ► At CrossCut — The woman behind 'Si, se puede' still has a message: Organize — At 87, Dolores Huerta still speaks with the energy and passion of her days in the '60s when as a young community organizer, she co-founded the United Farm Workers union with Cesar Chavez. "I want to keep going as long as I have my health and energy," says Huerta. Cesar Chavez often receives the credit for the success of the United Farm Workers; but Dolores, a new documentary that opens at SIFF/Uptown on Oct. 6, reveals how Huerta, as lead organizer and negotiator, played a pivotal role at the union.
ALSO at The Stand — 'Dolores' documentary screens Oct. 6-12 at SIFF in Seattle
► In today's Tri-City Herald — More dirt caves in during work to stabilize Hanford nuclear waste tunnel — Work starts to fill Hanford nuclear reservation waste storage tunnel that partially collapsed with grout, but stops as more dirt at the injection site begins to fall into the tunnel.
► In today's Yakima H-R — Labor programs aim to help inmates stay out of custody — On a recent brisk autumn morning, James Jorgenson walked along North First Street picking up litter around the front of the Yakima County jail.
► From The Stranger — VIDEO: King County sheriff boasts of handcuffing Kshama Sawant, tipping off ICE — King County Sheriff John Urquhart sounds like a different person when he's talking to Republicans.
---
DEFEND THE DREAM

► From TPM — 36,000 DACA recipients missed last chance renewal deadline — The Department of Homeland Security has not received the renewal paperwork of roughly 36,000 DACA recipients by its Oct. 5 deadline, a government spokesperson told TPM Thursday, meaning thousands of undocumented young people could face deportation after handing over reams of information to government.
► From The Hill — Fate of DACA recipients unclear as renewal deadline approaches — Lawmakers are trying come up with a solution for thousands of undocumented immigrants brought to the U.S. as children as the Oct. 5 deadline to renew the immigrants' status under the DACA program approaches.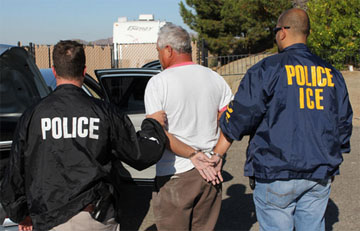 ► From KNKX — An ICE operation designed as a message for 'sanctuary cities' — U.S. Immigration and Customs Enforcement says it conducted a major operation last week targeting so-called "sanctuary cities," including Seattle. Focusing enforcement on certain cities because of their local laws would represent a new tactic for immigration authorities, according to immigrant advocates and local government leaders. But details of the operation raise questions about whether it really differed from normal enforcement activities in the Northwest.
► From The Hill — House panel approves $10B for border wall — The House Homeland Security Committee approved Wednesday a border security bill that includes $10 billion for a border wall. The Border Security for America Act, proposed by committee Chairman Michael McCaul (R-Texas), was passed on a party-line 18-12 vote.
EDITOR'S NOTE — By the way, YOU are paying for this. Not Mexico.
---
THAT WASHINGTON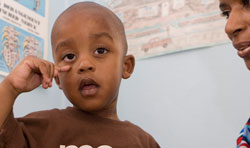 ► From The Hill — Children's health-care bill faces new obstacles — Bipartisan negotiations over an extension of children's health insurance are veering off course, raising doubts that legislation can be passed quickly. Senate Democratic Leader Charles Schumer (N.Y.) played hardball on Wednesday, saying a fix for ObamaCare that is being negotiated by Sens. Lamar Alexander (R-Tenn.) and Patty Murray (D-Wash.) should be attached to the children's health funding bill. Senate Finance Committee Chairman Orrin Hatch (R-Utah) ripped Schumer's move.
► In today's Washington Post — Notes from closed meeting show how Interior aims to weaken environmental laws — Near the end of September, officials at the Interior Department bureau that oversees hundreds of millions of acres of public land hosted a conference with state, county and local government representatives to discuss ways to loosen environmental rules.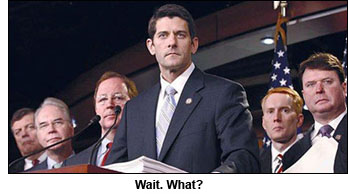 ► From Politico — Angry GOP donors close their wallets — With the GOP's agenda at a virtual standstill on Capitol Hill, the party is contending with a hard reality. Some of the party's most elite and influential donors, who spent the past eight years plowing cash into the party's coffers in hopes of accomplishing a sweeping conservative agenda and undoing Barack Obama's legislative accomplishments, are closing their wallets. Party officials are so alarmed that North Carolina Sen. Thom Tillis, who oversees fundraising for the National Republican Senatorial Committee, told his colleagues at a recent conference meeting that donations had fallen off a cliff after the Obamacare repeal flop.
---
NATIONAL
► From the AFL-CIO — Unions, United Airlines come together to fly more than 300 first responders, skilled volunteers to Puerto Rico –the AFL-CIO, the Association of Flight Attendants-CWA (AFA-CWA), the Air Line Pilots Association (ALPA), the International Association of Machinists and Aerospace Workers (IAM) and United Airlines teamed up to fly more than 300 first responders and skilled volunteers—including nurses, doctors, electricians, engineers, carpenters and truck drivers—to Puerto Rico to help with relief and rebuilding efforts.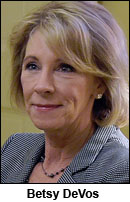 ► From AP — Study: For-profits to blame for most student debt defaults — Students who attended for-profit colleges were twice as likely or more to default on their loans than students who attended public schools, according to a federal study published Thursday. The report comes as Education Secretary Betsy DeVos rewrites rules that had been put in place by the Obama administration to protect students who said they were defrauded by their for-profit colleges.
ALSO at The Stand — As DeVos visits, counter rally planned Oct. 13 in Bellevue
► In today's NY Times — Los Angeles Times newsroom, challenging Tronc, goes public with union push — A letter distributed Tuesday night says "a majority of the newsroom" had signed union cards supporting representation by the NewsGuild, which represents 25,000 reporters, editors, photojournalists and other media workers at news organizations across the United States.
---
TODAY'S MUST-READ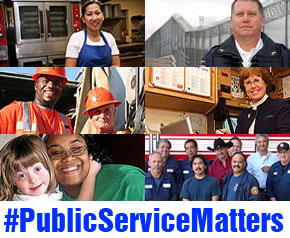 ► In today's Seattle Times — Can we give the government a little respect? (by Jerry Large) — Americans love to complain about taxes, regulations and poor service, and sometimes with justification. Ours is not a perfect government, but it's one of the world's better ones, and it deserves a little respect. I'm talking about the agencies and people who do the work of government, not the politicians we choose to oversee that work… This isn't just cheerleading. If we don't pay attention to the role that government plays, it will be too easy for us to let it be eroded. Many services vital to millions of Americans need our support — Social Security, the Supplemental Nutrition Assistance Program, and access to health care, among them.
---
The Stand posts links to Washington state and national news of interest every weekday morning by 10 a.m.
Short URL: https://www.thestand.org/?p=60907
Posted by
David Groves
on Oct 5 2017. Filed under
DAILY LINKS
. You can follow any responses to this entry through the
RSS 2.0
. Both comments and pings are currently closed.