SEATAC — As part of a larger union-wide Day of Action in 40 cities across the U.S. and Canada, UNITE HERE! Local 8 members and their community supporters will gather at Angle Lake Park, 19408 International Blvd. in SeaTac, for a rally and march on Thursday, Oct. 19. The picnic and rally begins at 4:30 p.m. and the march at 5 p.m.
"Our SeaTac action will highlight the contributions of immigrant and refugee workers in airline catering whose invisible labor maintains the billion dollar airline industry," according to the Facebook event page. "Show up to support union members who are fighting back against the attacks on workers, immigrants and refugees by standing with our brothers and sisters in South King County."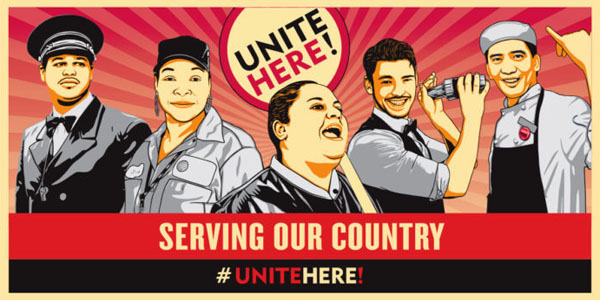 Hospitality workers who serve guests in the $180 billion hospitality industry serve their country in the literal sense every day, whether it's greeting guests, making hotel beds, delivering food to planes in 100-degree heat, or serving meals in the nation's top universities and tech companies.
When unionized with UNITE HERE though, these workers also serve our country in a larger sense: by fighting for and winning fair union contracts that drive up wages for all workers in their community, union or not; by holding rich and powerful corporations accountable through pickets, boycotts, and strikes against exploitative employers; and by standing up to Trump and his political agenda to organize for racial and gender equity at work and beyond, for all immigrants, all races, and all religions.
On October 19, tens of thousands of hospitality workers across the U.S. and Canada are joining together across 40 cities to take action. Workers are raising their voice for justice for all under Trump, and holding the richest and most powerful corporations in America accountable. Actions will include strikes, the public announcement of new union organizing campaigns, and other forms of workplace action where hospitality workers are organizing. Employers that will be targeted include Disney, Marriott, Caesars, Google (where thousands of food service workers are employed by a subcontractor), top airline companies, and more.
For more information, visit UNITE HERE's Oct. 19 Day of Action page.
---
► Today at Huffington Post — Service workers to rally against Trump immigration policies — UNITE HERE has added 12,000 new members this year, many of them at hotels and casinos in the South, bringing the union's ranks close to 300,000. According to the union's president, D. Taylor, the past year has been the union's fastest-growing in a long time. As a show of force, the union plans to hold demonstrations in 40 different cities on Oct. 19, ratcheting up labor fights with companies like Disney, Marriott and Google, while protesting the Trump administration's hardline immigration policies. The point, Taylor said, is to show that "we need advancement in our working standards, and we need protections for the workers who drive this industry."