Shame on state's corporations for funding false, racist attack ads
EDITORIAL
The Stand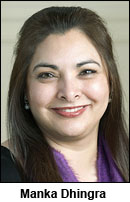 OLYMPIA (Oct. 26, 2017) — Washington state's biggest companies and corporate lobbying groups — including Amazon, Microsoft and the Association of Washington Business — are paying for false, offensive and racist campaign ads attacking Democratic Senate candidate Manka Dhingra in the high-stakes 45th Legislative District election that will determine which party controls the state Senate. The corporate money is being channeled through a series of political action committees run by Senate Republicans to obscure the source of the funds.
Even The Seattle Times, which endorsed Dhingra's Republican opponent, has condemned the corporate-funded attack ads — paid for by a PAC within a PAC called "Working Families" — for promoting offensive stereotypes about immigrants:
"One of Working Families' TV ads crosses the line in a different way, evoking outdated and offensive stereotypes about people of color. It likens Dhingra, who emigrated from India at age 13, and her husband, who is Sikh and wears a turban, to a pair of gypsy fortunetellers, using images of smoke and red curtains to imply they're playing magic tricks on the electorate. Voters should reject these smear tactics."
After the Times criticism, the Senate Republicans removed the ad. The Times also condemned several other "Working Families" ads that claim Dhingra is soft of crime and has a "pro-drug agenda" as untrue and easy to refute.
According to the Public Disclosure Commission, these Working Families PAC ads are funded by a laundry list of corporate interests, including Amazon, Microsoft and Walmart; Altria and RAI Services (tobacco); Kemper Holdings, Sabey Corp., NECA and BIAW (builders and contractors); Delta Dental, Premera Blue Cross and WHPAC (health care and hospitals); plus the Association of Washington Business and a host of other corporate lobbying groups representing retailers, Realtors, prescription drug companies, oil and energy firms, tribes, railroads, hotels and restaurants.
These companies are funneling millions of dollars through something called "The Leadership Council," which then pumps the money into "Working Families" so that the false, offensive ads won't list their companies as contributors. In doing so, these companies hope to keep their names and brands from being associated with the ads and to maintain plausible deniability when they send their lobbyists into SENATOR Manka Dhingra's office to ask for special tax breaks and other favors.
Shame on all of them!
The Washington State Labor Council, AFL-CIO, which has endorsed Dhingra, has sent mailings and other communications to union members' households — that clearly identify the name of the organization paying for the communications — urging them to "ignore the noise" and focus on the "bread-and-butter issues that matter to working families." Union members can click here to see these mailers and fliers explaining why Manka Dhingra earned their unions' endorsement.
"We need honesty and integrity in the Washington State Senate, not lies and false information," Dhingra said in response to the attack ads.
Hear, hear.
Short URL: https://www.thestand.org/?p=61395
Posted by
David Groves
on Oct 26 2017. Filed under
OPINION
. You can follow any responses to this entry through the
RSS 2.0
. Both comments and pings are currently closed.