Univ. of Washington's 1,200 Postdocs file for union election
The following is from UAW Local 4121:
SEATTLE (Oct. 5, 2017) — As a result of an ongoing grassroots organizing campaign, a majority of the 1,200 Postdoctoral Researchers (Postdocs) working at the University of Washington have signed authorization cards in support of forming a union, UW Postdocs United/UAW Local 4121 (UWPU/UAW). The cards were filed with the state labor board, the Public Employment Relations Commission this week, so that a union representation election may be called as soon as possible.
Postdoctoral scholars have already earned their PhDs and conduct cutting-edge research with applications that range from new treatments for disease to the development of renewable energy resources to imagining new mathematical models of the universe and more. Postdocs also publish scholarly articles and write grant proposals, all of which bring hundreds of millions in grants and contracts to the university. Last year, UW Postdocs helped bring in more than $1.6 billion in research contracts and grants.
"We love our work, and we believe that forming a union will be good for us and good for the University," said Michelle Tigchelaar, a Postdoc focused on how climate change will affect global food security. "By forming a union, Postdocs will be able to sit down as equals with UW and bargain for policies like fair pay and reasonable parental leave. This will help us focus on our work without constantly worrying about how to make ends meet – and ultimately deliver better work."
Simultaneously, a delegation of Postdocs delivered a public letter to UW Administration, signed by Postdocs from across the university. The letter asks the Administration to either publicly support the effort, or, if they choose to oppose to their employees unionizing as they have in the past, engage in a public discussion of their reasons for being opposed. Despite a progressive stance on many issues, UW's administration has opposed unionization for every large group of academic employees who have organized to form a union in recent memory — the faculty, interns and residents, and teaching and research assistants.
"I fully support the majority of UW Postdoctoral Researchers who want to unionize," said state Sen. Rebecca Saldaña (D-Seattle). "Exercising their democratic right to organize helps the university's research mission since this critical workforce will have a stronger voice to advocate for improvements and academic rigor. I know UW has in the past opposed unionization for some academic workers. I urge the university administration to utilize this opportunity to advance shared interests and allow the election to proceed without opposition."
"I'm thrilled to learn that a majority of Postdoctoral Scholars have taken a step toward forming a union," said Nicole Grant, Executive Secretary of the Martin Luther King Jr. County Labor Council. "These workers do world-class research that helps our university and our entire region remain leaders in innovation. But without collective bargaining, Postdocs have less power to address problems they face: growing attacks on immigrants and guest workers, gender inequities in higher education (particularly in STEM fields) and accelerating costs of living for themselves and their families. I urge the UW administration to leave behind their previous polarizing approach and opposition to workers wanting to unionize and support Postdocs in their efforts to form a union."
"Unionizing is an important step in making higher education research more equitable, especially for international scholars in this political climate," said Rich Stolz, Executive Director of OneAmerica. "By increasing their collective power, Postdocs will not only be better able to protect themselves at work, but will be able to fight for improvements on a national level, like the UAW members who have long been fighting for more fair and equitable policies for all immigrants."
Stolz, along with other community leaders working on immigration issues, wrote UW President Ana Mari Cauce a letter stating their support of the UW Postdocs' unionization campaign.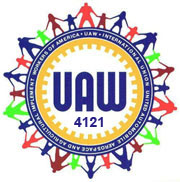 One of the nation's largest and most diverse unions, the UAW has more than 1 million active and retired members, with active members working in manufacturing as well as public service, higher education, health care and other industries. The UAW represents more than 65,000 academic workers at more than 40 universities and colleges nationwide, including 45,000 Academic Student Employees (ASEs) —Teaching Assistants, Research Assistants, Graders, Readers, Tutors, and others — at the University of Washington, University of California, California State University, and University of Massachusetts.
Short URL: https://www.thestand.org/?p=60909
Posted by
David Groves
on Oct 5 2017. Filed under
LOCAL
. You can follow any responses to this entry through the
RSS 2.0
. Both comments and pings are currently closed.