Manweller misconduct | Ryan vs. your 'entitlements' | How Ontario got $15
Thursday, December 7, 2017
---
SEXUAL HARASSMENT

► In today's Seattle Times — State Rep. Matt Manweller has faced sexual misconduct complaints from students — Records show that in separate interviews as part of an investigation, the two women (both Central Washington University students) said Rep. Matt Manweller (R-Ellensburg) ordered drinks and began asking his student about her sex life. Then he propositioned the two women to have a threesome. The case is just one in a series of questions Manweller, 48, has faced about his interactions with female students during his time teaching political science at CWU, according to records newly obtained by The Seattle Times under public-disclosure law. Since joining the university in 2003, Manweller has been investigated twice for allegations of sexually harassing students. In both inquiries, outside investigators concluded there was evidence to suggest that he had violated the school's sexual-harassment policy… Two female lobbyists said there is an informal network of women in Olympia who prepare newcomers by warning them about spending time alone with Manweller and with some others with reputations for various types of inappropriate behavior.
EDITOR'S NOTE — Manweller's response to multiple allegations throughout his career is consistent — and sadly predictable. Deny. Blame the accusers. Portray himself as the victim. Repeat.
► From The Stranger — Sexual harassment apologists always use the same deflection (by Rich Smith)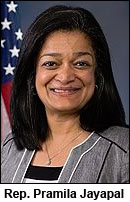 ► Monday from HuffPost — Democrats are missing an enormous opportunity to lead on sexual harassment (by Rep. Pramila Jayapal) — We cannot pick and choose. Republicans cannot simply disavow Roy Moore and then turn a blind eye to Donald Trump. Democrats cannot lambaste Trump and Moore, and then turn a blind eye to our own who face credible charges against them. In fact, we lose all moral authority to call out the abominable behavior of Moore and Trump if we refuse to call it out on our own side.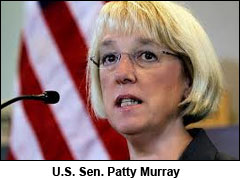 ► From Washington Post — Women on Capitol Hill want real change this time. Will it happen? — Patty Murray (D-Wash.) leapt onto the national stage 25 years ago by challenging a fellow Democrat in the wake of the all-male Senate Judiciary Committee's handling of sexual harassment charges during Clarence Thomas's Supreme Court confirmation hearings After the incumbent abandoned the Senate race amid his own sexual misconduct scandal, Murray rode to victory in 1992 along with a record number of women in Congress. On Wednesday, Murray helped lead the denunciation of Sen. Al Franken (D-Minn.), declaring that an alleged "persistent pattern" of groping women made him unfit for office. She made an all-too-familiar plea for politicians to live up to their words.
► From the Hill — Democrats turn on Al Franken — In a dizzying turn of events, more than 30 Democratic senators called for Sen. Al Franken (D-Minn.) to step down on Wednesday after a new woman came forward to allege that he had forcibly tried to kiss her.
► BREAKING via YouTube — Al Franken announces resignation from Senate floor — "There is some irony in the fact that I am leaving while a man who has bragged on tape about his history of sexual assault sits in the Oval Office."
---
LOCAL
► In today's Seattle Times — Domestic workers launch campaign as Seattle looks at new rights for nannies and house cleaners — Nannies and house cleaners may be the next group of workers to win new rights from Seattle City Hall. Three City Council members and a representative from Mayor Jenny Durkan's office are set to take part Thursday as domestic workers launch a political campaign with help from the advocacy organization Working Washington.
► From KING 5 — Seattle mayor inks KeyArena deal to lure NBA, NHL teams — On Wednesday, Seattle Mayor Jenny Durkan and Oak View Group Founder Tim Leiweke signed a $660 million Memorandum of Understanding, which clears the way for a new, privately financed arena at Seattle Center by 2020.
► In today's News Tribune — 12 nurses at Good Samaritan Hospital fired over HR violations, MultiCare says — Human resources violations, not drug or patient safety issues, were behind the firing this week of 12 nurses at MultiCare's Good Samaritan Hospital in Puyallup, the health system told The News Tribune.
---
TRUMP'S TAX SCAM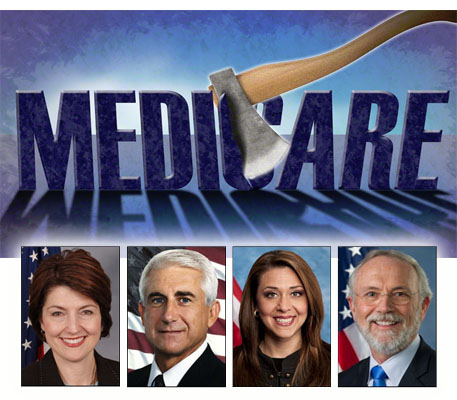 ► From The Hill — Ryan pledges 'entitlement reform' in 2018 — House Speaker Paul Ryan (R-Wis.) on Wednesday said House Republicans will aim to cut spending on Medicare, Medicaid and welfare programs next year as a way to trim the federal deficit. Ryan said he's been speaking privately with President Trump, who is beginning to warm to the idea. During his campaign, Trump repeatedly promised not to cut Medicare, Medicaid or Social Security.
ALSO at The Stand — Tax giveaway aims to force cuts elsewhere (by WSLC President Jeff Johnson) — The Republican/Trump tax plan that increases the national deficit by $1.4 trillion is a set-up for defunding Social Security, Medicare, veterans' benefits, health care, and privatizing our federal government and our natural resources. But this doesn't have to be. All we need are enough Republicans of good conscience to join the Democrats in Congress to vote "no" on whatever tax compromise bill comes out the conference committee. Let's see if Dave Reichert, Jaime Herrera-Beutler, Dan Newhouse or Cathy McMorris-Rodgers actually give a damn. Over the next two weeks please organize your members to call-in, email, visit, and picket their offices until we prick their conscience. You can contact your U.S. Representatives by clicking here or calling 1-844-899-9913.
► In today's (Longview) Daily News — Congresswoman Herrera Beutler plans phone town hall — Rep. Jaime Herrera Beutler (R-3rd) will hold an hour-long live telephone town hall meeting at 5:30 p.m. Tuesday, Dec. 12.
► From the AFL-CIO — Working people arrested for attempting to hold Sen. Susan Collins accountable for anti-worker tax vote — On Monday, five working people were arrested in Bangor, Maine, after they refused to leave Sen. Susan Collins' office until she committed to opposing the horrible tax legislation passed by the Senate last week.
► In today's NY Times — Republicans move to resolve tax bill differences as cost concerns loom — Republican leaders moved closer on Wednesday to resolving some key differences between the House and Senate tax bills, though several big issues, including the size of the corporate tax cut, remained in flux. Republican lawmakers are looking to quickly resolve differences so they can get the bill signed and to President Trump by Christmas.
► From Vox — The Senate tax bill's $250 billion problem — Senate Republicans, in a frantic rewrite of their tax bill late last Friday, appear to have screwed it up. The price tag for the apparent mistake, added hastily in a late-night, partially handwritten draft, is $250 billion or more, according to some rough outside estimates. Businesses are furious. Correcting the Senate's error is expected to be priority No. 1 as House and Senate members start negotiating a final tax package this week.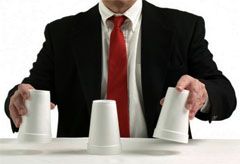 ► In today's Washington Post — After cutting taxes, Trump looking to localities to raise revenue for infrastructure — Even as President Trump and Republicans in Congress seek to cut federal taxes, the White House has quietly come up with a very different plan for infrastructure: It wants to reward states and localities willing to raise taxes or other revenue to pay for new projects. The federal government would cover only $200 billion of the $1 trillion tab under the legislation being developed.
EDITOR'S NOTE — That amount is well within the Senate's standard math-error range.
---
THAT WASHINGTON
► From NBC News — Trump threatens government shutdown, blames Democrats — President Donald Trump said Wednesday that a government shutdown "could happen" and blamed Democrats for the looming threat, claiming "they want to have illegal immigrants pouring into the country, bringing with them crime."
EDITOR'S NOTE — Dear Don: Many more of us (nearly 3 million) voted for your Democratic opponent than for you. And more of us voted for Democratic Senate candidates than Republican ones. But the way the game is rigged, your Republican Party controls both houses of Congress and the White House. You have the votes — and the responsibility — to keep the government from shutting down. Sincerely, America.
► In today's Washington Post — Republicans hammer Mueller, FBI as Russia investigation intensifies — Republican activists and lawmakers are engaged in a multi-front attack on special counsel Robert S. Mueller III's probe of possible connections between associates of President Trump and Russian agents, trying to stop or curtail the investigation as it moves further into Trump's inner circle.
► MUST-READ in today's News Tribune — Real kids needed this insurance program, including mine. Congress should fund it. (By Matt Driscoll) — In Washington state, CHIP helps to cover more nearly 70,000 children annually. Without Congressional action, Governor Jay Inslee has said our state won't be able to continue doing so past February 2018. That means there are a lot of terrified families out there right now. I know this fact well, because my kids — and my family — relied on CHIP in the past. More accurately, we were saved by it… When we talk about policy implications and start holding programs hostage for political gain, or start evaluating them solely by statistics and dollar figures, it's essential that we also take the time consider what really matters: The children and families that stand in the balance.
---
NATIONAL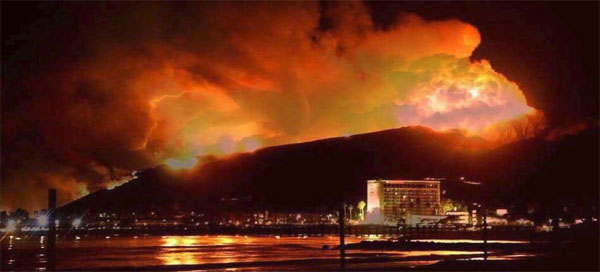 ► In today's NY Times — Raging fires pose 'extreme' danger to Los Angeles — Los Angeles and other cities in Southern California are bracing for winds so strong "there will be no ability to fight fire," the state's firefighting chief warned. The outbreaks have forced nearly 200,000 people in the Los Angeles and Ventura areas to evacuate, and thousands of firefighters have been summoned to help.
► From AP — Spirit AeroSystems announces $1B expansion, 1,000 new jobs — Spirit AeroSystems announced a $1 billion expansion Wednesday that will bring 1,000 new jobs to its aircraft manufacturing plant in Wichita, a move officials say reflects significant growth for the company and the aviation industry in general.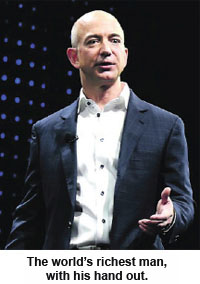 ► From The Guardian — Amazon is running its own hunger games – and all the players will be losers (by Jathan Sadowski and Karen Gregory) — The contestants are 238 cities and regions across North America. The prize is being chosen as the site for Amazon's second headquarters (HQ2), which promises to employ upwards of 50,000 people. These cities are locked in a fierce battle to outbid each other and they'll do anything, give anything, to be chosen. While only about 30 of the proposals are publicly available so far, they paint a troubling picture of cities clamoring to sell their soul to Amazon. The amount of money, perks, and power that cities are ready to give away to Amazon is absolutely galling. It goes way beyond just standard subsidies and tax breaks.
► In today's Washington Post — The richest 1 percent now owns more of the country's wealth than at any time in the past 50 years — The wealthiest 1 percent of American households own 40 percent of the country's wealth, according to a new paper by economist Edward N. Woolf. That share is higher than it has been at any point since at least 1962, according to data from the federal Survey of Consumer Finances.
EDITOR'S NOTE — I know. Let's give them a huge tax break!
---
TODAY'S MUST-READ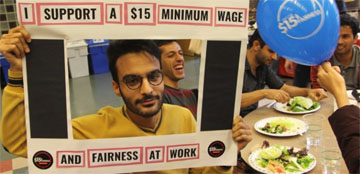 ► From Labor Notes — Ontario workers, students notch biggest $15 win yet (by Jonathan Rosenblum) — Mainstream politicians often claim that we have to elect progressives to office first, before workers can win big legislation. Ontario workers and students just proved otherwise. In Canada's most populous province, a centrist Liberal Party government on November 22 adopted a $15 minimum wage, new card-check union recognition rights, paid sick leave, scheduling rights, and equal pay for temporary and part-time workers, and doubled the ministry of labor's enforcement staff. All told, 1.7 million people — nearly 30 percent of all Ontario workers — will get pay increases in one of the fastest implementations of a $15 minimum wage in North America. Ontario's minimum will jump from $11.60 to $14 an hour (Canadian dollars) on January 1, rising to $15 the following year and indexed to inflation thereafter. Workers and students forced the government's hand with community organizing, creative street heat, and militant strikes.
---
The Stand posts links to Washington state and national news of interest every weekday morning by 10 a.m.
WASHINGTON IS A UNION STATE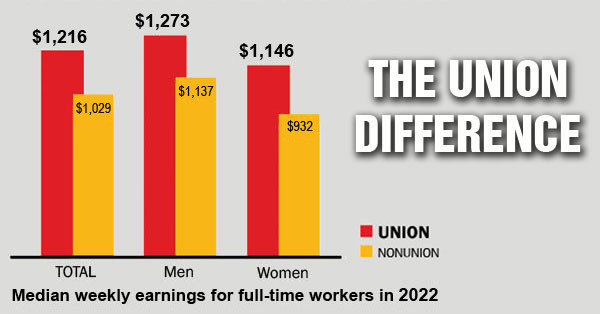 CHECK OUT THE UNION DIFFERENCE in Washington state: higher wages, affordable health and dental care, job and retirement security.
FIND OUT HOW TO JOIN TOGETHER with your co-workers to negotiate for better working conditions and respect on the job. Or go ahead and contact a union organizer today!